Ahead of Saturday's Democratic primary in South Carolina, front-runner Hillary Clinton continues to sharpen her message on racism as she aims to secure the African-American vote in the Palmetto State.
Speaking at a rally at Central Baptist Church in Columbia, South Carolina, with former Congresswoman Gabby Giffords, former astronaut Mark Kelly — Gifford's husband — and five mothers affiliated with the Black Lives Matter movement, Clinton spoke out against systematic racism.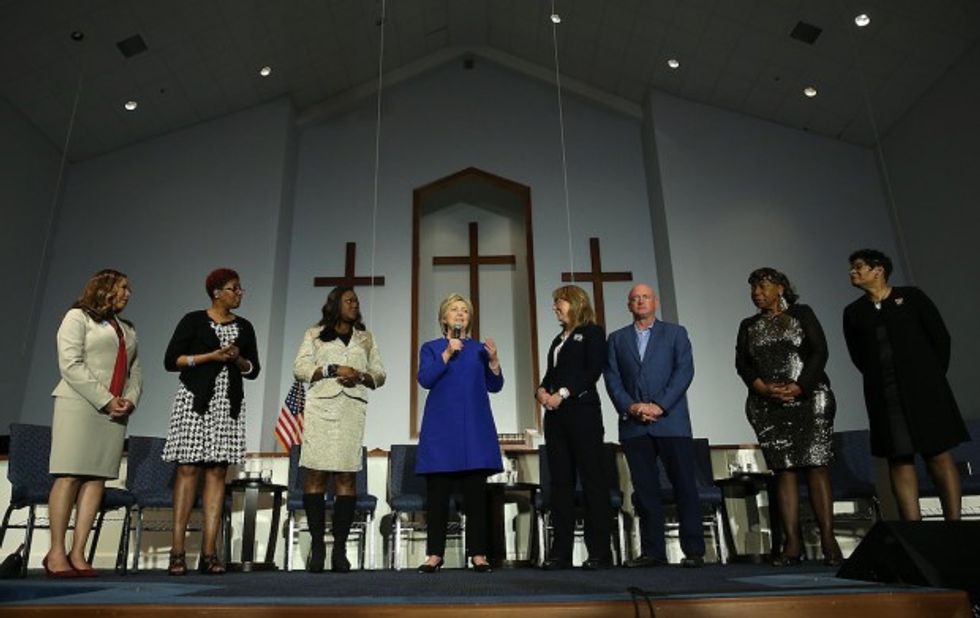 Hillary Clinton speaks during a Tuesday event in Columbia, South Carolina, with five mothers who lost their children to gun violence. (Getty Images/Win McNamee)
"Something is very wrong when we have these incidents where kids can get arrested for petty crimes and lose their lives," Clinton said. "Something is wrong when African-Americans are three times more likely to be denied a mortgage as white people are, when the median wealth of black families is just a fraction of the median wealth for white families."
Clinton also said that white people need to recognize their "privilege" and have empathy for the struggles that African-Americans face on a day-by-day basis.
"Tackling and ending systemic racism requires contributions from all of us. White Americans, we need to do a better job of listening when African-Americans talk about the seen and unseen barriers they face every day," she said. "We need to recognize our privilege and practice humility rather than assume our experiences are everyone's experiences."
According to Mashable politics, Tuesday's rally was the first time the mothers had met with Clinton together, although they spent Monday and Tuesday on the campaign trail, stumping for the former secretary of state.
Clinton and Sanders are both vying for the African-American vote ahead of Saturday's important primary, which will be the Democratic party's first in the South. African-American voters are expected to make up nearly half of the state's Democratic electorate.
.@HillaryClinton, earlier today, on "tackling and ending systemic racism" pic.twitter.com/naCMe2pAVz

— Mashable News (@MashableNews) February 24, 2016
(H/T: Mashable)
—
Follow the author of this story on Twitter and Facebook:
[facebook //www.facebook.com/plugins/like.php?href=