The hosts of MSNBC's "Morning Joe" — Joe Scarborough and Mika Brzezinski — fiercely defended Donald Trump's rise to political fame Wednesday morning, explaining that the media likely played a role in his rise to prominence.
Early in the 23-minute segment, the six-person panel agreed that Trump has said many things that most other political candidates would not have gotten away with, such as Trump's insult of Sen. John McCain (R-Ariz.) or his proposal to ban Muslims from immigrating to the United States.
A panel guest went so far as to say that the Manhattan mogul is receiving a "free pass" from Republican voters on many critical issues, citing his stances on Planned Parenthood and universal health care.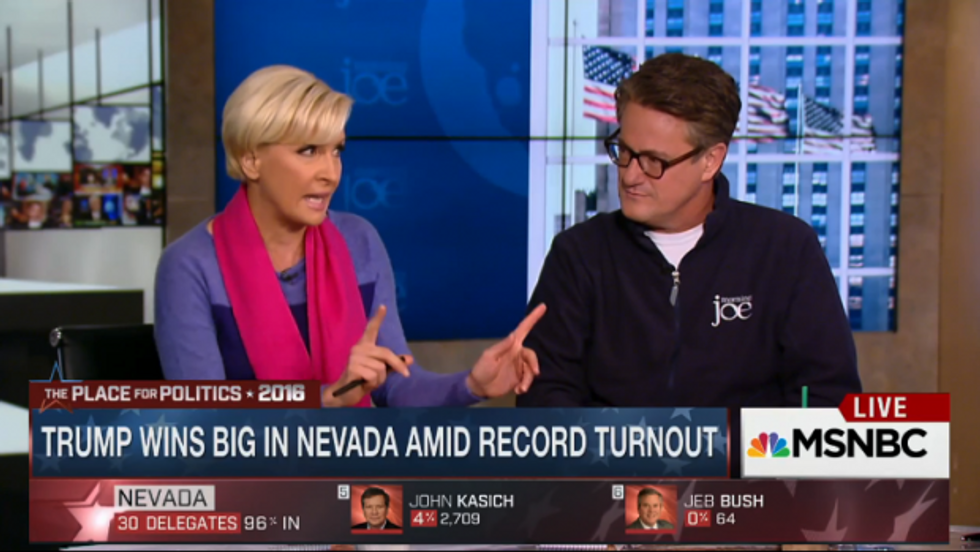 Image source: MSNBC
"It seems to me that the media plays into Trump's hands," Scarborough said, adding that the media is "overplaying their own hand."
The media's hand — the panel agreed — is that they do not want Trump to win the Republican nomination, nor the White House. Former Republican National Committee Chairman Michael Steele said that part of the problem is that the media never attempted to take Trump's candidacy seriously, citing the Huffington Post's declaration that they would cover Trump's campaign under their "entertainment" banner.
"I actually think the media hatred has actually pulled people toward [Trump]," Brzezinksi chimed in to say. "He's been able to use it masterfully, and everybody needs to look in the mirror, because when he was laughed at in the beginning — when he came down that escalator, I remember saying, 'This could happen' — people said it was not possible."
"Is that our job?" Brzezinski asked rhetorically. "Is that our job [in the media] to say that it's not possible? Because we gave more respect to Herman Cain, far more respect to Cain and his 9-9-9 plan. A lot of people have said, 'I'm not laughing anymore, this is scaring me.' Why were we laughing?"
"I don't think the question is, 'Why are we not connecting the dots [between Trump's inconstancies],' but why does everything stick to someone like Hillary Clinton, but nothing sticks to Donald Trump?" Scarborough went on to ask.
The panel, in conclusion, agreed that Trump resonates so well with voters because, at this point in the election cycle, most voters are looking for a strong leader who appeases their ears, while the media plays into his hands by being so "anti-Trump."
—
Follow the author of this story on Twitter and Facebook:
[facebook //www.facebook.com/plugins/like.php?href=