Glenn Beck and Republican presidential front-runner Donald Trump have, once again, found themselves at odds with one another. On the night of the Nevada GOP caucus, Trump showed up at the same caucus site as Beck. When it comes to what happened, though, the two men have very different stories.
Following Tuesday night's Nevada contest, Trump was asked Wednesday morning on Fox News' "Fox & Friends" about the run-in with the conservative radio show host. According to Trump, "thousands of people" were at the caucus site and "not too many" were listening to Beck speak when he entered the room.
"They all ran away from him ... and he was standing up there talking to nobody, and he steamed out of the room," Trump said, adding, "He's not a very good guy to listen to, frankly. He's boring."
But Beck has a different recollection of the evening — and he offered video to support his claims Thursday morning on The Glenn Beck Radio Program.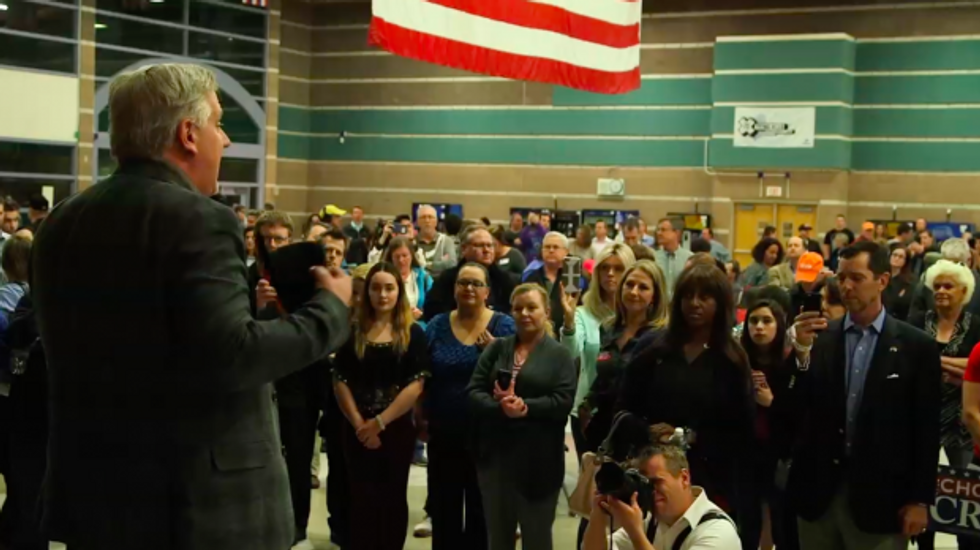 Glenn Beck addressing Nevada caucusgoers Tuesday night. (Image provided)
"I just want you to listen to this. Because what is happening — this is not about me. This is about who the liar is here," Beck said.
According to Beck, the room was not filled with "thousands of people." Rather, he says there were approximately 500 people at the site, many of whom were listening to him speak.
"What is Donald Trump saying? That I was a coward. That there was nobody listening to me. You can see in the video, right here, how many people were listening to me," Beck said. "You can also see there were not thousands of people in the room."
Beck also questioned Trump's claim that he "steamed out" of the room when he heard that the billionaire had entered the caucus site. 
In the video Beck played during his radio program, a voice in the background, Beck's assistant, can be heard saying, "It's Donald Trump," when the presidential hopeful walked in. "Yeah, I know. I'm not in any hurry," Beck said in response.
In reality, Beck offers footage that shows him lingering after he concluded his talk, meeting with caucusgoers.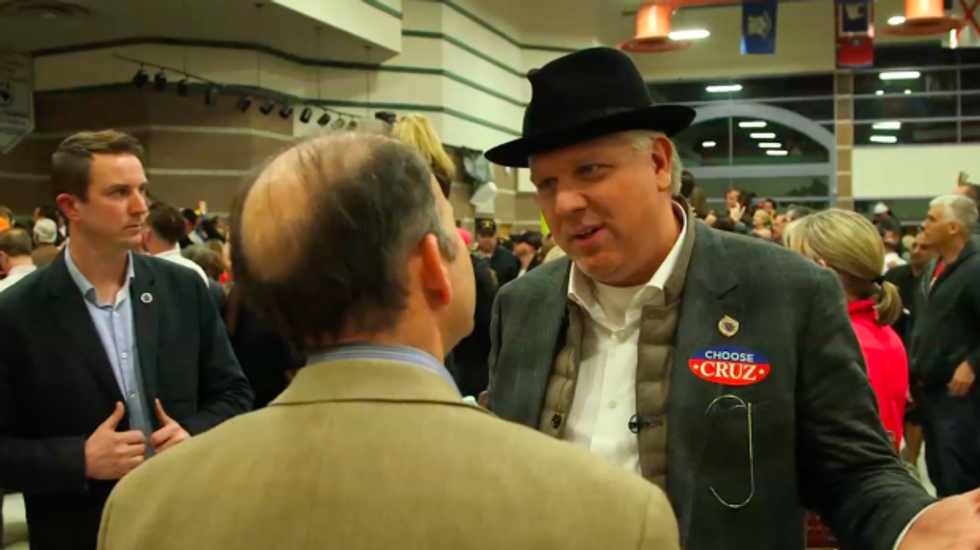 Glenn Beck meeting with a Nevada caucusgoer Tuesday. (Image provided)
When Trump took the stage at the caucus site, he spoke for only a few minutes. Beck was still speaking with Nevadans after the billionaire businessman had concluded his talk.
Following Trump's brief comments, Beck said he then went to the other side of the site and spoke with more voters. Additionally, Beck said he was interviewed by several local news outlets later in the evening.
As for why Trump seemingly fabricated parts of his side of the story, Beck said, "Look, here's what a narcissist does: If they can't change your mind, they change your image."
Complimentary Clip from TheBlaze TV The full episode of The Glenn Beck Program, along with many other live-streaming shows and thousands of hours of on-demand content, is available on just about any digital device. Click here to watch every Glenn Beck episode from the past 30 days for just $1!
—
Follow the author of this story on Twitter and Facebook: