President Barack Obama promoted more expansive medical research that would include millions of Americans volunteering their medical information for a database to work with the government and private sector researchers to find cures for the worst diseases as part of the "Precision Medicine Initiative."
"My hope is that this becomes the foundation, the architecture whereby 10 years from now, we can look back and say that we have revolutionized medicine in areas like cancer or Alzheimer's or some of the diseases that caused so much pain and suffering for so many families across the country," Obama told medical professionals Thursday at the Precision Medicine Initiative Summit at the White House.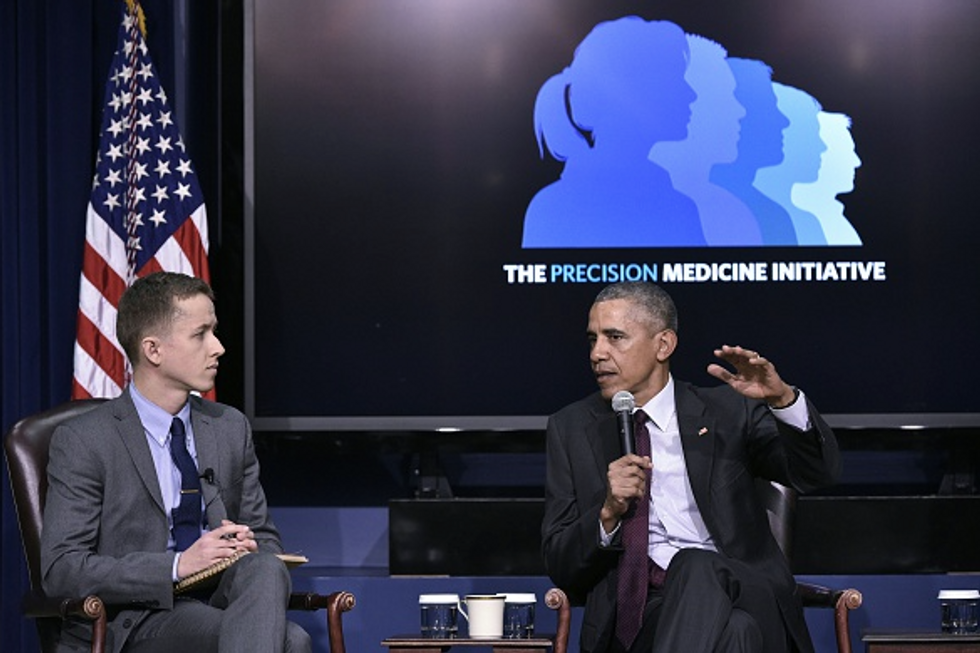 President Barack Obama speaks in a panel discussion during the White House Precision Medicine Initiative Summit in Washington, D.C., Thursday. (Mandel Ngan/AFP/Getty Images)
Precision medicine is treating diseases like cancer and mental health conditions through molecular testing that allows doctors and patients to find targeted treatments based on individuals' genes, lifestyles and environments. The federal effort involves new research funding. In December, Obama signed a bipartisan bill providing $200 million for the Precision Medicine Initiative.
The NIH announced an award to Vanderbilt University to work with Verily to launch the first phase of the Precision Medicine Initiative Cohort, which will seek to establish 1 million or more U.S. volunteers to partner with researchers.
With so many volunteers submitting their medical data, Obama acknowledged there would be privacy concerns.
"We've got to figure out how do we make sure that if I donate my data to this big pool, it's not going to be misused, that it's not going to be commercialized in some way that I don't know about" Obama said. "So we've got to set up a series of structures that make me confident if I'm making that contribution to science, I'm not going to end up getting a bunch of spam."
Moreover, the National Cancer Institute will work with Vice President Joe Biden's Cancer Moonshot.
The Precision Medicine Initiative also includes the Department of Veterans Affairs, which has enrolled more than 450,000 veterans in the Million Veteran Program, a participant-driven research program. The Department of Defense is partnering with the VA to expand the MVP and open it up to active duty men and women who wish to participate in the precision medicine research.
"The VA has been gathering genomic data for a large number of our men and women who have served this country in order to serve them better within the VA system," Obama said. "Can they then connect with researchers at a particular university who are focused on a particular disease and can we use big data to accelerate the data much more rapidly? Those kinds of opportunities are there."