Police in Seattle have released dashcam video showing a man reaching for a handgun after officers began closing in on him.
Officers were responding to calls about a suspicious car Sunday when 46-year-old Che Taylor was confronted by officers. Taylor was ordered to show his hands and get on the ground, but instead, police say he leaned into the vehicle and reached for a handgun, prompting at least one officer to fire his weapon.
"Shots fired, shots fired," one officer is heard saying in the video.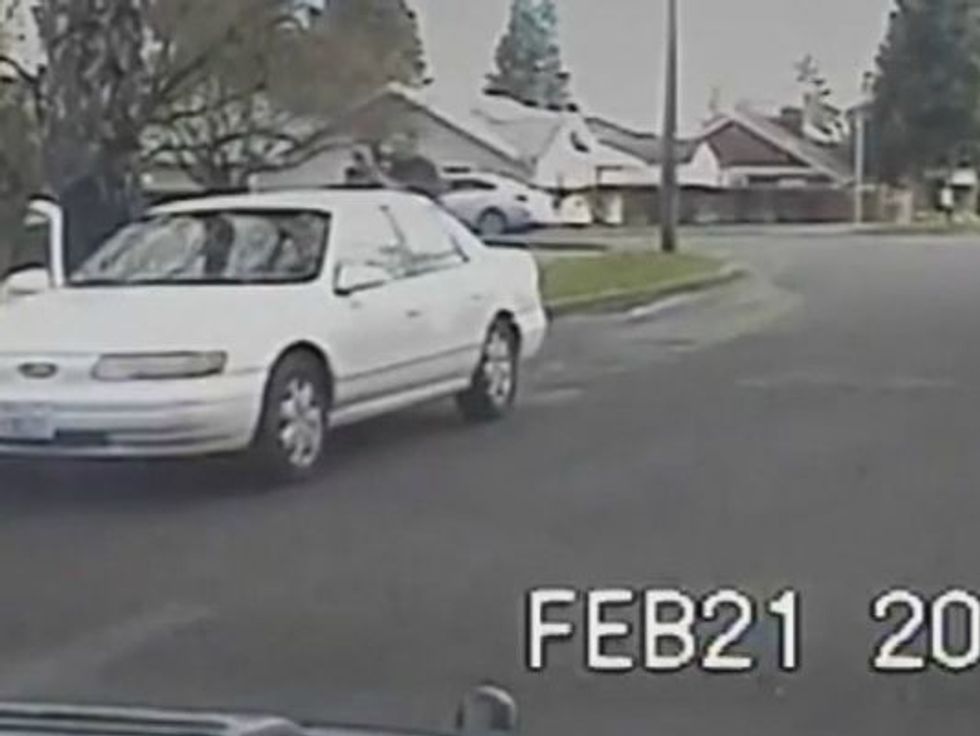 Image source: KING-TV
Taylor was taken to a nearby hospital, where he later died. Police said he was carrying cocaine and black tar heroin. Taylor was a past felon, previously convicted of assault, robbery and rape, and was legally prohibited from possessing a handgun, KING-TV reported.
"The information we have so far is that the officers and an independent civilian witness who corroborated the officers' statements indicate that he was reaching for a weapon," Seattle Police Chief Kathleen O'Toole said.
"Clearly, the officers were in a very dangerous situation. [They] took the action that they thought was appropriate at the time, and we'll let the investigation take its course," O'Toole added.
Another person in the vehicle with Taylor was arrested on charges of possessing heroin. One other was detained but not charged, Seattle PI reported.
(Content warning: Video is graphic)
The Seattle NAACP praised Taylor as a beloved member of the community. The group is now joining with members of Taylor's family to demand "justice" in his killing.
#JusticeForCheTaylor pic.twitter.com/nifjMWMgVM

— Seattle NAACP (@NAACPSeattleKC) February 24, 2016
"It doesn't add up," Hankerson said, according to the Stranger. "We know him as someone who is not a gun toter. ... My entire community right now is so outraged. There's so many more questions than answers."
Hankerson was recently released from prison after spending 22 years behind bars. KUOW-FM reported that he was wrongfully convicted in a 1987 aggravated murder charged.
Hankerson and Taylor had spent time in prison together. Taylor was released about a year ago after spending 21 years behind bars. It was not immediately clear why Taylor was previously arrested and charged. The Seattle Police Department did not immediately return a request for comment about his time in prison or the terms of his release.
Two officers involved in the shooting are on paid administrative leave, pending an investigation.
(H/T: Seattle PI)