HOUSTON, Texas — Eric Trump, the son of businessman and 2016 Republican front-runner Donald Trump, says that a sweep of Super Tuesday states could be the nail in the coffin of the other GOP hopefuls' campaigns.
He literally pointed to the scoreboard — Google's analytics display above the spin room at the University of Houston after Thursday's CNN and Telemundo debate.
"That board says it right there, he's winning this thing," Eric Trump said. "People are going to attack him, but I think he's going to do great."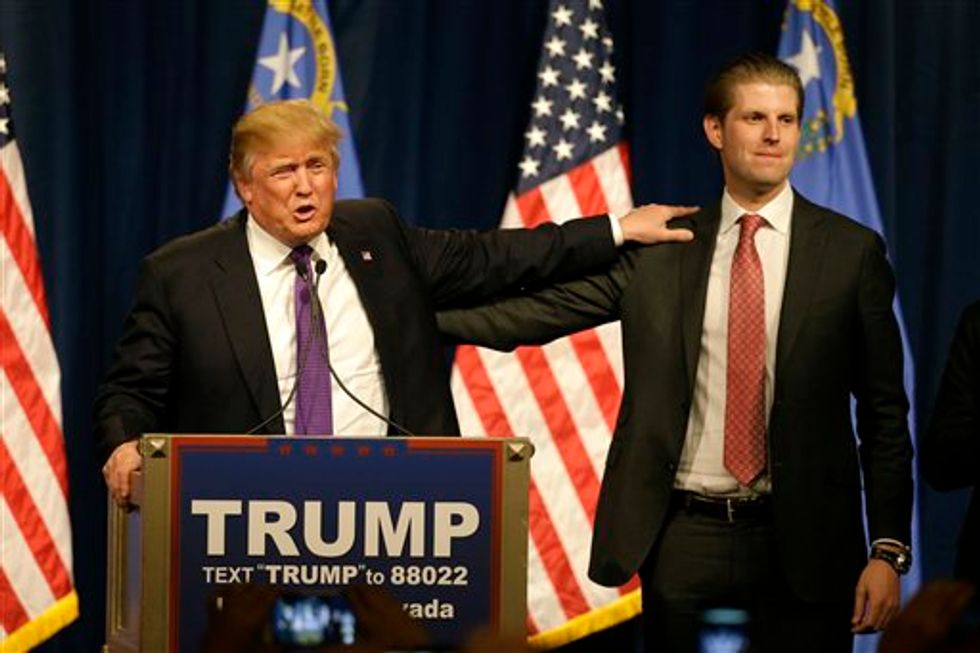 Donald Trump, left, puts his hand on the shoulder of his son, Eric, while speaking at a rally in Las Vegas. (AP/Jae C. Hong)
The Super Tuesday or SEC Primary includes Texas — Sen. Ted Cruz's home state.
But even there, Donald Trump is in the hunt, Eric Trump told TheBlaze after the debate.
"We're winning in the vast majority of those states," he said. "If we're not, we're tied and I think we'll ultimately end up pulling ahead."
Momentum from a strong showing on Super Tuesday makes the delegate math for a comeback by Cruz or Sen. Marco Rubio nearly impossible, he added.
"These guys, they already have very little path forward, the other candidates, and I think doing really well on Super Tuesday would give them pretty much a nonexistent path forward," Eric Trump said. "They need a certain delegate count. If you look at the delegates right now that we have versus what the other guys have — their delegates are almost non-existent. A great performance would almost make it impossible to go anywhere else, so I think that would ultimately lead to his victory."
Eric Trump added that his father is performing remarkably well for someone brand-new to the political world.
"He's been a politician for seven months now. He's never done this before. Many of these other guys have campaigned their entire lives ... I was building hotels with him seven months ago all over the world — to come out and have this kind of showing is impressive," he said.
"He's changed the face of politics I think forever."
Editor's Note: The first version of this story said that Florida is a Super Tuesday state, which it's not. My bad.
—
Follow the author of this story on Twitter and Facebook:
[facebook //www.facebook.com/plugins/like.php?href=