JACKSON, Miss. (TheBlaze/AP) -- Mississippi Gov. Phil Bryant is proclaiming April as Confederate Heritage Month, but without mentioning slavery.
His proclamation was posted to the Mississippi Sons of Confederate Veterans website but not to the governor's site. He signed it days before legislators killed bills that would have either removed the Confederate battle emblem from the 122-year-old state flag or stripped state money from colleges and local governments that refuse to fly the current banner.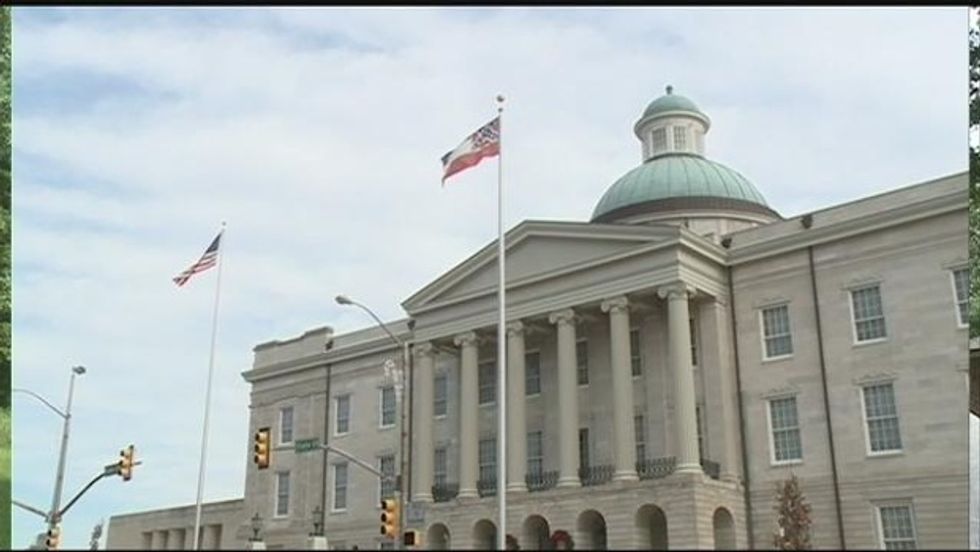 The Mississippi State flag, containing the Confederate flag, flies alongside the American flag outside the Mississippi Capitol. (Image source: WAPT-TV)
Bryant spokesman Clay Chandler said previous governors, Democrat and Republican, have issued similar proclamations for Confederate Heritage Month.
"Gov. Bryant believes Mississippi's history deserves study and reflection, no matter how unpleasant or complicated parts of it may be," Chandler said. "Like the proclamation says, gaining insight from our mistakes and successes will help us move forward."
Confederate symbols have been widely debated since the slayings of nine black worshippers last June at a church in Charleston, South Carolina. A white man charged in the killings had previously posed for photos online, holding a Confederate battle flag. After the shooting, South Carolina lawmakers and Gov. Nikki Haley removed a Confederate battle flag that had flown for years on the Statehouse lawn.
Also since the attack, several Mississippi cities and counties, and some universities, have stopped flying the state flag, which is the last in the nation to feature the Confederate emblem - a red field topped by a blue X dotted with 13 white stars.
A weekly newspaper, the Jackson Free Press, first reported on the heritage month proclamation Wednesday. Governors of some other Southern states have issued similar proclamations in the past. Georgia law designates each April as Confederate History and Heritage month.
"It is important for all Americans to reflect upon our nation's past, to gain insight from our mistakes and successes, and to come to a full understanding that the lessons learned yesterday and today will carry us through tomorrow, if we carefully and earnestly strive to understand and appreciate our heritage and our opportunities which lie before us," Bryant's proclamation reads, WAPT-TV reported.
Greg Stewart is a Sons of Confederate Veterans member and executive director of Beavoir, the beachside mansion in Biloxi, Mississippi, that was the last home of Confederate president Jefferson Davis. He said it's a long tradition for Mississippi governors to proclaim Confederate Heritage Month.
"In my memory, none of them have ever hesitated to," Stewart said Thursday.
Democratic state Rep. Ed Blackmon, a member of the Mississippi Legislative Black Caucus, said he has no problem with people honoring Confederate ancestors.
"But, at the same time, I would hope the governor would consider that people have problems with the Confederate flag," Blackmon said.
Blackmon said he grew up seeing the flag used by the Ku Klux Klan as a symbol of racial oppression. He said: "That's a part of history you cannot deny."