HOUSTON, Texas — Tonight was the night that Sens. Marco Rubio and Ted Cruz stopped sniping at each other and focused their combined energies on front-runner Donald Trump.
But with Super Tuesday just four days away and Trump all but running away with the nomination, it might be too late.
Thursday's debate at the University of Houston was the last before the so-called SEC primary, in which Alabama, Alaska, Arkansas, Colorado, Georgia, Massachusetts, Minnesota, Oklahoma, Tennessee, Texas, Vermont and Virginia vote for a Republican 2016 nominee.
Trump is well ahead in most of those states, and is even within striking distance in Cruz's home state of Texas.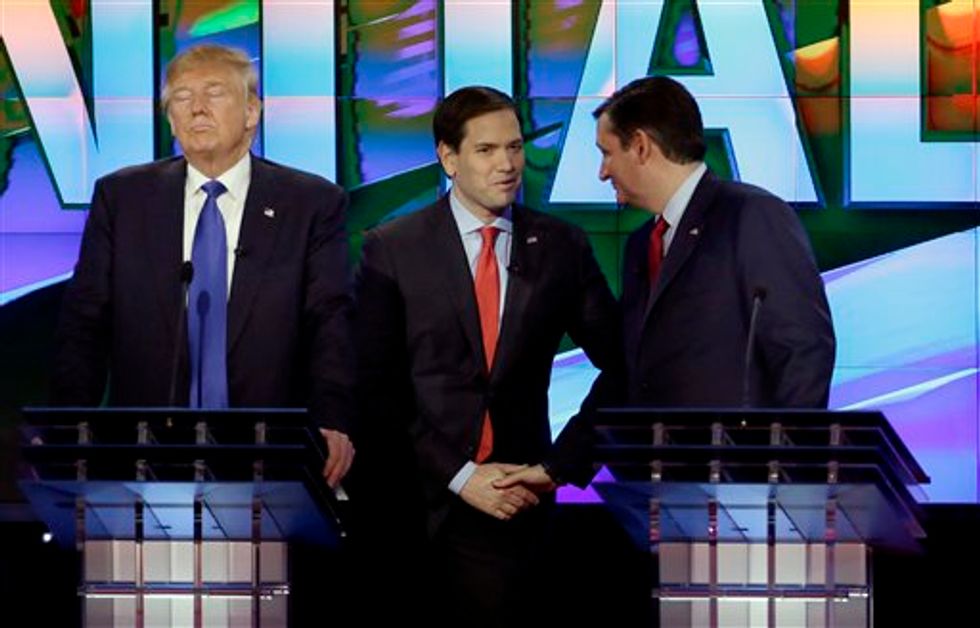 Donald Trump pauses as Marco Rubio and Ted Cruz shake hands during a break in the GOP debate Thursday. (AP/David J. Phillip)
Cruz and Rubio seemingly felt the urgency Thursday night of Trump's lead after consecutive wins in New Hampshire, South Carolina and Nevada. Rumors of a meeting between the two candidates earlier this week led to speculation that they had made some sort of deal to take on Trump together.
Whether by design or by accident, Rubio and Cruz on Thursday both seemed to recognize that for now, their first priority is slowing Trump down.
Rubio particularly went after the candidate for not releasing his tax returns, for not being able to articulate a specific plan on health care, his hiring of Polish workers on multiple real estate projects, his companies' bankruptcies and his support for Planned Parenthood.
Rubio's decision to go hard after Trump marks a change of strategy for the candidate, who's focused most of his energy in the past on criticizing Cruz — his top rival for the Trump-alternative vote – and former Florida Gov. Jeb Bush, a one-time mentor whose base of support was cutting into Rubio's own before he dropped out of the race last weekend.
And it paid off: Many in the political pundit class as well as voter focus groups like Frank Luntz's named Rubio the winner of Thursday's CNN and Univision debate.
Cruz landed some blows too: Knocking Trump for his lack of electability when compared to likely Democratic nominee Hillary Clinton, painting Trump as a newcomer to the conservative cause by reminding voters of his previous donations to Democrats and scrutinizing his past health care stances.
Cruz particularly faces a make-or-break moment on his home turf in Texas on Super Tuesday. The Lone Star state started early voting on Feb. 16 and has 155 delegates up for grabs. It's not a winner-take-all state, but the high delegate count means a strong showing Tuesday for Cruz could put him back in the hunt to challenge Trump for the nomination.
But a loss in his home state could be devastating. Recent polls have show Trump making gains in Texas, so Cruz has deployed a strong field of surrogates like former Gov. Rick Perry, current Gov. Greg Abbott and Lt. Gov. Dan Patrick.
Even if Cruz holds on in Texas, Trump is already well on his way to the GOP nomination.
And with half the delegates that a candidate needs to win the nomination at stake on Super Tuesday and winner-take-all states on the near horizon, Trump is well-positioned to add to his already commanding lead regardless of Thursday's debate outcome.
One of Rubio's best moments on Thursday came when he knocked Trump for his repetitiveness — pointing out that he says the same things every night.
"Everyone's dumb, he's gonna make America great again ... We're going to win, win win, he's winning in the polls... And the lines around the state," Rubio said.
But a zinger in a debate doesn't change the math: Trump is going to "win, win, win" until either Cruz or Rubio proves that they can beat him at the polls, not just on the stage.
—
Follow the author of this story on Twitter and Facebook:
[facebook //www.facebook.com/plugins/like.php?href=