During Thursday night's GOP debate, Republican presidential candidate Donald Trump claimed not only to not have supported the 2011 U.S. intervention into Libya, he also said he "never discussed the subject." Glenn Beck debunked both of the billionaire's claims Friday.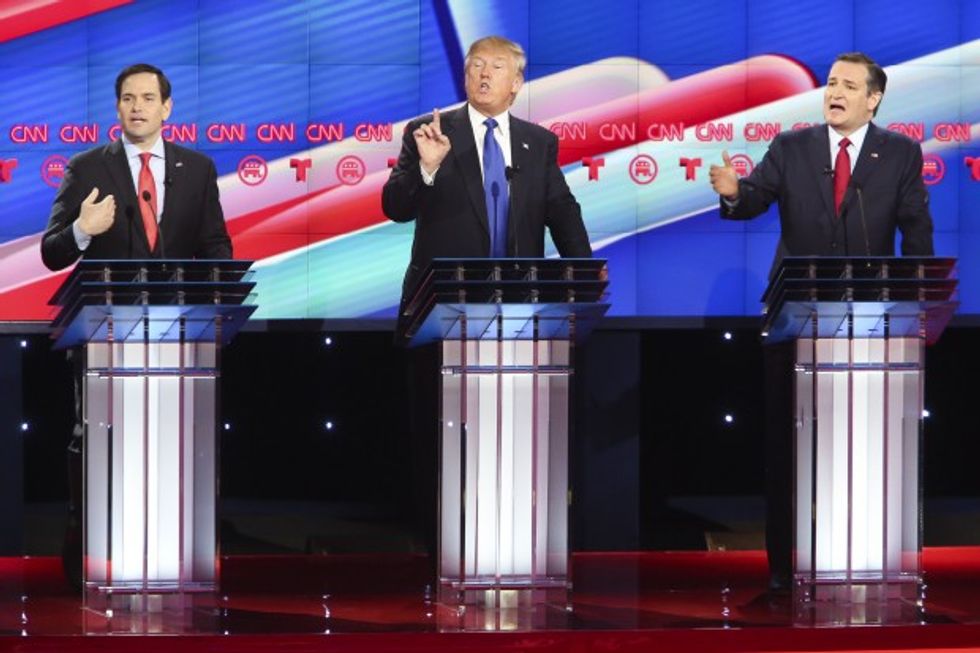 Marco Rubio, Ted Cruz, and Donald Trump during the third CNN Republican debate on Thursday in Houston. (Getty Images/Michael Ciaglo-Pool)
" said I was in favor of Libya? I never discussed that subject. I was in favor of Libya? We would be so much better off if Gadhafi were in charge right now," Trump said at the debate. "If these politicians went to the beach and didn't do a thing and we had Saddam Hussein and we had Gadhafi in charge, instead of having terrorism all over the place, we'd be — at least they killed terrorists, all right?"
"You look at Libya right now, ISIS, as we speak, is taking over their oil, as we speak. It's a total mess. We would've been better off if the politicians took a day off instead of going into war," he added.
During his radio program, Beck called Trump out on his claim that he "never discussed" the intervention.
"Now, listen. Lie No. 1, he's never discussed that. He's never discussed that. And, we'd be so much better if Gadhafi were in charge. Let's go into the way-back machine and go way back to Libya," Beck said, before playing audio from 2011.
As it turns out, Trump was in favor of U.S. involvement in Libya in 2011, even saying it was "absolutely nuts" for the United States not to get involved.
"I can't believe what our country is doing. Gadhafi in Libya is killing thousands of people. Nobody knows how bad it is. And we're sitting around. We have soldiers all over the Middle East, and we're not bringing them in to stop this horrible carnage — and that's what it is, it's a carnage. You talk about all of the things that have happened in history. This could be one of the worst," Trump said on his video blog.
The billionaire businessman went on to say that the U.S. should intervene to stop Gadhafi, "which would be very easy."
"We could do it surgically. Stop him from doing it and save these lives. This is absolute nuts. We don't want to get involved," Trump said.
In addition, Trump said in a March 2011 interview on CNN's "Piers Morgan Tonight" that not intervening would be a "major, major black eye for this country," arguing that President Barack Obama had not yet entered Libya because "he's a little afraid of Congress."
"Not only did he discuss it — he was for going in and getting Gadhafi," Beck concluded. "There's one person who is a serial pathological ... liar. ... He's a sociopath in his lies. He doesn't care."
Complimentary Clip from TheBlaze TV The full episode of The Glenn Beck Program, along with many other live-streaming shows and thousands of hours of on-demand content, is available on just about any digital device. Click here to watch every Glenn Beck episode from the past 30 days for just $1!
—
Follow the author of this story on Twitter: