Texas Gov. Greg Abbott's press secretary forcefully pushed back against a lawsuit that was filed by the Freedom From Religion Foundation this week, saying that the First Amendment does not force the state to permit displays that "mock and satirize an entire religion."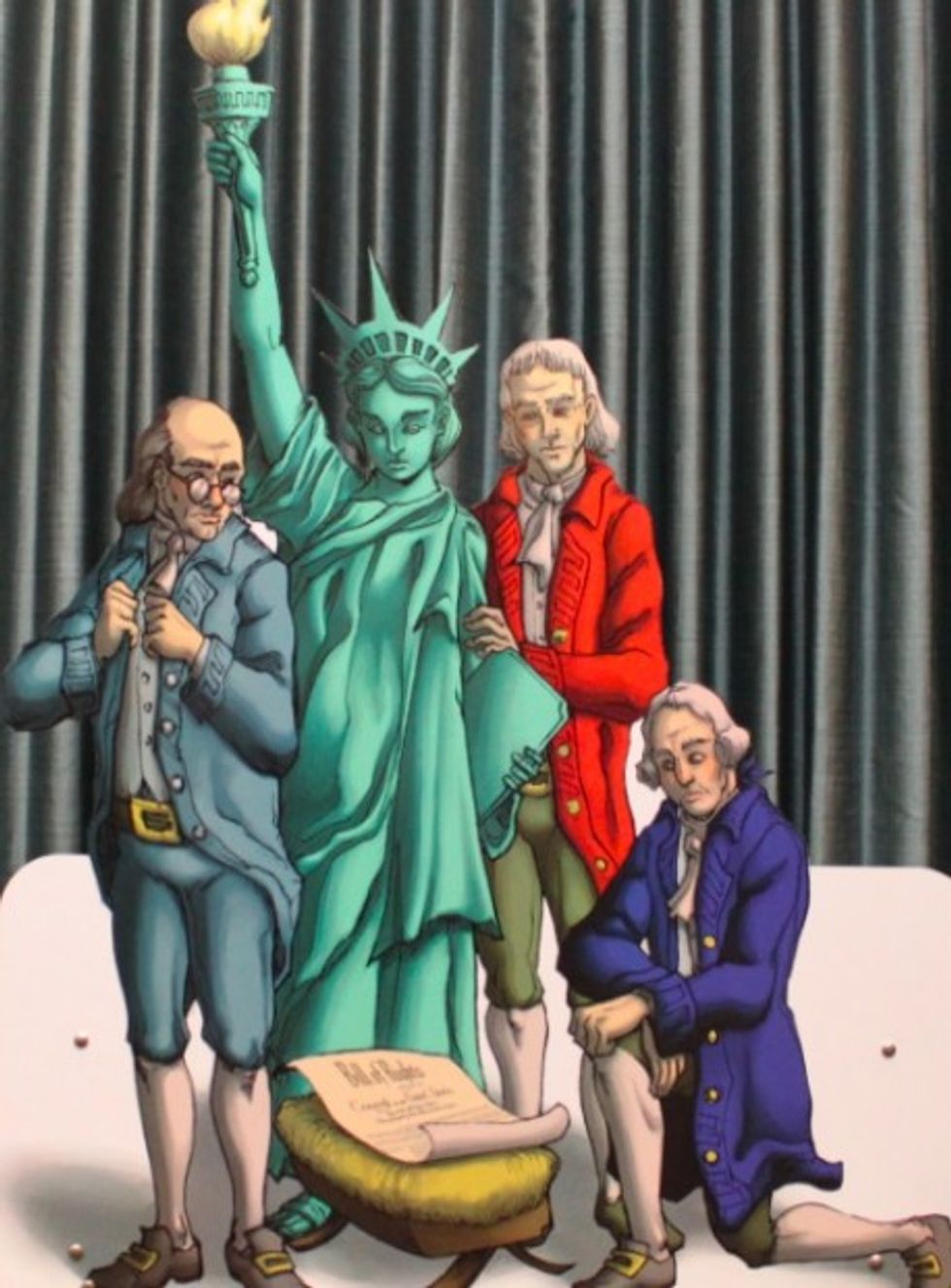 The atheist nativity display (Freedom From Religion Foundation)
"This atheist group based out of Wisconsin has consistently messed with Texas – and consistently lost," press secretary John Wittman said in a statement to TheBlaze. "The First Amendment does not require Texas to allow displays at its Capitol building that mock and satirize an entire religion."
As TheBlaze previously reported, the Freedom From Religion Foundation, an atheist activist group based in Madison, Wisconsin, filed the federal lawsuit against Texas Gov. Greg Abbott.
The move came two months after Abbott demanded the removal of a controversial mock "nativity" display that non-believers had erected inside the state capitol.
The Freedom From Religion Foundation said in a press release that the display, which featured the Statue of Liberty, the Founding Fathers, and the Bill of Rights in a manger, was taken down by the State Preservation Board at Abbott's request.
It's an act that atheists say violated their constitutional rights, but one that the governor's office believes was entirely appropriate.
"The Preservation Board acted appropriately by removing the display," Wittman said. "The lawsuit is completely baseless."
In a Dec. 22 letter to the state board, Abbott expressed his disgust over the display, calling it a "juvenile parody" that "violates the Preservation Board's regulations and should be removed immediately." Here's more from Abbott's letter:
First, far from promoting morals and the general welfare, the exhibit deliberately mocks Christians and Christianity. The Biblical scene of the newly born Jesus Christ lying in a manger in Bethlehem lies at the very heart of the Christian faith. Subjecting an image held sacred by millions of Texans to the Foundation's tasteless sarcasm does nothing to promote morals and the general welfare. To the contrary, the Foundation's spiteful message is intentionally designed to belittle and offend, which undermines rather than promotes any public purpose a display promoting the bill of rights might otherwise have had. The Board has allowed and should continue to allow diverse viewpoints to be expressed in Capitol displays. But it has no obligation to approve displays that purposefully mock the sincere religious beliefs of others.
The Freedom From Religion Foundation is seeking damages and attorneys' fees, according to a press release.
Read more about the story here.