Hillary Clinton's firewall held strong on Saturday evening, with the former secretary of state projected to handily defeat her rival Vermont Sen. Bernie Sanders in the South Carolina Democratic primary.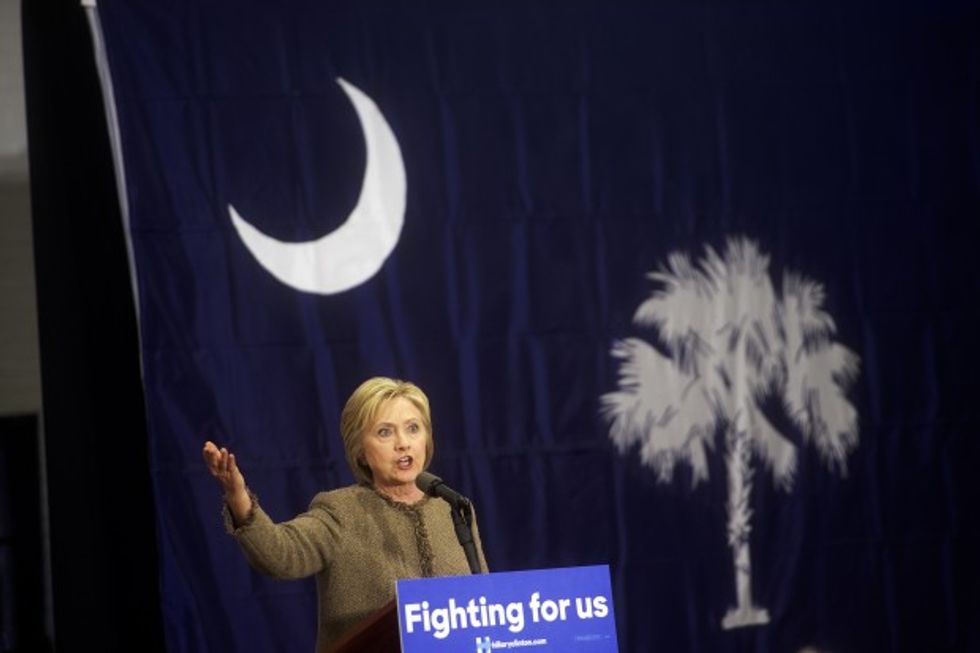 ORANGEBURG, SC - FEBRUARY 26: Democratic Presidential candidate, former Secretary of State Hillary Clinton held a rally at South Carolina State University February 26, 2016 in Orangeburg, South Carolina.  (Photo: Mark Makela/Getty Images)
South Carolina was regarded as Clinton's firewall following a near tie in the Iowa caucus and a substantial loss in New Hampshire. The Palmetto State was considered a must-win state for Clinton heading into the Super Tuesday primaries in a close race.
According to exit polls, she won the support of a significant majority of black voters.
Black voters turned out in potentially record numbers in #SCPrimary, per exit polls, and 84% chose @HillaryClinton: https://t.co/3fo2Nn5BnG

— ABC News Politics (@ABC News Politics) 1456618663.0
Clinton had been outperforming Sanders in Palmetto State polls for months, although in recent days Sanders had begun to close the gap.
The South Carolina primary is the final contest before the two remaining Democratic candidates square off in the Super Tuesday primaries.
To South Carolina, to the volunteers at the heart of our campaign, to the supporters who power it: thank you. -H https://t.co/JFTUZ2yBxf

— Hillary Clinton (@Hillary Clinton) 1456617740.0
"Tomorrow this campaign goes national," Clinton said during remarks to supporters following her victory.
WATCH: @HillaryClinton: "We don't need to make America great again; America has never stopped being great." https://t.co/SaokwgAAPZ

— ABC News Politics (@ABCPolitics) February 28, 2016
"When we stand together, there is no barrier too big to break," Clinton said. "Together we can break down all the barriers holding our families and our country back."
Clinton promised that as president, her administration would "build on the record and accomplishments of President Obama."
"Despite what you hear, we don't need to make America great again, America never stopped being great," Clinton said. "But we do need to make America whole again."
Clinton also invoked Scripture during her victory speech, citing one of her "favorite" verse from 1 Corinthians.
"These are words to live by," she said.
"I know it sometimes seems a little odd for someone running for president in these, in this time, to say we need more love and kindness in America," Clinton said. "But I'm telling you from the bottom of my heart, we do."
Sanders offered Clinton his congratulations on her victory, and promised his supporters that his campaign "is just beginning."
"I congratulate Secretary Clinton on her victory in South Carolina," Sanders said in a statement.
"I am very proud of the campaign we ran. I am grateful for the grassroots supporters who took on the political establishment and stood up for working families. I appreciate the many friendships that Jane and I have forged with people across South Carolina, where I was all but unknown when this campaign began 10 months ago."
"Let me be clear on one thing tonight," he added. "This campaign is just beginning. We won a decisive victory in New Hampshire. She won a decisive victory in South Carolina. Now it's on to Super Tuesday. In just three days, Democrats in 11 states will pick 10 times more pledged delegates on one day than were selected in the four early states so far in this campaign. Our grassroots political revolution is growing state by state, and we won't stop now. When we come together, and don't let people like Donald Trump try to divide us, we can create an economy that works for all of us and not just the top 1 percent."
According to their Real Clear Politics averages, Clinton leads Sanders by five percentage points in national polls as the two candidates prepare for the Super Tuesday primaries.
This story has been updated.