LOS ANGELES (TheBlaze/AP) — Three people were stabbed, including one who was critically wounded, after a small group of Ku Klux Klan members staging an anti-immigrant rally in Southern California clashed with a larger gathering of counter-protesters on Saturday, police said.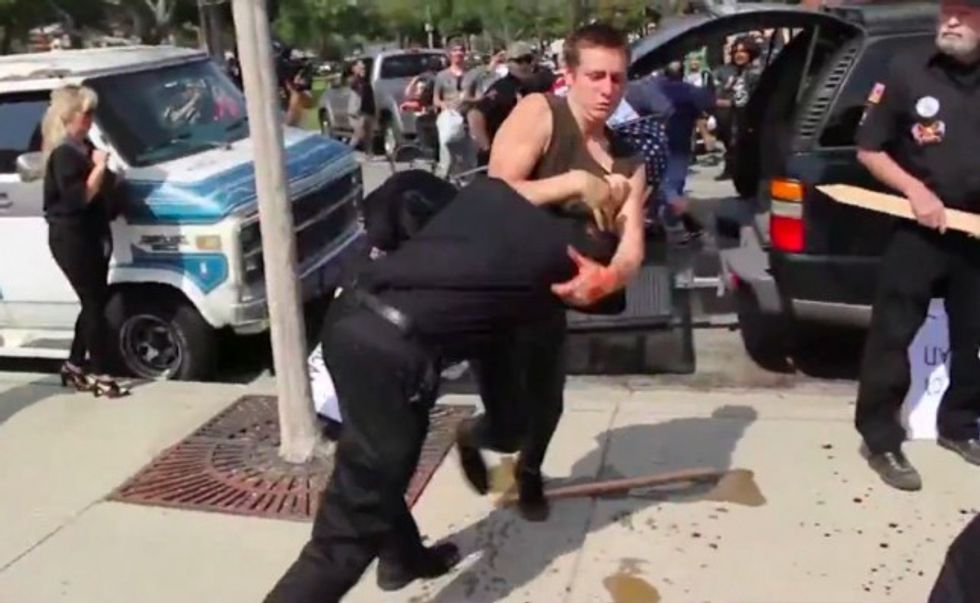 Image source: KTTV-TV
The violence erupted shortly after noon in Anaheim's Pearson Park, about 3 miles from Disneyland. The KKK had advertised plans for the rally and about 30 anti-Klan protesters showed up beforehand, Anaheim Police Sgt. Daron Wyatt said. When the Klan members arrived they were attacked as they exited their cars.
One Klansman stabbed a counter-protester with the decorative end of a flag pole, Wyatt said. That stabbing set off a vicious brawl in which Klan members and protesters fought across an entire city block.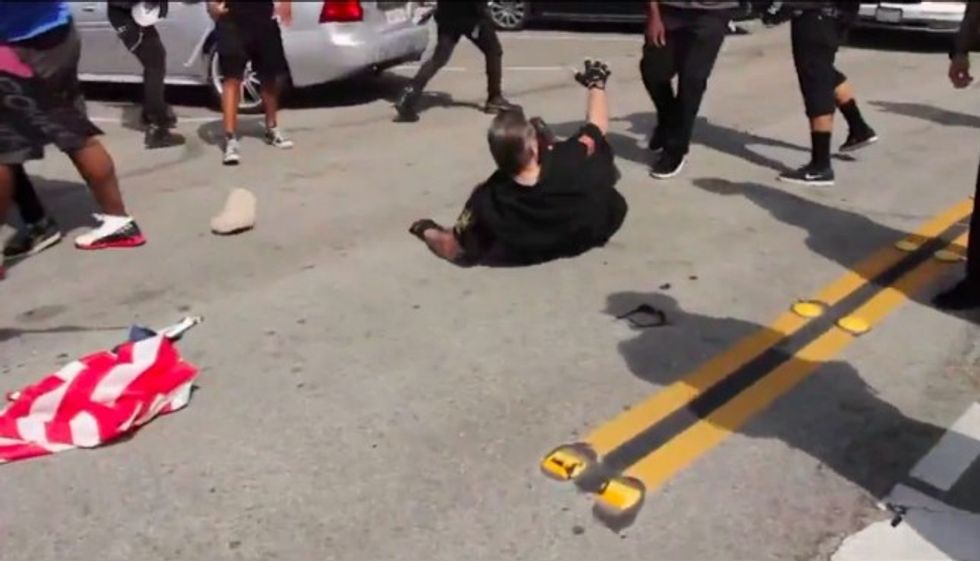 Image source: KTTV-TV
One Anaheim police sergeant saw a Klan member with a knife in his hand and a counter-protester bleeding nearby, Wyatt said. The sergeant took the KKK member into custody. Meanwhile, counter-protesters stomped on two KKK members, he said.
Wyatt said police were present when the violence erupted but did not say how many officers were deployed.
3 counter-protesters at a KKK rally in Anaheim have been stabbed, police say https://t.co/6YaV7FPEsG (AP photo) https://t.co/4ffvEoyk15

— USA TODAY (@USA TODAY) 1456613644.0
Brian Levin, director of California State University, San Bernardino's Center for the Study of Hate and Extremism, witnessed the violence.
"There were no police officers here when this started happening," Levin said, according to the Los Angeles Times.
On Friday, the Anaheim Police Department had posted a status on Facebook, stating that the department was aware of the upcoming demonstration.
"This group has held similar rallies throughout Orange County over the past few years. Members of the sponsoring group typically pass out literature and hold signs with messages, which while controversial, are protected by the First Amendment," the APD's Facebook post stated. "APD will be monitoring the situation for any violations of law."
Chris Barker, who identified himself as the "imperial wizard" of the Loyal White Knights of the KKK, said his members were holding a peaceful anti-immigration demonstration and acted in self-defense.
"If we're attacked we will attack back," said Barker, who did not attend the rally and spoke by phone from North Carolina. The organization lists Pelham, N.C., as its headquarters.
In total, 13 people were detained; six Klan members in connection with three stabbings and seven counter-protesters suspected of assaulting KKK members. All the injured were male. None was immediately identified.
During the height of the KKK's power in Orange County, nearly 300 Klansmen lived in Anaheim and patrolled the city streets, the LA Times noted. At one point, a large KKK rally once attracted 20,000 people Anaheim. In the 1920s, some Klansmen held elected office in the city.
In January 2015, packets containing fliers condemning Martin Luther King Jr. and supporting the Ku Klux Klan were left in the driveways of about 40 homes in Santa Ana, about 8 miles south of Anaheim. The fliers opened with the heading "On Martin Luther King Day, you are celebrating a communist pervert." The bottom of the fliers stated they came from the "Loyal White Knights of the Ku Klux Klan."
Nationwide, the number of active KKK groups increased to 190 in 2015 after falling in 2013 and 2014, according to the Southern Poverty Law Center, which tracks hate groups. Nevertheless, KKK activity nationwide has continued to decrease dramatically in recent decades, the center noted, which estimated that the KKK group currently has between 5,000 and 8,000 members across the country, according to the LA Times.
Content warning: The images and video in the story are graphic and may be disturbing to some readers.
This story has been updated.