Texas Republican Sen. Ted Cruz's presidential campaign announced the formation of a "Religious Liberty Advisory Council" Monday afternoon, intended to guide the Texas senator's policies to protect religious liberty and "reverse the unprecedented attacks on freedom."
In a statement to reporters, the campaign said the council will be made up of 19 people, all who have a record of protecting religious liberty.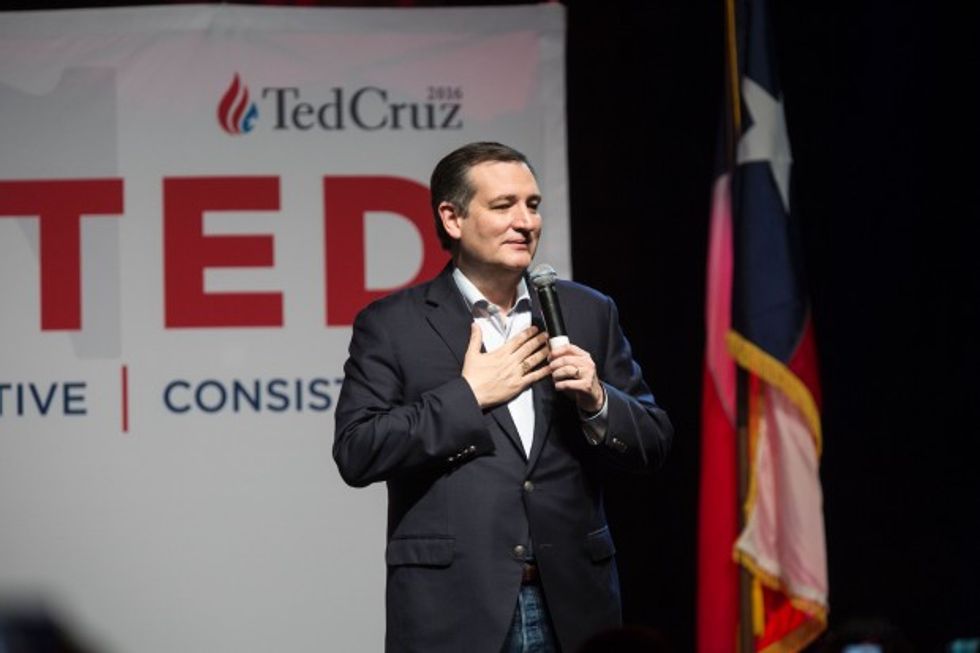 Ted Cruz speaks at a presidential campaign rally in Dallas Monday. (Getty Images/Laura Buckman/AFP)
"Religious liberty is the first freedom guaranteed to Americans under the Constitution, and ensuring the protection of that right has been a priority my entire adult life," Cruz said in the statement. "Increasingly, renegade government officials seek to coerce people of faith either to act in a manner that violates their faith or forfeit their career. When I am elected president, that will change. It is time for our liberties to be respected in Washington."
"Religious liberty is the top issue for Americans of faith in this election," he added. "People of faith must be free to live according to their convictions without being second-guessed or shut down by the federal government. Today, I am proud to be joined by such a knowledgeable and committed group of leaders to advance our first freedom."
Some of the notable names on the advisory council include Tony Perkins of the Family Research Council and the Heritage Foundation's Ryan Anderson.
"I am honored to join Ted Cruz's Religious Liberty Advisory Council at such a critical time in the history of this nation," said Perkins. "Never before has religious freedom been more endangered than it is today under the policies of the Obama administration. We need a president who upon entering office will immediately begin reversing the damage done to our freedom to believe and our ability to live according to those beliefs."
This isn't the first time that Perkins has thrown his support behind Cruz's presidential aspirations. In January, he formally endorsed Cruz during an interview with Fox News' Megyn Kelly.
Cruz has made the issue of religious liberty central to his campaign. He has even gone as far as pledge that on his first day in the White House, he would instruct the IRS, Department of Justice and other federal agencies to stop their abuse of religious liberty and the first amendment.
—
Follow the author of this story on Twitter and Facebook:
[facebook //www.facebook.com/plugins/like.php?href=