Oscars host Chris Rock spared no one in his highly anticipated monologue at the 88th Academy Awards Ceremony Sunday. The comedian poked fun at Hollywood's "sorority" racism, claiming that all black actors want are the "same opportunities."
"We want black actors to get the same opportunities as white actors," Rock said. "That's it."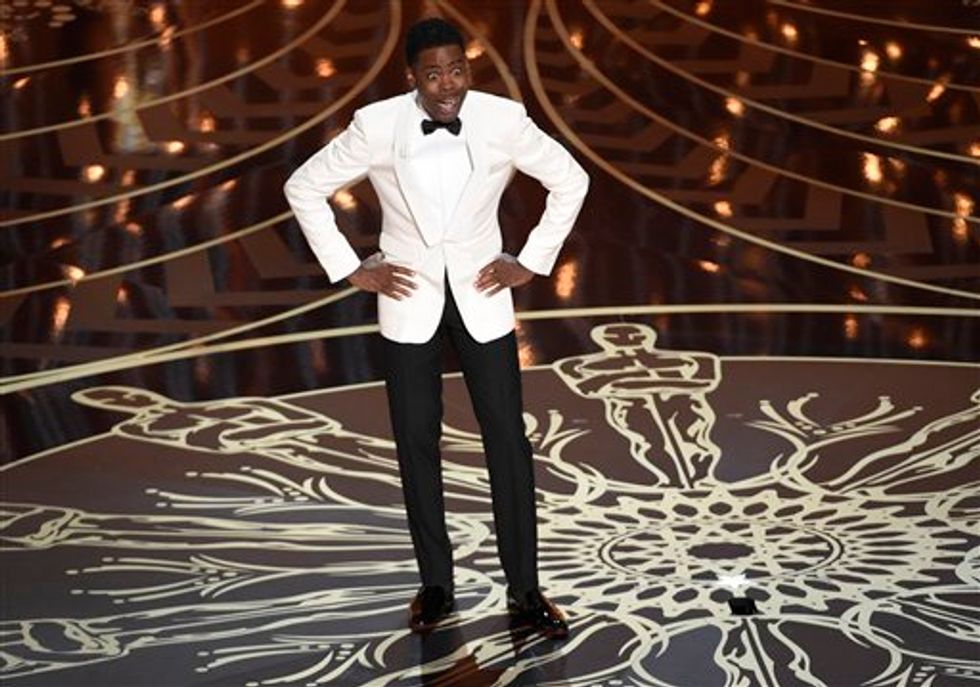 Host Chris Rock speaks at the Oscars Sunday at the Dolby Theatre in Los Angeles. (Chris Pizzello/Invision/AP)
Rock's response to the long-running #OscarsSoWhite diversity controversy put viewers and attendees at ease, and the show went on. Leonardo DiCaprio won his first Academy Award for Best Actor in his fifth nomination, and Brie Larson claimed Best Actress. Alejandro G. Iñárritu won Best Director for "The Revenant" and "Spotlight" won Best Picture.
Despite all of the speculation and scrutiny surrounding this year's awards, the show itself received remarkably low ratings, with a 23.1/37 in metered market results — a seven-year low for Hollywood's biggest night.
According to Deadline, the 88th Academy Awards saw a 6 percent drop from the 24.6/39 the ceremony received last year. The 2015 show hosted by Neil Patrick Harris followed the 2011 Oscars for the third-worst ratings an Academy Awards show has received since the last time Rock hosted in 2005. The only shows to receive lower ratings were the 2009 Hugh Jackman-hosted Oscars (23.3) and 2008's Jon Stewart-hosted show (21.9).
In the early results, Sunday night's show dropped below 2009 and close to 2008 numbers.
The 2005 Oscars saw the highest ratings the show had received in a decade, with a 30.1/43 rating. That score also remained high in later numbers for the show. That year "Million Dollar Baby" won Best Picture, and the 2005 Oscars ended up with an impressive 42.14 million viewers, with 19.6 million among adults ages 18-49. Even those numbers, however, were a dip from the 2004 results. Compared to Rock's last time hosting 11 years ago, 2016's 8:30 — midnight ceremony was down 23 percent – a much more significant decline.
Last year's Oscars ended with a grand total of 37.3 million viewers and an 11.0/26 rating in the major age demographic. That show was the lowest turnout among adults 18-49 since 2008 and the lowest viewership since 2009.
(H/T: Deadline)