Republican front-runner Donald Trump found himself the target of a 21-minute tirade Sunday night from HBO comedian John Oliver.
"Our main story tonight, and I can't believe I'm saying this, is Donald Trump," Oliver announced to begin his "Last Week Tonight" program.
The HBO host systematically ripped the billionaire on a host of issues making up his appeal, including his "tell it like it is" attitude, his claim to be self-funding his campaign, the idea that "he's tough" and a good businessman.
Content warning: strong language:
But, Oliver concluded criticism on those fronts would probably not hinder his campaign. Instead, he argued that the best way to take down his campaign would be to uncouple the man from his brand.
To do so, Oliver suggested calling Trump by his ancestral surname: Drumpf.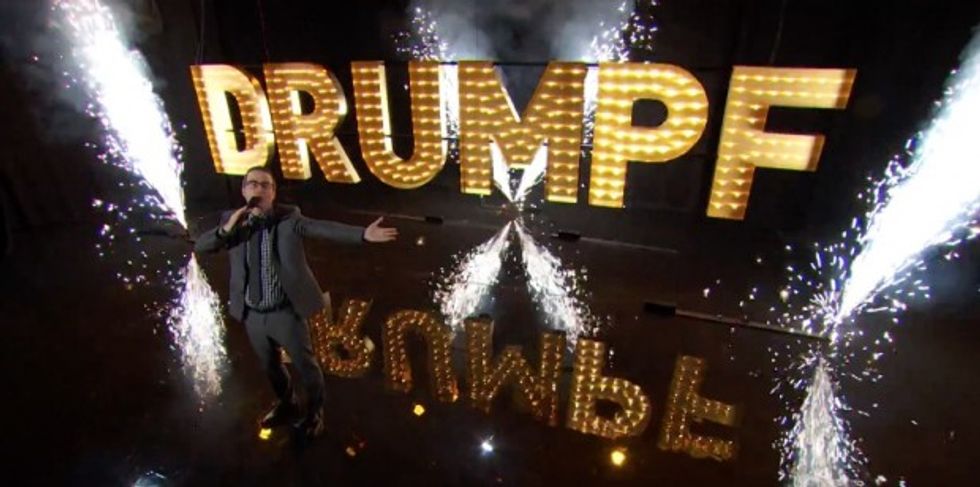 Image source: Screen grab
"If you are thinking of voting for Donald Trump, the charismatic guy promising to make America great again, stop and take a moment to imagine how you would feel if you just met a guy named Donald Drumpf, a litigious serial liar with a string of broken business ventures and the support of a former Klan leader who he can't decide whether or not to condemn. Would you think he would make a good president, or is the spell now somewhat broken?" Oliver asked his audience.
"That is why tonight I am asking America to make Donald Drumpf again," he added.
#MakeDonaldDrumpfAgain https://t.co/YcACU6oUxD

— Last Week Tonight (@Last Week Tonight) 1456759965.0
Oliver concluded his 21-minute rant, "Mr. Drumpf, I await your lawsuit in the morning. I have no doubt that it will be signed in gold Sharpie."
The tirade has since gone viral online, amassing more than 2.3 million views on YouTube and more than 20 million views on Facebook.
—
Follow the author of this story on Twitter and Facebook: