Republican Sen. Ben Sasse (Neb.) has written an open letter to supporters of GOP presidential front-runner Donald Trump, in which he argued that should Trump and former Secretary of State Hillary Clinton become their respective parties' nominees, he will have to seek a third option for president.
Open Letter to Trump Supporters: https://t.co/yUNSZTqlg6 Good night. Signing off, Gym Rat. https://t.co/xezYe5gszo

— Ben Sasse (@Ben Sasse) 1456723734.0
Sasse previously sparked a Twitter controversy by addressing a series of questions to Trump. The GOP candidate did not answer any of the senator's questions but fired back by calling him a "gym rat."
"I'm not an establishment Republican, and I will never support Hillary Clinton," he wrote. "I'm a movement conservative who was elected over the objections of the GOP establishment. My current answer for who I would support in a hypothetical matchup between Mr. Trump and Mrs. Clinton is: Neither of them."
"Now, let's talk about voting," Sasse continued. "Voting is usually just about choosing the lesser evil of the most viable candidates. 'Usually…' But not always. Certain moments are larger. They cause us to explicitly ask: Who are we as a people? What does the way we vote here say about our shared identity? What is actually the president's job?"
Sasse added that merely being labeled a "Republican" isn't sufficient reason to vote for someone.
"Now, let's talk about political parties: parties are just tools to enact the things that we believe," he wrote. "Political parties are not families; they are not religions; they are not nations — they are often not even on the level of sports loyalties. They are just tools. I was not born Republican. I chose this party, for as long as it is useful. If our Party is no longer working for the things we believe in — like defending the sanctity of life, stopping ObamaCare, protecting the Second Amendment, etc. — then people of good conscience should stop supporting that party until it is reformed."
Sasse said that neither Trump nor Clinton are good options for president.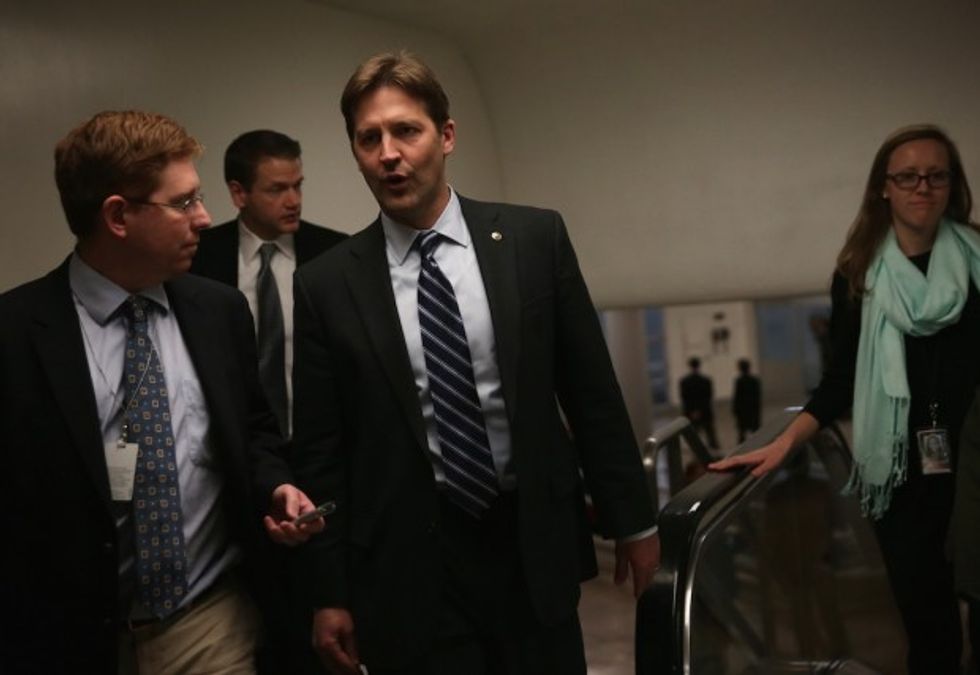 Sen. Ben Sasse (R-Neb.) arrives at the U.S. Capitol for a vote. (Alex Wong/Getty Images)
"Given what we know about him today, here's where I'm at: If Donald Trump becomes the Republican nominee, my expectation is that I will look for some third candidate — a conservative option, a Constitutionalist," Sasse wrote.
"I do not claim to speak for a movement, but I suspect I am far from alone," he added. "After listening to Nebraskans in recent weeks, and talking to a great many people who take oaths seriously, I think many are in the same place. I believe a sizable share of Christians — who regard threats against religious liberty as arguably the greatest crisis of our time — are unwilling to support any candidate who does not make a full-throated defense of the First Amendment a first commitment of their candidacy."
"Conservatives understand that all men are created equal and made in the image of God, but also that government must be limited so that fallen men do not wield too much power," Sasse continued. "A presidential candidate who boasts about what he'll do during his 'reign' and refuses to condemn the KKK cannot lead a conservative movement in America."
Sasse wrote that he believes "many Trump fans are well-meaning," but "I sincerely hope we select one of the other GOP candidates."
"Thank you for listening," he concluded. "While I recognize that we disagree about how to make America great again, we agree that this should be our goal. We need more people engaged in the civic life of our country — not fewer. I genuinely appreciate how much many of you care about this country, and that you are demanding something different from Washington. I'm going to keep doing the same thing. But I can't support Donald Trump."