Candidates at an Indian army recruitment day in Bihar were forced to strip down to their underwear in order to prevent cheating and "save time on frisking so many people," sources at the Army Regional Office told the Indian Express on Tuesday.
A photo obtained by the Express shows dozens of men sitting cross-legged in a field Sunday while a uniformed serviceman stood watch.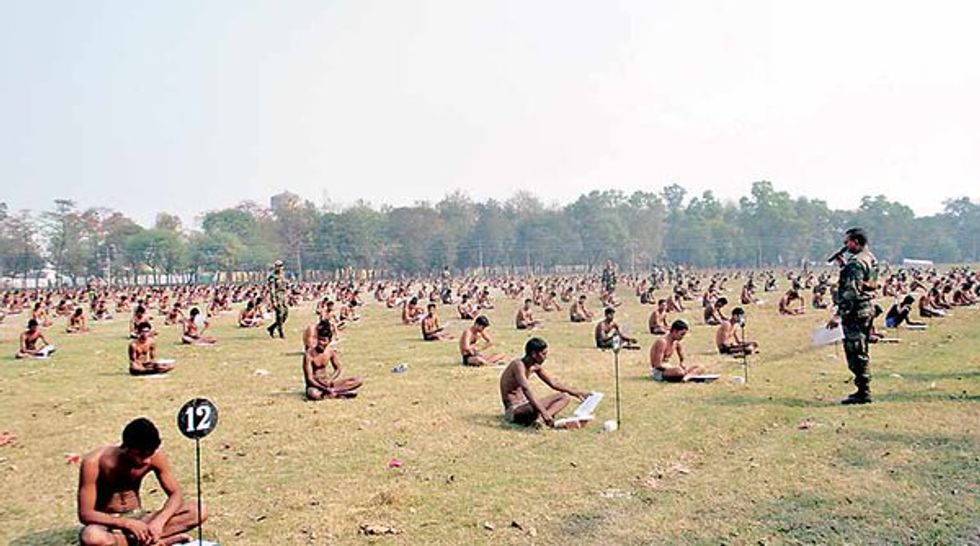 Image via Twitter/@IndianExpress
The ARO explained that the radical decision was made in light of a series of exam cheating scandals that had occurred in the the eastern state. A year ago, police in Bihar arrested about 1,000 aspiring army men for paying individuals to take their exams for them.
More than 1,000 recruits showed up for Sunday's exam.
"We had no option but to comply with the instructions even though it felt odd," one candidate told the Express.
A lawyer has since filed a petition against the army, the Guardian reported. The high court in the Bihar capital Patna asked the defense ministry Tuesday to offer an explanation for the controversial measure.
Because the pressure to secure good school grades and highly coveted government jobs is so high, many have resorted to drastic methods of cheating — from old-fashioned crib sheets to sophisticated spy cameras.
Last year in Bihar, relatives of students scaled the walls of an exam center to pass notes to candidates.
(H/T: Guardian)