A poll released on Super Tuesday, when 11 states vote in party primaries, still shows that Republican Donald Trump would lose to Hillary Clinton in a fall matchup — as both are expected to do well on this biggest of primary days.
Former Secretary of State Clinton would beat the real estate mogul Trump 52 percent to 44 percent, according to a CNN poll.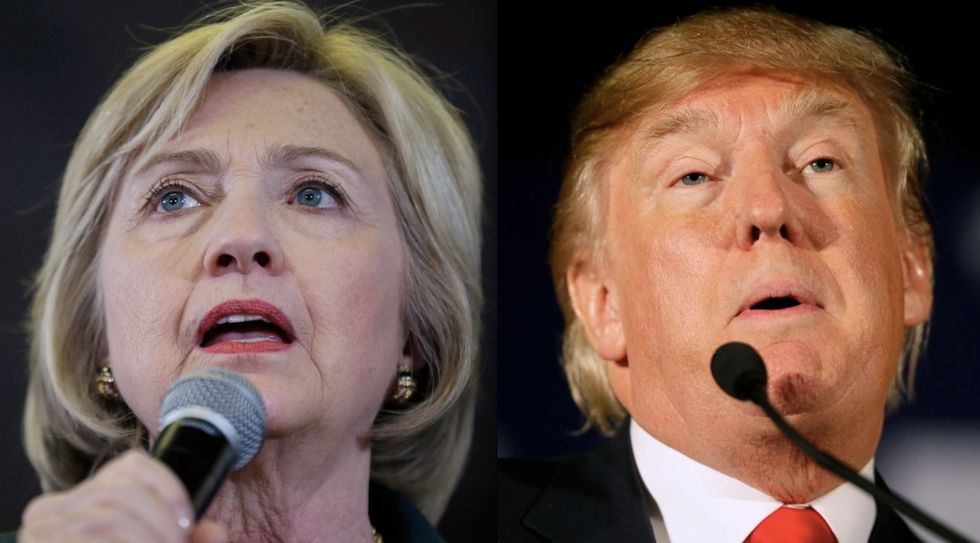 From left, Democratic presidential candidate Hillary Clinton and Republican candidate Donald Trump. (AP Photos)  
However, in a head-to-head match up, Florida GOP Sen. Marco Rubio would defeat Clinton 50 percent to 47 percent, while Texas Republican Sen. Ted Cruz would beat Clinton 49 percent to 48 percent. In January, Cruz led Clinton by 3 points in the CNN poll.
Interestingly, Vermont Sen. Bernie Sanders — who is not expected to do well when the results come in Tuesday night — manages to defeat all three Republicans in a head-to-head matchup and has the highest favorability, according to the CNN poll.
Though he is an avowed socialist, Sanders' supporters have argued he's the most electable based on past polls. The new CNN poll shows Sanders would beat Trump 55 percent to 43 percent, would beat Cruz 57 percent to 40 percent and beat Rubio 53 percent to 45 percent.
Both party front-runners have high negatives, as 59 percent view Trump unfavorably and 53 percent have a negative view of Clinton.
The poll found that 49 percent of political independents said they would consider voting for former New York Mayor Michael Bloomberg as a third-party candidate. Polls also show he would cause more harm to Clinton in a general election than Trump.
The poll was conducted Feb. 24-27 among 1,001 adults.