MSNBC host Chris Matthews on Tuesday compared Hillary Clinton's Super Tuesday victory speech to "responsorial hymns" in Roman Catholicism.
Matthews made the comment during a discussion with MSNBC host Chris Hayes following the former secretary of state's speech from her campaign's Miami headquarters.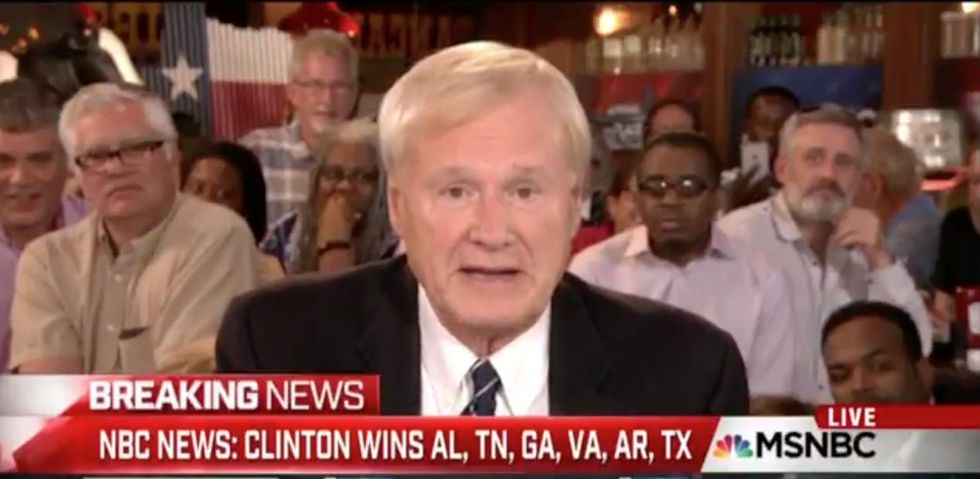 Image source: MSNBC
"Elections are call and response. It's like stand up comics. They go to clubs, they work the material out, they see what gets laughs," Hayes said.
"The longer that you do this the more you start to figure out 'what are the beats? what are the messages that resonate?' We've seen Trump do it very effectively. We've also seen Hillary Clinton get much better at it as well," Hayes added.
Matthews gave a different analogy, instead comparing Clinton's speech with acts of worship in the Roman Catholic church.
"And you understand from our religion. We read responsorial hymns. It's a back and forth. It's an anthem thing," Matthews said.
Video: @hardball_Chris compares Hillary's victory speech, crowd response to "responsorial hymn" in an RC church. pic.twitter.com/mgfN13Kpba

— Ken Shepherd (@KenShepherd) March 2, 2016
–