Dozens of AR-15 rifles donated to Los Angeles School Police officers through a military-surplus program will be sent back to Washington, D.C.
Parents who were formerly unaware that the L.A. United School District was even a part of such a program are now expressing their shock and concern.
The government-approved program arranges for unused military-grade weapons to be sent to local law enforcement groups across the country.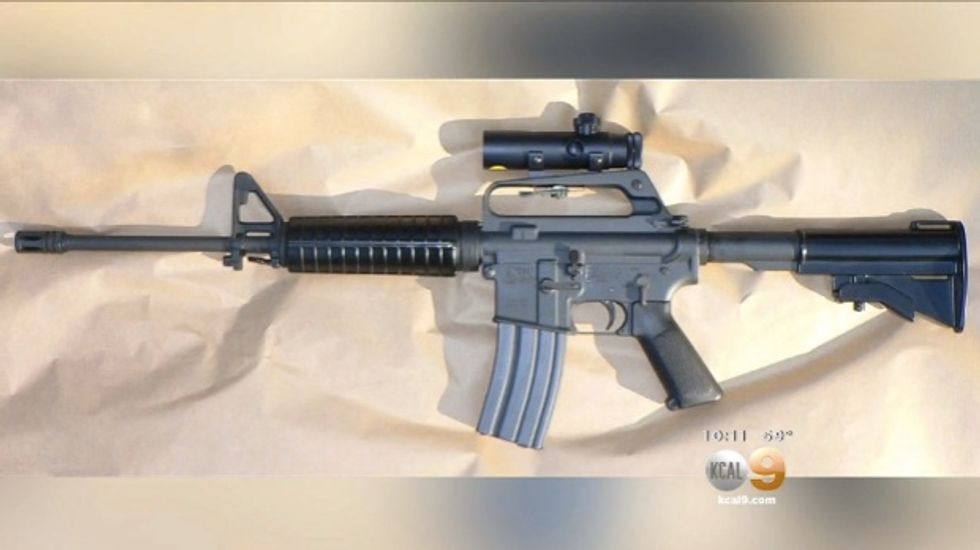 Image source: KCAL-TV

The school's decision to return the weapons had many parents questioning why the LAUSD was even offered military-grade weapons in the first place.
"Frightening idea, really scary. There's no reason to have lethal force available on public school grounds," Dennis Murphy, whose son is a student at North Hollywood High School, told KCAL-TV.
The story was first reported by KPCC-FM, which revealed that the district was giving back a total of 61 military AR-15 rifles. KPCC also obtained a list of the types of weapons available to district officers, which included a variety of of pistols, rifles and other firearms.
P.J. Webb, head of the district's police union representing sergeants and lieutenants, said told KCAL that the district is working toward ending its involvement with the military-surplus program altogether.
"These rifles were so old and so worn out they weren't being utilized anyway," Webb said.
According to Webb, many people's perceptions regarding his fellow officers do not correspond with the facts.
"There's an inaccurate picture being painted by a lot of people out there that our officers are walking around all day long on these school campuses with rifles strapped across their body. And that's completely inaccurate," he said.
Some parents, however, have voiced their support for a heavily armed school police force. ="I would say you fight fire with fire. So maybe that's a good policy. But I don't know because I'm really against arms and firearms," Steph Reynaud said.
According to Webb, the district was also given tear-gas launchers and an armored personnel carrier, both of which were never used and also returned.
(H/T: KCAL-TV)