Businessman Donald Trump claimed Tuesday that no one else has "done more for equality" than he, while promising to continue to disavow the support of former Ku Klux Klan leader David Duke and other white supremacists.
During his interview with George Stephanopoulos on ABC's "Good Morning America," the GOP front-runner said he disavowed their support last Friday and has continued to do so through his social media channels.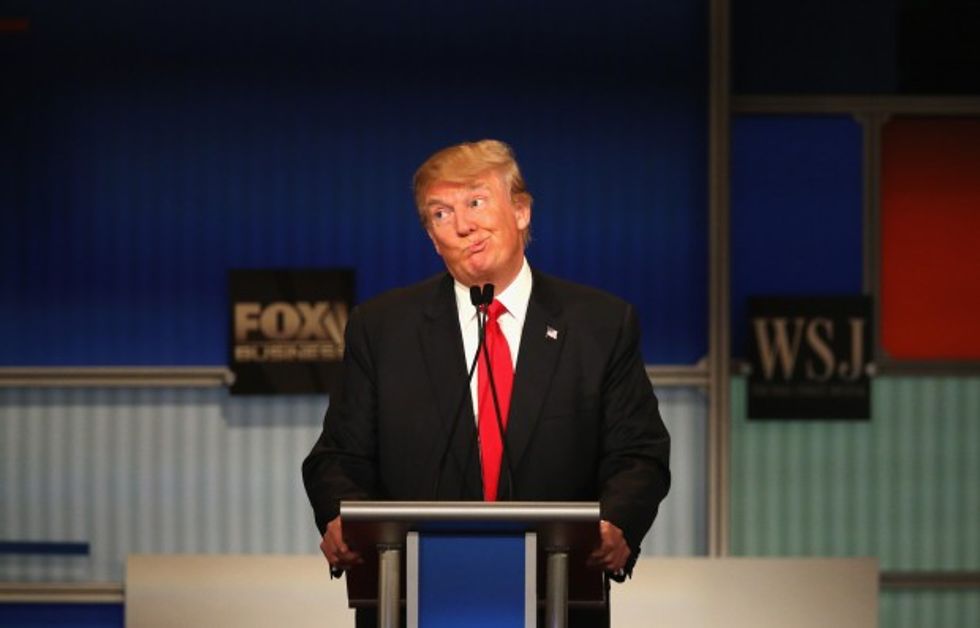 Donald Trump during the Republican presidential debate sponsored by the Fox Business Network and the Wall Street Journal at the Milwaukee Theatre on Nov. 10. (Getty Images/Scott Olson)
"David Duke and all were disavowed. I disavowed them on Friday," Trump said in a phone interview. "Almost immediately after on Twitter and Facebook they were disavowed again. I disavowed them every time I speak to somebody, virtually, and, you know, they just keep it going. They keep it going. They said: 'Oh, we never looked at your Twitter account. We never looked at Facebook.' I said take a look at Facebook. It was totally disavowed."
However, that wasn't sufficient for Stephanopoulos, who asked Trump if he was prepared to make a "clear and unequivocal statement renouncing support of all white supremacists."
"Of course I am," Trump replied. "There's nobody that's done so much for equality as I have."
Over the past handful of days, Trump has been repeatedly questioned about the support he has from white supremacists, which stems from Duke telling his radio audience last week that they must vote for Trump if they don't want to commit "treason" against their "heritage."
The criticism of Trump became even more rampant Sunday after he failed to disavow the KKK and renounce the support of Duke during an interview with CNN's Jake Tapper on "State of the Union."
"Of course I am, of course I am." - @realDonaldTrump renounces the support of all white supremacists. #SuperTuesdayhttps://t.co/ob0gBIibry

— Good Morning America (@GMA) March 1, 2016
—
Follow the author of this story on Twitter and Facebook:
[facebook //www.facebook.com/plugins/like.php?href=