Hawaiian congresswomen Tulsi Gabbard, who recently made news for her resignation from her leadership post at the Democratic National Committee and subsequent endorsement of Sen. Bernie Sanders (Vt.), revealed Tuesday night that many people warned her against her decision.
Gabbard's comments came during an interview on MSNBC. Specifically, she was hypothetically asked by network anchor Brian Williams what consequences she may face as a Clinton dissenter in Congress if Clinton becomes president.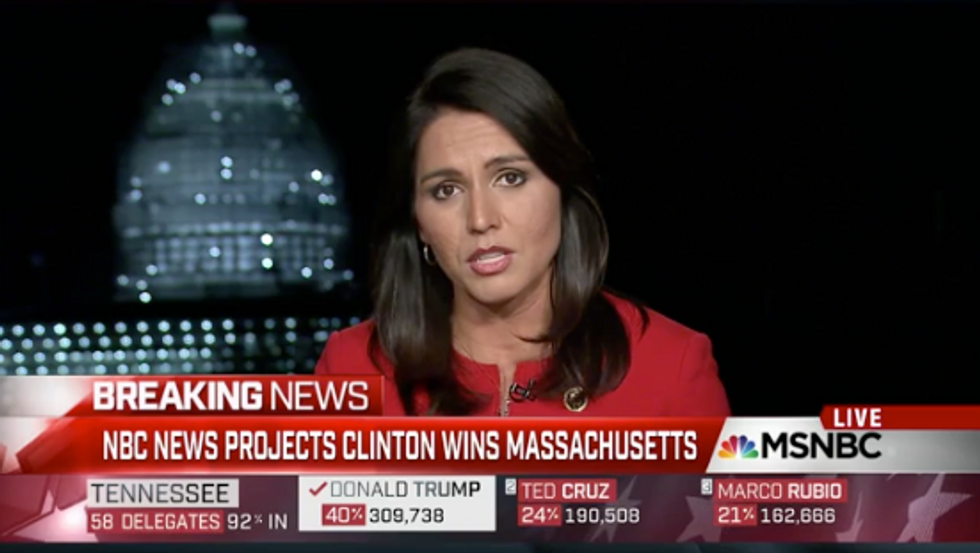 Image via Twitter @MSNBC
"I'll be very honest with you, a lot of people warned me against doing what I did," she responded.
Gabbard, who is a major in the Hawaiian National Guard and has been with the service since 2004, explained that foreign policy is where she really differs with the former secretary of state.
"This is a very serious issue, and what I did speaks to the high stakes that exist," Gabbard said of war and foreign policy. "War is a very real thing — it's real to me, it's real to our service members and their families, and those who have born this heavy sacrifice of war for so long and over many generations."
She added, "So for those who simply dismiss this idea that, 'They're not really going to pay attention to Secretary Clinton's foreign policy record as it relates to these interventionist regime-change wars that have cost us so much,' I respectfully ask them to think again and really look at this heavy toll that these wars have taken."
Gabbard went on to say that decisions made in the present should not necessarily be derived from what a candidate did in the past but rather what they will do in the future and what type of commander in chief they will be.
On Super Tuesday, Clinton won 7 Democratic primaries and caucuses, while Sanders won the remaining 4.
WATCH: Hawaii Representative Tulsi Gabbard, who is endorsing Bernie Sanders, talks to MSNBC https://t.co/2kLAAtVX4G via @snappytv

— Meet the Press (@Meet the Press) 1456892377.0
—
Follow the author of this story on Twitter and Facebook:
[facebook //www.facebook.com/plugins/like.php?href=