Louisiana FedEx driver Kyra Johnson had just completed a dropoff last week when she noticed something that would probably throw her schedule off a bit — a huge tornado coming straight for her.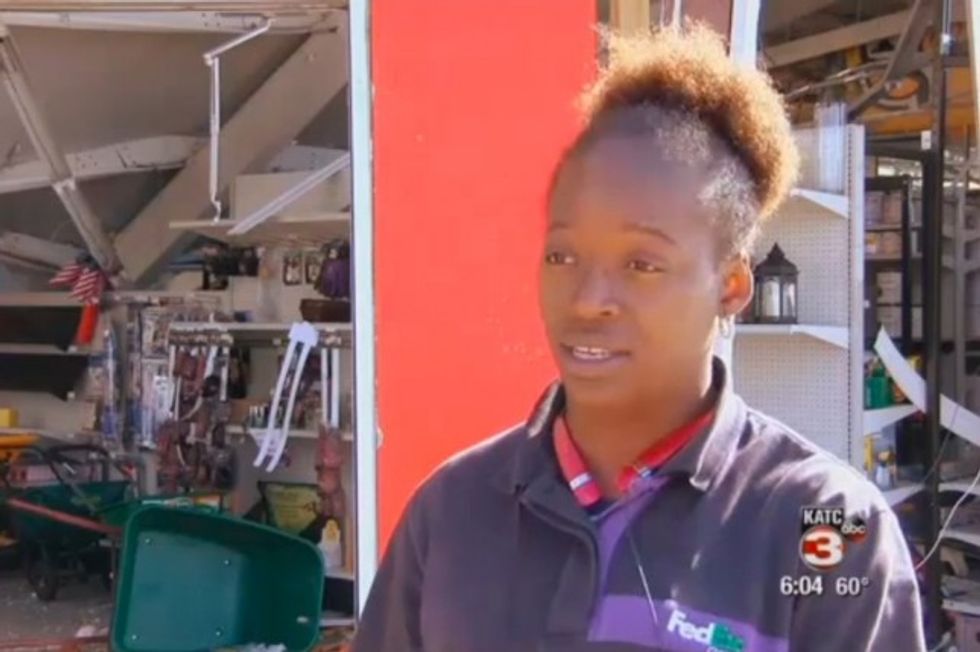 Kyra Johnson (Image source: KATC-TV)
So Johnson — who told WBRZ-TV she's only been with FedEx for a year and was filling in as a routine driver — quickly parked her truck last Tuesday in the lot of Sagona's True Value Hardware in Paincourtville.
Surveillance video showed Johnson running from her truck to the store's door as the wind from the EF-3 twister — clocked at nearly 140 miles per hour — began ripping toward her.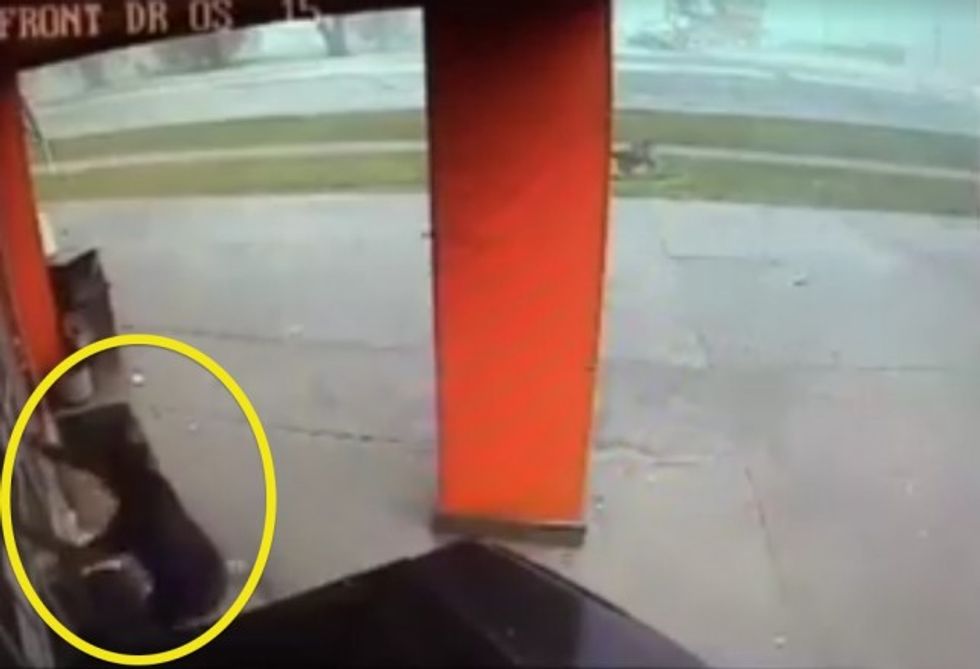 Image source: Facebook
But she couldn't budge the door.
So Johnson thought fast and moved to her left —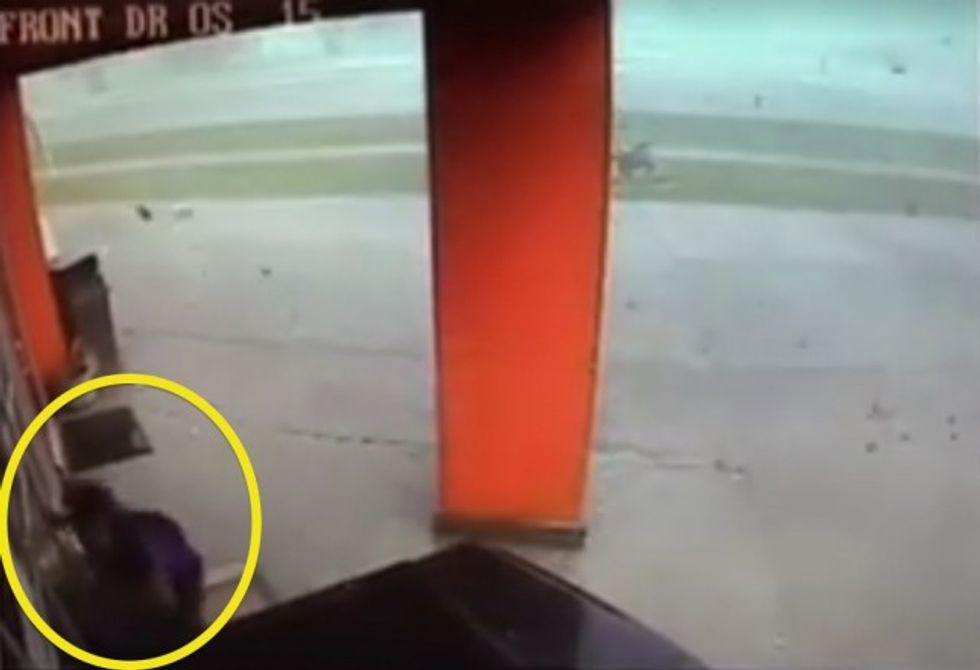 Image source: Facebook
— wedging herself behind a Coke machine and the store's outside wall. And she started praying and thinking about her family and kids, KATC-TV reported.
The surveillance camera showed progressively more debris blowing around the store's entrance until the terrifying moment when the tornado hit.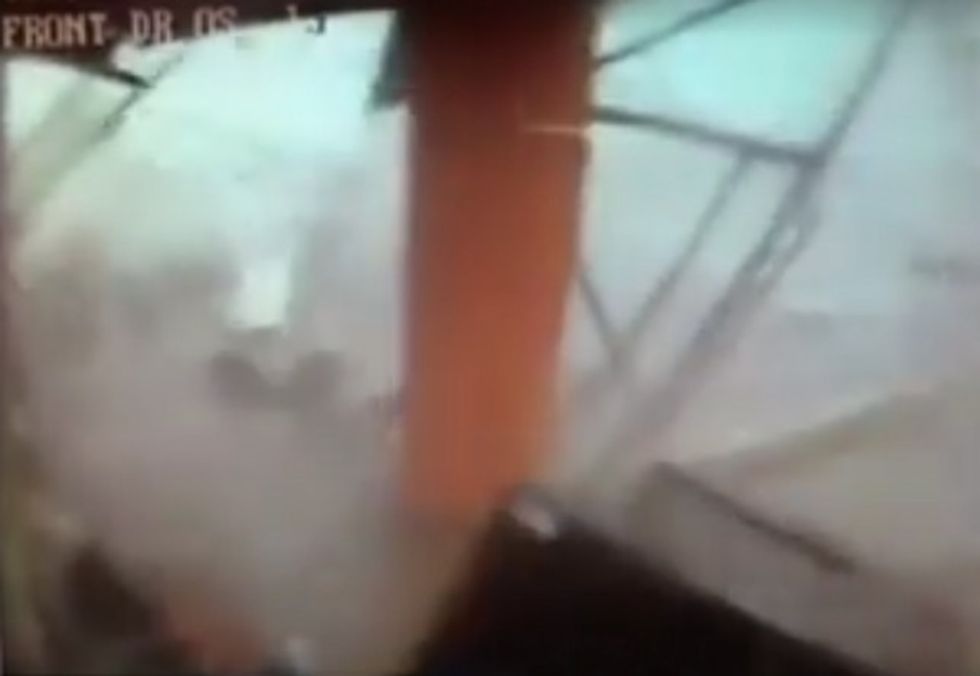 Image source: Facebook
Johnson later wrote that God "heard my cry in all that wind. I shouted for him the whole time it was over us. I don't even remember being scared. I didn't have time. It was survival mode."
Johnson wrote that the vending machine she was standing behind fell to the ground and "I had nothing to block me." But she said God "told me to hold on to the door" — and she did.
"I could have been blown, ripped away," she told WBRZ, "... but nothing, nothing touched me."
David Sagona posted a number of surveillance videos of the tornado hitting his store to his Facebook page and shared about the ordeal as well.
"The electricity went out and I didn't hear any wind or rain," he wrote. "Then all of a sudden I heard the 'freight train' I yelled over our radios for everyone to head to the back as fast as they could with any customers in the store. I was one of the last ones in the bathroom and as I was closing the door I could see the side wall being sucked out."
Kyra Johnson, I don't know how you survived. You had about 2 seconds to seek cover

Posted by David Sagona on Sunday, February 28, 2016
Sagona also described Johnson's actions during the aftermath.
"She was trying to check on the employees to make sure they were okay," Sagona told WBRZ, "so I told her, 'Look, Miss Johnson, you need to make sure you're okay. You rode this outside. I'm just lucky you're alive.'"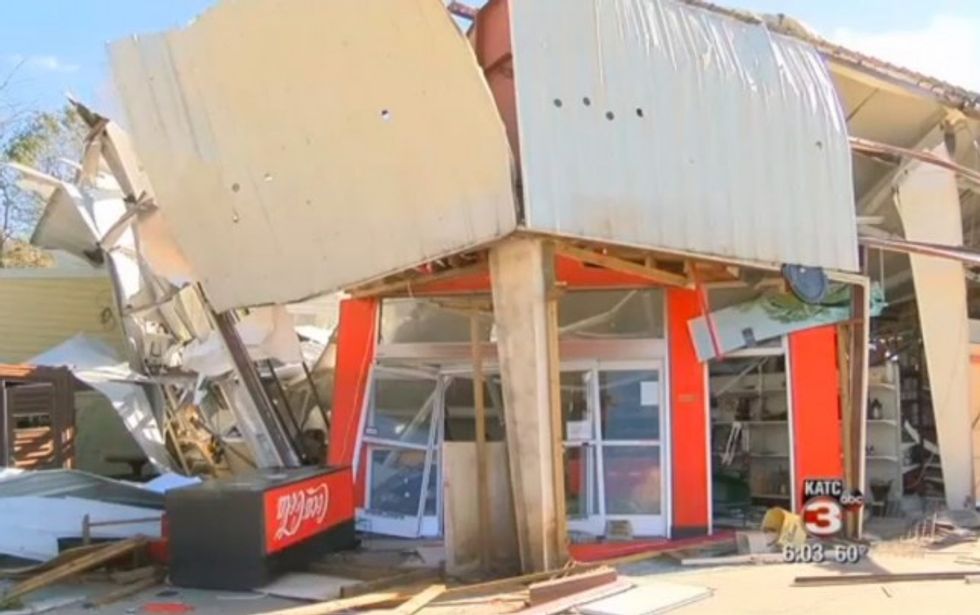 Image source: KATC-TV
Accompanying his clips of the tornado, Sagona wrote: "Kyra Johnson, I don't know how you survived. You had about 2 seconds to seek cover ... you definitely had an angel looking over you."
Johnson paid a visit to the store Monday, and Sagona had a surprise for the Fed-Ex driver during the emotional reunion:
Johnson told the station she believes she was spared for a reason.
"I'm an average person like everybody else, I sin like everybody else," she told WBRZ, "but this is just something different that I feel God has put on me where I can share with people ... [and] if you don't want to listen to what the preacher has to say, here's what I have to say: He is real. He was there for me when I asked him to help me, and he saved me."