MOSCOW (AP) -- A nanny accused of decapitating a 4-year old girl and brandishing her head outside a Moscow subway station said during an apparent interrogation captured on video that the killing was an act of revenge against President Vladimir Putin for Russian airstrikes in Syria.
Asked about the video, which was released Thursday, Putin's spokesman said it is difficult to judge the testimony of a woman he called "clearly deranged."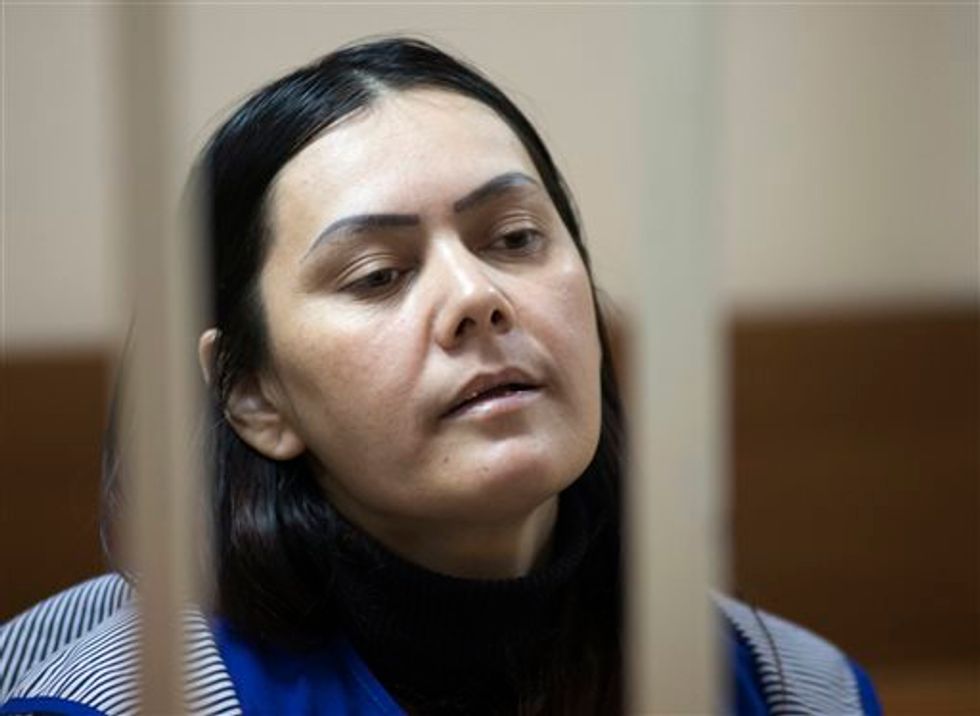 Gulchekhra Bobokulova, a nanny from Uzbekistan, is seen in a court room in Moscow, Russia, Wednesday, March 2, 2016. Russian prosecutors said Wednesday that the nanny accused of killing and then decapitating a 4-year-old girl in Moscow was not acting on her own. The 38-year-old woman was spotted outside a Moscow subway station Monday morning, brandishing the child's head in a grizzly murder that shocked the country and provoked a blanket coverage ban on Russian state television. (AP Photo)
Gulchekhra Bobokulova, 38, was detained in Moscow on Monday after the child in her care was killed. Video footage posted online Thursday appeared to show police interrogating her. It was not clear where the video originated, and The Associated Press could not verify its authenticity or the circumstances in which it was taken. She appeared to be wearing the same clothes she wore during a court appearance Wednesday.
In the video, she says the killing of the child was revenge. Asked who it was revenge against, she says "the one who has spilled the blood." Asked who that was, she replies: "Who spilled it? Putin has been dropping bombs."
Russia has been carrying out airstrikes in Syria for five months to support Syrian President Bashar Assad's offensive there. Russian officials have flatly denied numerous reports by international aid groups that accuse it of killing not only Islamic State fighters but also Syrian civilians.
The Investigative Committee, Russia's top investigative agency, would not confirm or deny the authenticity of the video, but spokesman Vladimir Markin warned in a statement that Bobokulova's words should be treated with caution.
"The motive for a crime committed by a person who was diagnosed with schizophrenia often does not coincide with the explanations that they give later," he said, adding that investigators will look into all possible theories.
Russian officials seems to be sending mixed messages about the suspected killer, focusing on her mental record but also suggesting that she probably did not act alone. Prosecutors told the court Wednesday that individuals who may have "incited" Bobokulova to kill the child may still be at large.
Russian media have reported that Bobokulova, originally from the former Soviet republic of Uzbekistan, was first diagnosed with schizophrenia in 2003. She has not yet undergone a psychiatric examination in Russia.
[คืบหน้า] คดีสะเทือนขวัญกลางกรุงมอสโก รัสเซีย