Businessman Donald Trump did not hold back in his response to Mitt Romney Thursday, mocking the former Republican nominee for wanting his endorsement during the 2012 presidential election.
Speaking at a pre-debate rally in Portland, Maine, Trump skewered Romney as a disloyal, "failed candidate" who "begged" for his endorsement in 2012. He also labeled Romney a "choke artist" — an insult he's previously used against Florida GOP Sen. Marco Rubio.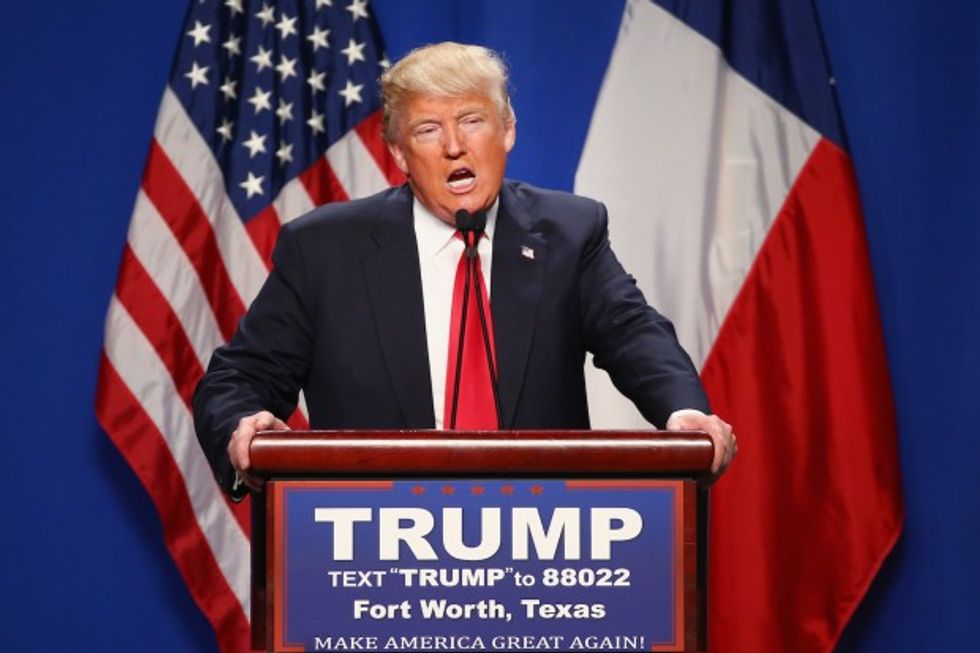 Donald Trump speaks at a rally at the Fort Worth Convention Center Feb, 26. (Getty Images/Tom Pennington)
"He was begging for my endorsement," Trump said. "I could have said, 'Mitt, drop to your knees.' He would've dropped to his knees."
Trump also credited himself for being the reason that Romney decided not to run again in 2016, saying Romney ran a "horrible campaign" in 2012 that "demeaned 47 percent of the country."
"Once that was said, I'll be honest, once that was said, a lot of people thought it was over for him," Trump said, referring to Romney's infamous comment in 2012 that 47 percent of Americans would support Obama because they relied on government. "Then the last month and a half, he disappeared."
Earlier Thursday, Romney ripped into Trump as a "phony" and a "fraud" who doesn't have the "temperament" to be president. Romney said that the prospects of a "safe future" will be greatly diminished if Trump becomes the Republican nominee.
In a subsequent tweet, Romney said that if he knew Trump in 2012 like he does now, he wouldn't have asked for his endorsement:
If Trump had said 4 years ago the things he says today about the KKK, Muslims, Mexicans, disabled, I would NOT have accepted his endorsement

— Mitt Romney (@Mitt Romney) 1457032412.0
Watch Trump's comments on Romney:
—
Follow the author of this story on Twitter and Facebook:
[facebook //www.facebook.com/plugins/like.php?href=