NATIONAL HARBOR, Md. – Ohio Gov. John Kasich, running last place among the four remaining Republican presidential candidates actively campaigning, said Friday he planned to win his party's nomination at a brokered convention.
He invoked his time campaigning for Ronald Reagan at the 1976 contested convention against President Gerald Ford at the Republican National Convention. He added, "By the way, they told me the convention is going to be held in Cleveland, that's kind of interesting. "
"After I win Ohio, I have to win 68 percent of remaining delegates. Marco has to win 64 percent. Ted is around 59 or 60, it's unlikely," Kasich said.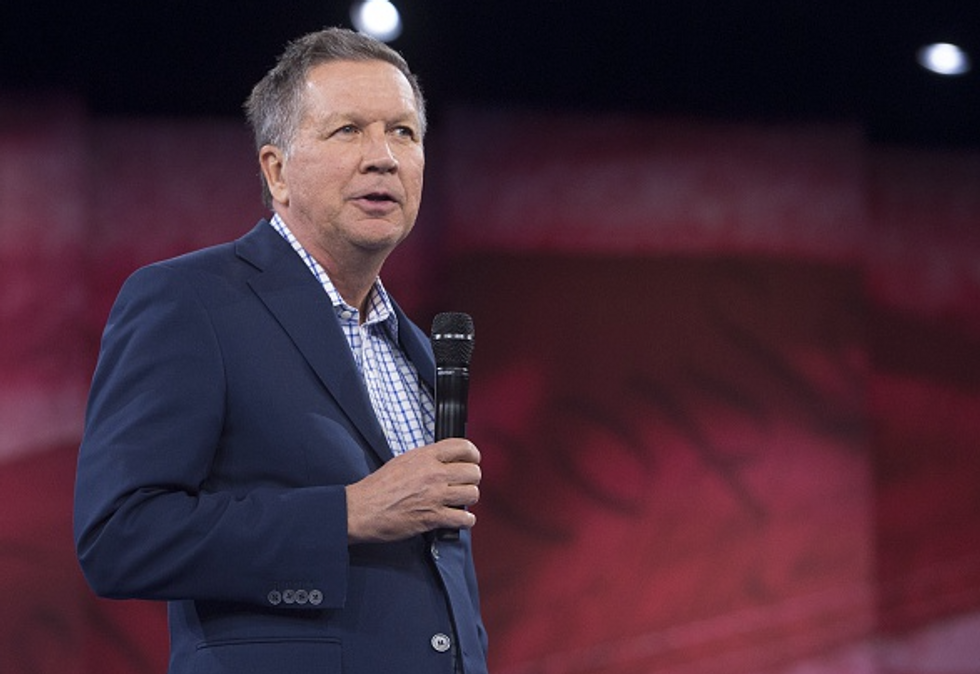 GOP presidential hopeful Ohio Gov. John Kasich speaks during the annual Conservative Political Action Conference 2016 at National Harbor just outside Washington, D.C., Friday. (SAUL LOEB/AFP/Getty Images)
Katich is the only one of the four candidates to have won no states.
At the Conservative Political Action Conference, TV and radio host Sean Hannity asked Kasich to "walk us to through, walk the people in the audience through your path that will get you to the nomination, to 1,237 delegates."
Katich said, "I don't think anybody is going to get that. I'm going to win Ohio."
Handy asked, "You think there is going to be a brokered convention?"
"I do. I do," Kasich responded.
Kasich talked about how far his campaign has come.
"They said, 'He'll never get on the stage.' Then they said, 'He wouldn't make it to New Hampshire.' Then they said, 'He wouldn't make it to Super Tuesday,'" Kasich noted. "Look where we are. I'm the last governor standing. There are only four of us, and we are the little engine that can. So believe in us and now finally the country if finally getting to get a little bit of who I am."
Kasich went on to say that the brokered convention has to be done fairly.
"I was there. I was a really young man in 1976 when Gov. Reagan tried to beat Gerald Ford. In the end, everybody got together," Kasich said. "It worked out. As crazy as this year is, can you think of anything cooler than a convention where we are all going to learn, our kids in school are going to learn more about American politics than they will the Kardashians."
Katich insisted he is not a member of the establishment, noting his fight for a balanced budget, school choice and other measures. He said he feared a convention could be controlled by "connected interests."