NBC host Savannah Guthrie challenged GOP presidential candidate Marco Rubio, who has gone after Republican rival Donald Trump forcefully in recent weeks, for arguing that billionaire businessman's policies would be "dangerous" and then saying he would vote for him anyway.
According to the Florida senator, that's just how bad Democratic presidential candidate Hillary Clinton is.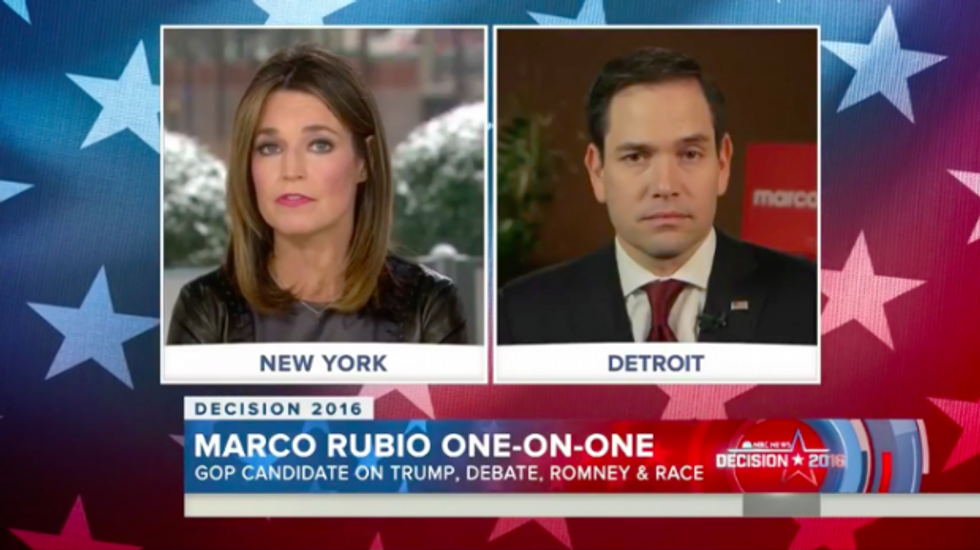 Marco Rubio discusses his campaign with NBC News anchor Savannah Guthrie on Friday. (Image: NBC News)
"You really let Donald Trump have it, calling him a con artist, calling him a fraud, saying he doesn't really know much about foreign policy and seems totally uncurious to learn, but then something happened at the end of the debate," Guthrie said. "You rose your hand and said, yes, if he's the nominee, you will support him."
"How do you square those two things?" she asked.
Rubio, dismayed by the possibility of a Trump nomination, said he understands the seemingly contradictory comments but argued that is the "quandary" the United States currently faces.
"We as Republicans feel that Hillary Clinton would be a disaster to the country," Rubio said. "That's how bad she is. I would look at that as a reflection of how bad she is, not as good Donald Trump is."
"There is a significant percentage of people in our party that will never vote for him, that do not want him as our nominee because he's vulgar, but also has no policy ideas," Rubio argued. "And the ones he has outlined are either dangerous or unserious. We're in a really bad spot here right now."
However, that answer didn't satisfy Guthrie, who continued to push the Florida senator. "I hear you, but when push came to shove, you said you'd go into the ballot box and vote for Donald Trump," she pressed.
"Yeah, I know," Rubio said somewhat begrudgingly. "Look, I'm not voting for Hillary Clinton."
Of a potential Trump nominee, Rubio added that he does not want voters to go to the polling booth in November to support a candidate they "settle for" or "make excuses for."
"That's what we're trying to avoid here, and the only way to do it is to unify around a campaign like mine because I can bring this party together and I can grow it, and we're not going to be able to do that under Donald Trump," Rubio said. "If this is the mood in October, we're going to lose to Hillary Clinton."
—
Follow the author of this story on Twitter: