VATICAN CITY (TheBlaze/AP) — The Vatican says Pope Francis was "shocked and profoundly saddened" by a murderous attack at a home for the elderly in southern Yemen that killed 16 people, including four nuns.
The Vatican secretary of state said in a condolence message on Saturday that the pontiff "prays that this pointless slaughter will awaken consciences, lead to a change of heart, and inspire all parties to lay down their arms."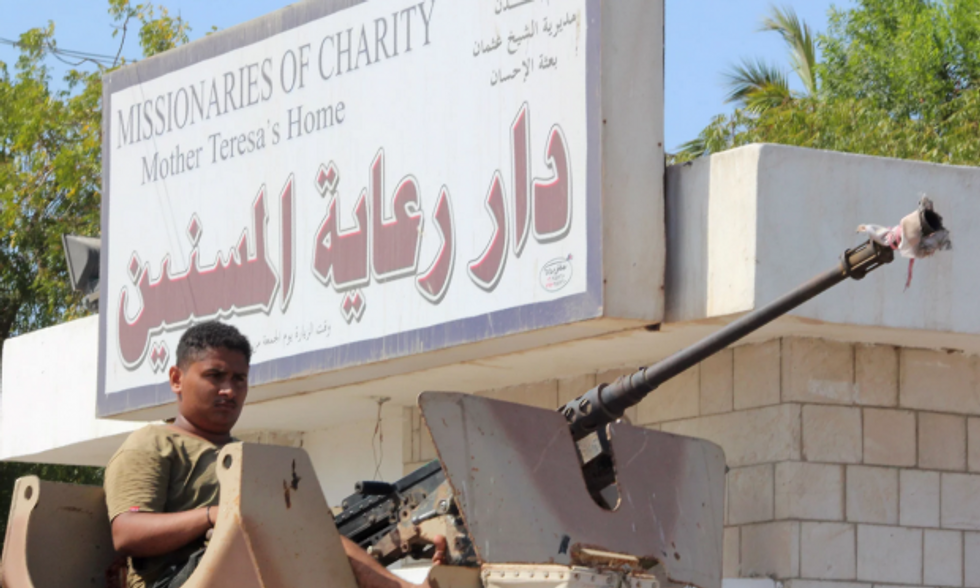 A Yemeni soldier guards the Missionaries of Charity retirement home in Aden after the attack. Photograph: Saleh Al-Obeidi/AFP/Getty
Officials and witnesses in Yemen said gunmen on Friday stormed Missionaries of Charity, which was established by Mother Teresa in Kolkata, moving room to room handcuffing the victims before shooting them in the head. Although no group has claimed responsibility for the attack, some Yemeni officials have blamed the Islamic State for the shootings.
The pope sent prayers for the dead and expressed his spiritual closeness to those affected by this "this act of senseless and diabolical violence."
Sunita Kumar, a spokeswoman for Missionaries of Charity, said that the charity's members were stunned at the ruthless killing inside the retirement home.
"The sisters were to come back, but they opted to stay on to serve people," Kumar said, adding that two of the nuns were from Rwanda, one was from India and one from Kenya, according to the Guardian.
The attackers allegedly had asked the guard to open the gate, saying that they were visiting their mothers at the retirement home.
"On entering inside, [they] immediately shot dead the gatekeeper and started shooting randomly," said Vikas Swarup, a spokesman for India's external affairs ministry, adding that the assailants escaped directly after the attack, the Guardian noted.