NATIONAL HARBOR, Md. – Texas Sen. Ted Cruz crushed the opposition and won the straw poll for the Conservative Political Action Conference.
Cruz carried 40 percent of the vote among the 2,659 CPAC attendees who participated in the poll. Florida Sen. Marco Rubio carried 30 percent of the vote, while Donald Trump gained just 15 percent.
The CPAC poll was co-sponsored by the Washington Times and conducted by McLaughlin & Associates.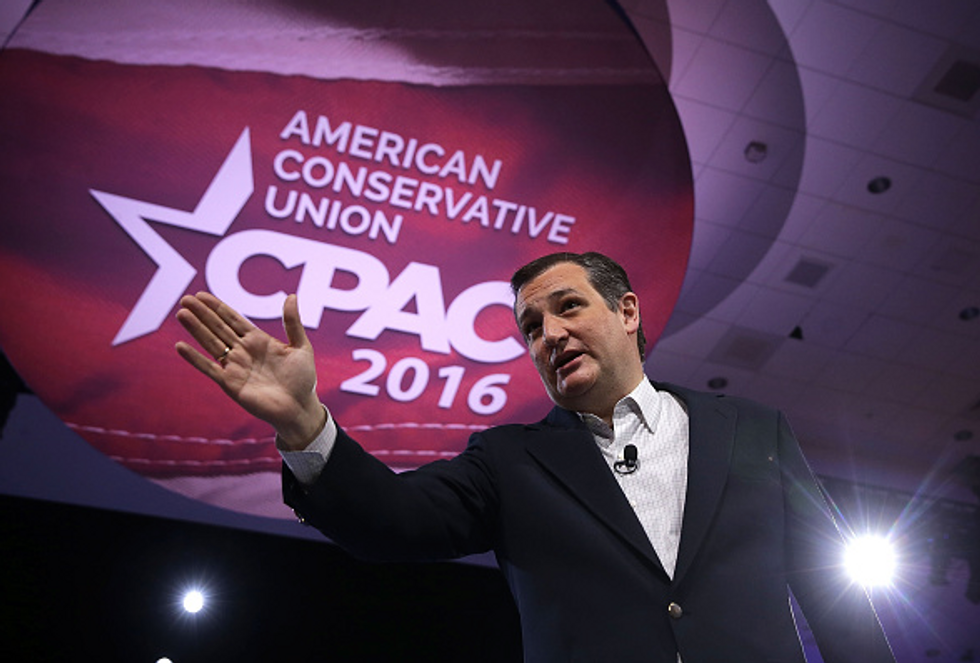 Republican presidential candidate Sen. Ted Cruz (R-TX) speaks during CPAC 2016 March 4, 2016 in National Harbor, Maryland. The American Conservative Union hosted its annual Conservative Political Action Conference to discuss conservative issues. (Alex Wong/Getty Images)
After that, no one else gets double digits.
Ohio Gov. John Kasich carries 8 percent of the vote, while Dr. Ben Carson – who dropped out of the race on Friday – carried 2 percent of the vote.
Interestingly, Vermont Sen. Bernie Sanders carried 1 percent; former New York Mayor Michael Bloomberg got 1 percent, while former Secretary of State Hillary Clinton got 0.3 percent.
Rubio was the leading second choice, with 29 percent, while Cruz gained 26 percent for the second choice. Kasich was the second choice of 18 percent of the voters, while Trump was the second choice of just 9 percent.
South Carolina Gov. Nikki Haley, who has been critical of Trump and endorsed Rubio, was the leading choice for vice president, tied with Kasich as the leading choice for vice president – each had 12 percent of the vote. Former GOP candidate Carly Fiorina gained 11 percent of the vote, while former candidate and Kentucky Sen. Rand Paul tied with Rubio at 9 percent.
Click here to see the complete poll.