"Saturday Night Live" was back this week with a new political spoof. This week, Republican presidential front-runner Donald Trump was the target.
The segment parodied the standard campaign ad, with one little twist.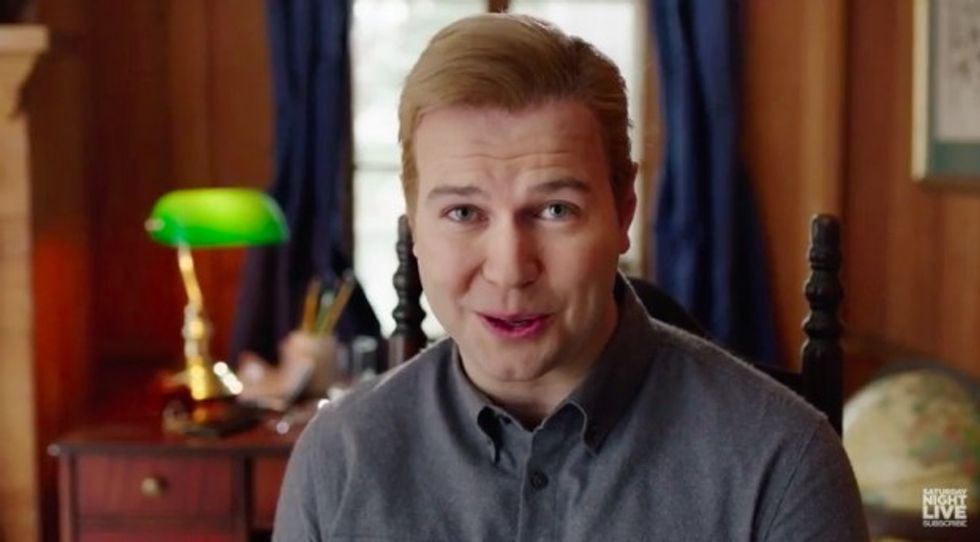 Image source: YouTube/ "Saturday Night Live"
"The media's been saying pretty negative things about Donald Trump," the narrator begins as the camera rolls over a suburban American neighborhood. "But what are real Americans saying?"
After this, the shot cuts to some average-looking Americans: a man sitting in a simple home office, a woman ironing clothes, a man painting a house, a lumberjack.
The blue collar folks proceed to tell viewers why they support Trump, casting him as an "authentic" political "outsider" who "literally wrote the book on negotiating."
"I think he could make this country great again," one supporter says.
But then, we start to see indications that these seemingly "typical" Americans are not so typical. We become aware of some red flags that weren't obvious in the initial scene: a swastika armband around one man's arm, a Ku Klux Klan hood on the woman's ironing board and a "White Power" message on the side of the house the painter had been working on.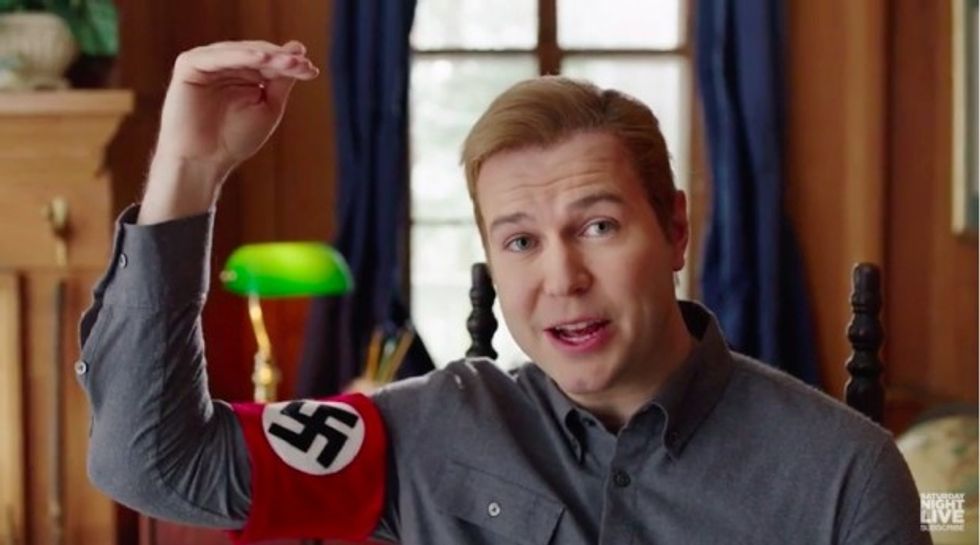 Image source: YouTube/ "Saturday Night Live"
Trump has been under fire ever since the his interview with CNN's Jake Tapper last Sunday in which the businessman refused to "unequivocally condemn" white supremacy or white supremacists who might support him.
"Some of his ideas seem a little out there, but I like that he's looking towards solutions," a female office worker says as she walks over to her bulletin board, which is covered in conspiracy theories about Hillary Clinton secretly being a Muslim.
"Why do I support Trump?" the lumberjack, who is actually collection wood for a KKK cross-burning, asks. "Three words: Good. At. Business."
The spoof came after a week of comedic Trump-bashing, including John Oliver's "Drumpf" campaign on "Last Week Tonight" and "The Daily's Show"'s tweetstorm about the GOP Super Tuesday winner being a fascist.
Watch: