LOS ANGELES (TheBlaze/AP) -- Former first lady Nancy Reagan has died at 94 in Bel-Air, California.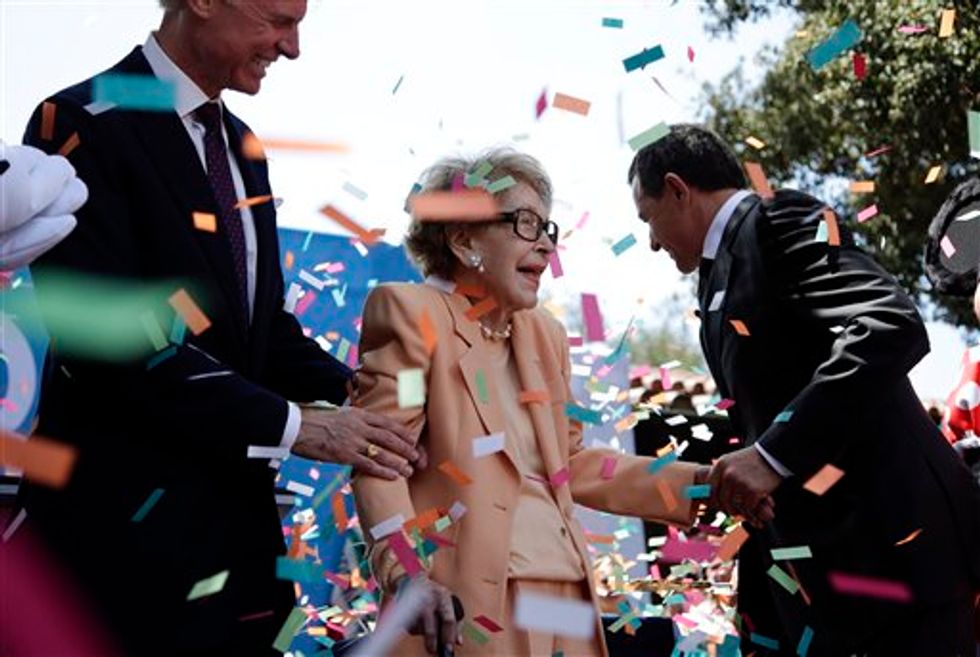 Former first lady Nancy Reagan, center, Walt Disney Company Chairman and CEO Robert Iger, right, and Frederick J. Ryan Jr., chairman of the Ronald Reagan Presidential Foundation, celebrate the opening of the D23 Presents Treasures of Walt Disney Archives exhibit at The Ronald Reagan Presidential Library in Simi Valley, Calif, Thursday, July 5, 2012. (AP Photo/Jae C. Hong)
Assistant Allison Borio says Mrs. Reagan died Sunday at her home of congestive heart failure.
Her marriage to Ronald Reagan lasted 52 years until his death in 2004.
A former actress, she was Reagan's closest adviser and fierce protector on his journey from actor to governor of California to president of the United States.
She rushed to his side after he was shot in 1981 by a would-be assassin, and later endured his nearly decade-long battle with Alzheimer's disease. In recent years she broke with fellow Republicans in backing stem cell research as a way to possibly find a cure for Alzheimer's.
Ronald Reagan and Nancy at Reagan Ranch in Malibu, site of the proposed Reagan Equestrian Campground. (Photo to California Parks Courtesy of Reagan Family-1958)
"Nancy and Ronald Reagan were one of the great love stories of the American presidency," Ronald Reagan biographer and presidential historian Craig Shirley said in a statement. "During the 1980 campaign, Governor Reagan was asked if Nancy Reagan would have a cause if he won and he joked, 'Probably me, mostly.' They were utterly devoted to each other for over 50 years."
Shirley noted that Nancy Reagan did have several important causes supported, including the "Just Say No" anti-drug campaign, returning Vietnam POWs and, he added, "bringing grace and dignity back to the White House."
"Nancy Reagan was not only the first lady; she was a great lady," the statement continued. "Nancy Davis Reagan, rest in peace."
"Nancy Reagan was totally devoted to President Reagan, and we take comfort that they will be reunited once more," former First Lady Barbara Bush said Sunday in a statement. "George and I send our prayers and condolences to her family."
"Our former first lady redefined the role in her time here," President Barack Obama and first lady Michelle Obama said Sunday afternoon in a statement. "Later, in her long goodbye with President Reagan, she became a voice on behalf of millions of families going through the depleting, aching reality of Alzheimer's, and took on a new role, as advocate, on behalf of treatments that hold the potential and the promise to improve and save lives."
"We offer our sincere condolences to their children, Patti, Ron, and Michael, and to their grandchildren," the statement continued. "And we remain grateful for Nancy Reagan's life, thankful for her guidance, and prayerful that she and her beloved husband are together again."
---