During the CNN Democratic presidential debate in Flint, Michigan, Sunday night, presidential contender Vermont Sen. Bernie Sanders was asked to defend his position against holding gun manufacturers responsible for crimes committed with their products — a stance that received praise from the National Rifle Association Monday morning.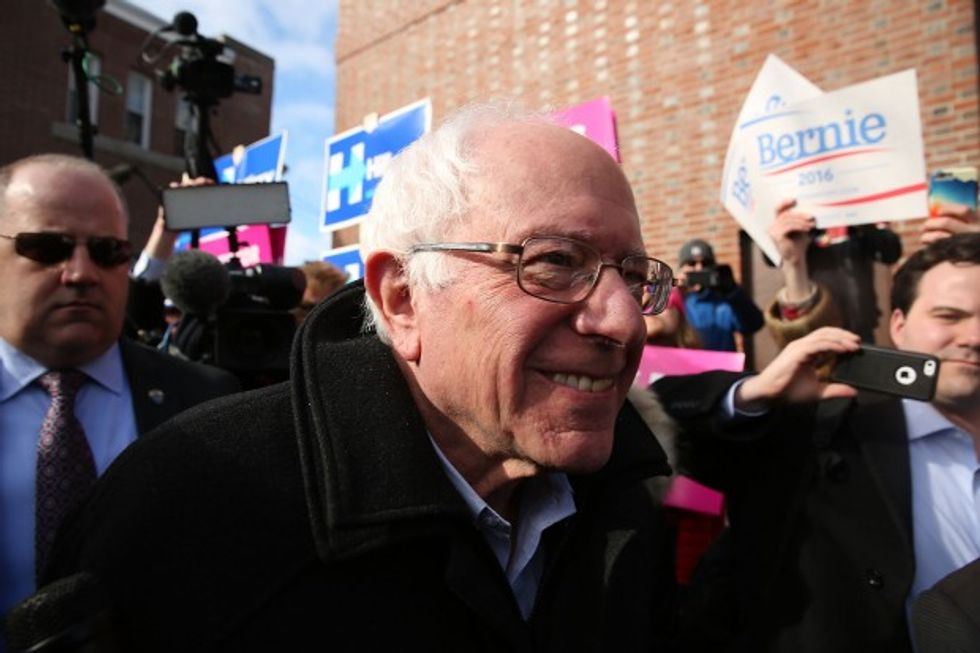 Spencer Platt/Getty Images
Debate moderator Anderson Cooper asked Sanders about a lawsuit being levied against Remington by parents of children who died in the Sandy Hook shooting in Newtown, Connecticut. Remington manufactures AR-15s, the weapon used in the shooting.
In the past, the senator has voted for legislation that protects gun manufacturers from being held responsible for what is done with their products.
"Now, the lawsuit may not go anywhere because of the bill you voted for — legislation that prevents gun makers from being sued," Cooper said. "Tonight, what do you say to those families?"
"If you go to a gun store and you legally purchase a gun, and then, three days later, if you go out and start killing people, is the point of this lawsuit to hold the gun shop owner or the manufacturer of that gun liable?" Sanders replied.
Sanders, a self-avowed democratic socialist, went on to say that he believes individuals should be held accountable for how they use the guns they purchase. According to the presidential hopeful, the gun manufacturer should be liable only if they knowingly sell a firearm to a criminal.
"But if they are selling a product to a person who buys it legally, what you're really talking about is ending gun manufacturing in America. I don't agree with that," Sanders argued.
Those comments earned the praise of the NRA in several posts shared on Twitter Monday morning.
"Sen. Sanders was spot on," one tweet said.
Sen. Sanders was spot-on in his comments about gun manufacturer liability/PLCAA https://t.co/nDjEerjkgB #DemDebate https://t.co/jEScbMDFt4

— NRA (@NRA) 1457363502.0
"Sen. Sanders pushed back against Hillary Clinton's lies on gun manufacturer liability," another tweet read.
Sen. Sanders pushed back against @HillaryClinton's lies on gun manufacturer liability… https://t.co/nDjEerjkgB #DemDebate #2A

— NRA (@NRA) 1457368175.0
Seeking to distance himself from any pro-gun praise, Sanders reminded the audience that he as a D-rating from the leading gun rights advocacy organization.
—
Follow the author of this story on Twitter: