© 2023 Blaze Media LLC. All rights reserved.
Famed Author and Pastor Who Broke His Silence and Unleashed on Donald Trump Is Shocked by the Reaction: 'Really Struck a Nerve
"Here's a man who calls himself a Christian and yet just had the audacity to make fun of a lady's menstrual cycle."
Famed pastor and author Max Lucado said that he was shocked to see how his recent blog post taking aim at Republican presidential candidate Donald Trump stirred up a "dust storm," with the rebuke leading to some intense debate.
Lucado, pastor of Oak Hills Church in San Antonio, Texas, told NPR in an interview published on Sunday that he wouldn't have gone after Trump if the candidate "didn't call himself a Christian," but that he felt that Trump's behavior and stated faith called him to action.
"It'd be none of my business whatsoever to make any comments about his language, his vulgarities, his slander of people, but I was deeply troubled ... that here's a man who holds up a bible one day, and calls a lady 'bimbo' the next," Lucado said. "Here's a man who calls himself a Christian and yet just had the audacity to make fun of a lady's menstrual cycle."
He continued, "He didn't just do this on occasion, but repeatedly, unrepentantly."
With Trump gaining the support of many Christians, the preacher said that he's wondering why so many people are willing to give the candidate a "free pass," especially considering that evangelical Christians tend to hold leaders who call themselves Bible-believers to a higher standard.
"My concern is that somebody would make a decision against Christianity because of Mr. Trump's behavior. And that's my high concern here," Lucado said. "And to that person I would say, the way he speaks about people is not the way our master, our savior has taught us to speak, it's not the way our scriptures urge us to speak."
The preacher said that the Bible urges Christians to respect others, especially those with whom they disagree. Lucado also said that the holy book calls believers to "never libel people, to never label people."
As for the response to his initial blog post titled, "Decency for President," Lucado said that his team was "stunned," as it "really struck a nerve."
"We had so many responses, we had to quit publishing second generation responses because people were beginning to argue with each other ... not what I intended for it to be," he said. "Most of it has been positive, many people have said, 'This is what I was thinking, thanks for saying it on my behalf.' But there are many people who were just really ticked off that I would dare to suggest that this behavior is inappropriate."
As TheBlaze previously reported, Lucado began "Decency for President" by noting that he has always reserved the right to interview his daughters' dates to see if they are decent humans who would treat the girls with "kindness and respect."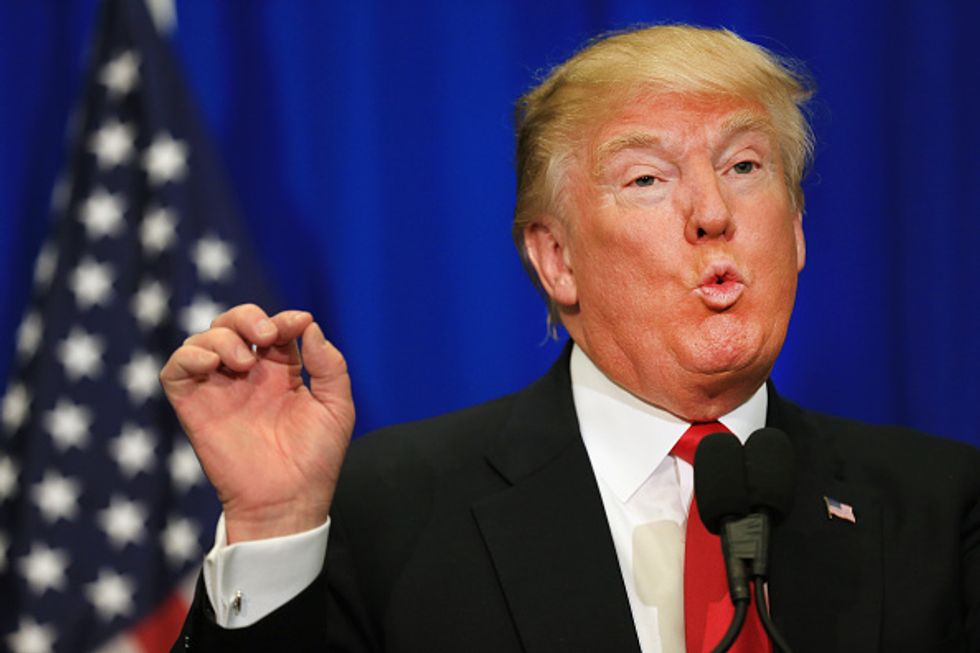 Republican presidential candidate Donald Tump (Tom Pennington/Getty Images)
"Did he behave in a decent manner? Would he treat my daughter with kindness and respect?" Lucado wrote of his daughters' dates and boyfriends. "Could he be trusted to bring her home on time? In his language, actions, and decisions, would he be a decent guy?"
As a dad, he said that decency mattered, moving on to discuss how a person's overall decency is generally pretty important to most people.
"Decency matters to you. We take note of the person who pays their debts. We appreciate the physician who takes time to listen," he continued. "When the husband honors his wedding vows, when the teacher makes time for the struggling student, when the employee refuses to gossip about her co-worker, when the losing team congratulates the winning team, we can characterize their behavior with the word decent."
That in mind, though, Lucado wondered why — if decency is such an important attribute — it is not more prevalent in the 2016 presidential race, going on to specifically address Trump.
In a follow-up piece titled, "Worried Enough to Pray," Lucado also explained why he spoke out against Trump.
(H/T: NPR)
--
Follow the author of this story on Twitter and Facebook:
Want to leave a tip?
We answer to you. Help keep our content free of advertisers and big tech censorship by leaving a tip today.
more stories
Sign up for the Blaze newsletter
By signing up, you agree to our
Privacy Policy
and
Terms of Use
, and agree to receive content that may sometimes include advertisements. You may opt out at any time.