© 2023 Blaze Media LLC. All rights reserved.
Famous Pastor Reveals the Shocking Salvation Statistic That 'Grabbed Him By the Throat' — and Why He Believes Christians Can Vote for Trump
"There's one way to God."
Pastor Robert Jeffress of First Baptist Church in Dallas, Texas, was truly shocked when he saw a survey of evangelicals in which 57 percent said that salvation can be found through religions other than Christianity — so stunned, in fact, that he decided to write a book about the subject.
"There was one statistic that just grabbed me by the throat," Jeffress told TheBlaze in a recent interview, noting that the Bible is clear in its text that Jesus Christ is the only way to God and, thus, the only way to inherit salvation.
It is that very subject that the preacher addresses in his new book, "Not All Roads Lead to Heaven."
"I wrote this book to help Christians reclaim what is the foundation of our faith," Jeffress said, making his theological stance more than clear. "There's one way to God and it's through faith in Christ."
Listen to Jeffress discuss these issues below:
The preacher, who is known for speaking out on social and political issues, said that his goal is to always speak his mind — something that he's comfortable with as long as he's standing "on the truth of God's word" and not merely his own opinions.
It's with that in mind that he's hoping his readers will reconnect with their faith, while fully comprehending what the Bible has to say about these issues.
"I hope people will ... equip themselves with the answers of why Jesus Christ really is the only way to God," he said. "People can take this book and use it as a way to share their faith."
Jeffress, who recently said that he doesn't believe that a Christian "has to sell his soul to the devil to vote for Donald Trump," also spoke about the current political climate, explaining his contention that evangelical support for Trump shows that many Christians "are willing to think outside of the box for the kind of candidate they want."
"People are looking for leadership," he said, offering those surprised by evangelical support for Trump a stark reminder of Ronald Reagan's 1980 presidential victory.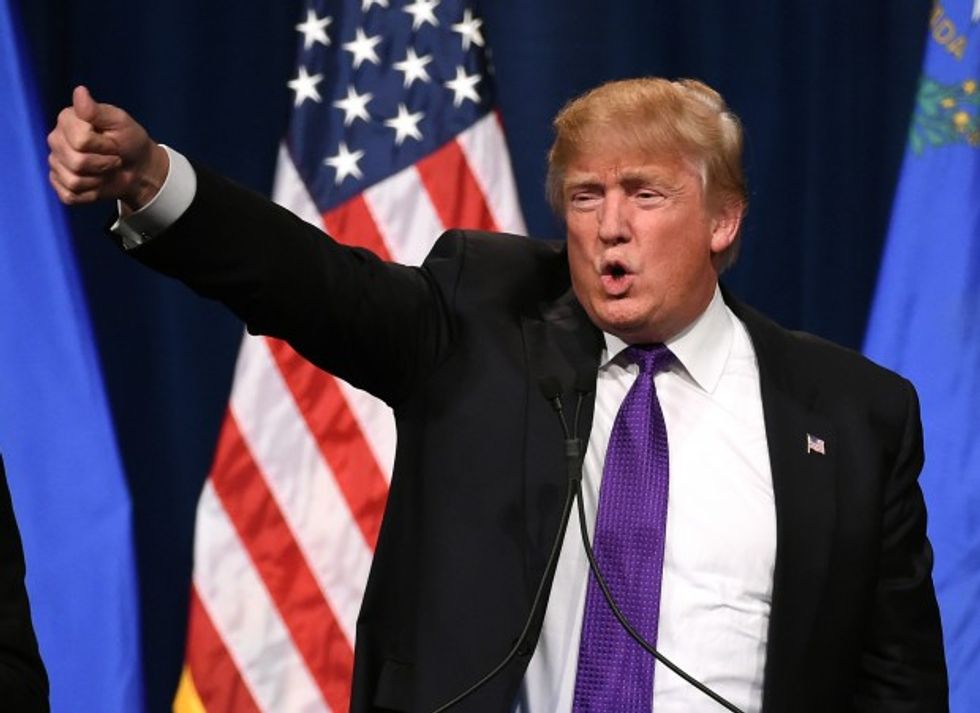 Donald Trump speaks at a caucus night watch party at the Treasure Island Hotel & Casino. (Getty Images/Ethan Miller)
"America had a choice that year. One candidate for president was a genuinely born-again Christian who taught sunday school in his Baptist church. He had been faithfully married to one woman. His name was Jimmy Carter," Jeffress said. "The second candidate was a twice-married, Hollywood actor who, as governor of California, had signed the most liberal abortion bill in California history, and his wife practiced astrology and used it to influence him. His name was Ronald Reagan."
The pastor then rhetorically asked, "Guess who the evangelicals went for?"
In the end, Jeffress said that faith is most certainly an important consideration when choosing a president, but that it is not the only factor. As for Trump, the preacher said that he does believe that the Republican businessman "has a real heart for evangelical Christians."
"I really am confident that if Donald Trump becomes president, evangelicals will have a friend in the White House," he said.
--
Front page image via Shutterstock.com.
Want to leave a tip?
We answer to you. Help keep our content free of advertisers and big tech censorship by leaving a tip today.
more stories
Sign up for the Blaze newsletter
By signing up, you agree to our
Privacy Policy
and
Terms of Use
, and agree to receive content that may sometimes include advertisements. You may opt out at any time.