Israeli Prime Minister Benjamin Netanyahu's office Tuesday rejected the White House's assertion a day earlier that the Israeli leader had rebuffed an invitation to meet with President Barack Obama later this month, emphasizing that the White House knew last week that there was a "good chance" that Netanyahu would not be traveling to Washington.
"We were looking forward to hosting the bilateral meeting," White House National Security Council spokesman Ned Price said in a statement Monday. "We were surprised to first learn via media reports that the prime minister, rather than accept our invitation, opted to cancel his visit."
However, Netanyahu's office said Tuesday that Israeli Ambassador to the U.S. Ron Dermer had told White House officials at a meeting last week that Netanyahu would likely not make the trip to the U.S. where he had been scheduled to speak at an annual Israeli policy conference.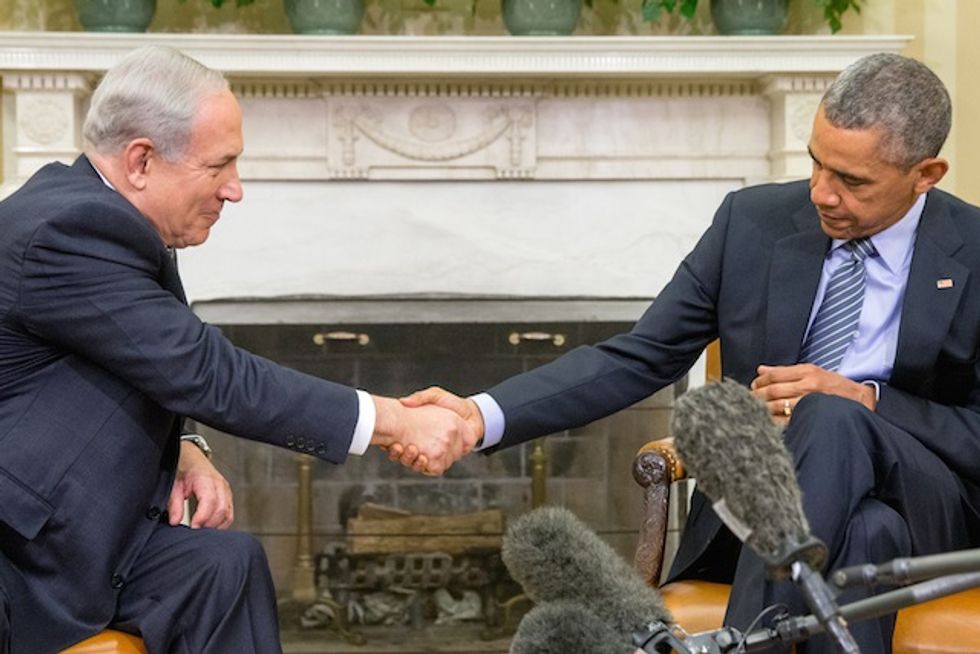 President Barack Obama shakes hands with Israeli Prime Minister Benjamin Netanyahu in the Oval Office of the White House in Washington, D.C., Nov. 9, 2015. (AP Photo/Andrew Harnik)
"Last Friday, during a meeting at the White House, Ambassador Dermer expressed the prime minister's appreciation for the president's willingness to meet the prime minister if he came to Washington to attend AIPAC's Policy Conference," Netanyahu's office said in a statement, referring to the American-Israel Public Affairs Committee's March meeting.
"However, the ambassador also informed the White House that there is a good chance that the prime minister would not be coming to Washington and that a final decision would be taken on Monday after he had met with the prime minister," Netanyahu's office said.
Israeli media, quoting Netanyahu's office, reported that the prime minister was reluctant to visit the U.S. during the height of the primary election campaign so as not to be perceived as interfering in the U.S. elections.
That was the same reason the White House offered last year when Obama refused to meet Netanyahu while the Israeli leader was in Washington to address Congress over the Iran nuclear deal. The White House said last January that it's a longstanding policy to avoid meeting leaders shortly before they run for reelection.
The Times of Israel characterized the exchange of conflicting statements — hours before a scheduled visit to Israel by Vice President Joe Biden — as "a sign of lingering tensions between Jerusalem and Washington."
"The unusually pointed pushback from the White House was the latest signal of ongoing tensions between the U.S. and its closest Mideast ally, which have never fully recovered since Obama incensed Netanyahu's government by pursuing and then enacting a nuclear deal with Iran," the Times of Israel observed.
Reuters had a similar take, writing, "Netanyahu's decision to nix his U.S. visit marked the latest episode in a fraught relationship with Obama that has yet to recover from their deep differences over last year's U.S.-led international nuclear deal with Iran, Israel's arch foe."