Eight-year-old Jackson Wheeless, a third-grade student at Millis Road Elementary in Jamestown, North Carolina, is keeping tabs on the 2016 presidential election — and he wants Donald Trump to know.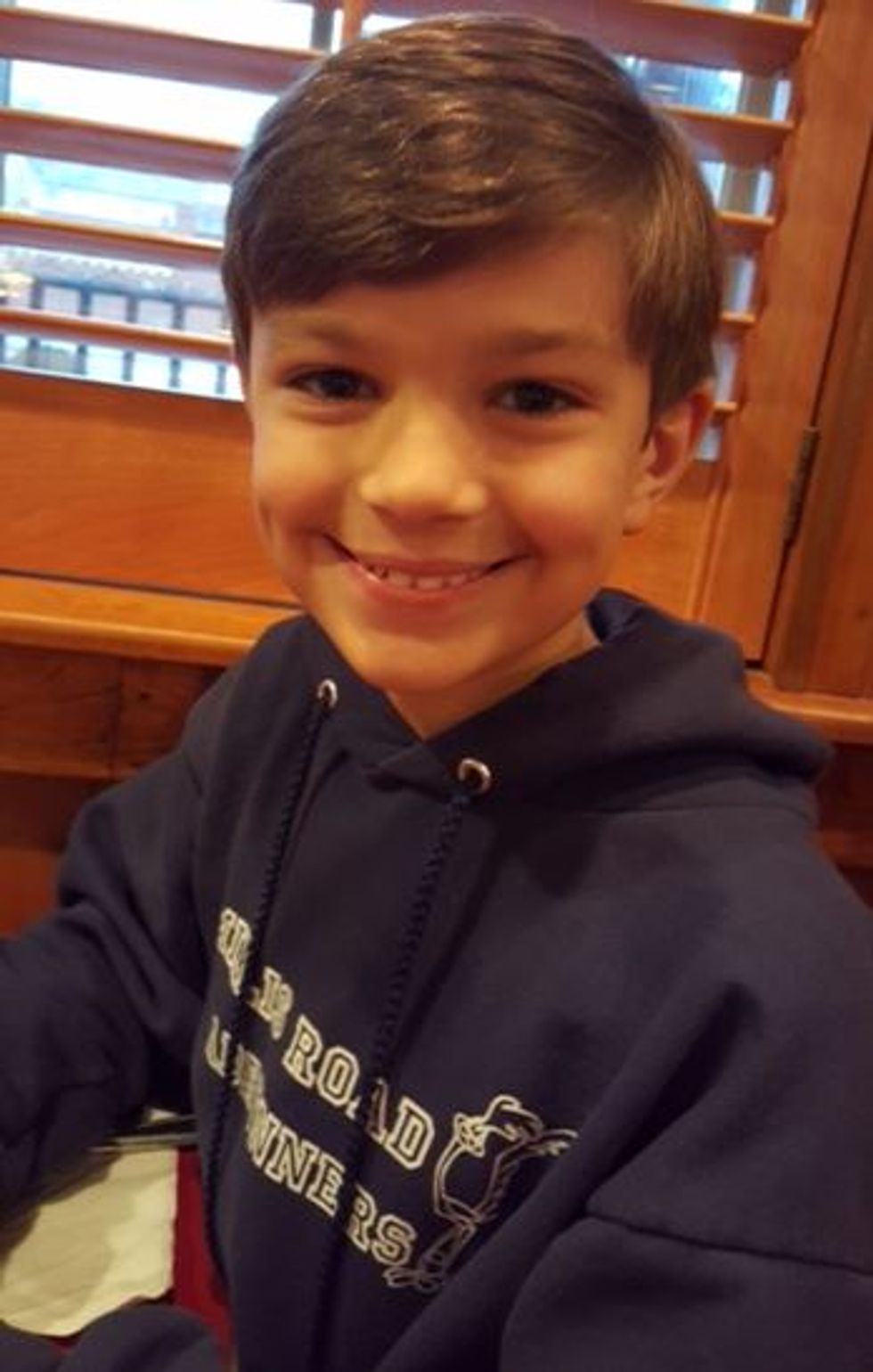 Jackson Wheeless. (Image source: Kelley Wheeless via WCNC-TV)
According to WCNC-TV, Jackson was prompted to pen a letter to the brash billionaire after his teacher, Ms. Brown, encouraged her students to watch the news and become informed about the world around them. In his letter, Wheeless made it a point to remind Trump that even though they are unable to cast a vote this election cycle, children are also listening to and watching what he says and does.
"I have read several articles about you and have seen you on the television. I think you have been very rude to many people," Wheeless wrote. "I know that you are talking to adults when you give your speeches, because they are the ones that can vote. It is important for you to remember that children are watching and hearing you, too. Someday, we will also be able to vote."
Wheeless also reminded Trump about the "Golden Rule," something he said he learned about when he was very young. According to Wheeless, Trump isn't too good at following the rule.
"I learned about The Golden Rule when I was VERY young. How would you feel if people said some of these terrible things about you that I have heard you say about them?" he asked. "Do you ever feel sorry about the things that you say that are hurtful to others? I have never heard you apologize."
The young student went on to rebuke the Manhattan mogul for once mocking a handicapped reporter.
"What would happen if young people decided that it was OK to make fun of handicapped people after watching you do that on national TV?" he asked. "Bullying is already a HUGE problem, and it is NOT OK! I feel like you could make that problem much worse."
Wheeless even invoked the time Trump declared that he could shoot someone on Fifth Avenue in New York City and not lose support, saying Trump makes kids "afraid."
"You make kids afraid when they hear that someone who could be our next President would even think of doing something like that!" Wheeless wrote.
To conclude, Wheeless issued Trump a challenge: to start thinking of America's younger generation.
"We may not be able to vote yet, but we are the future. I think it is important for us to have a kind, honest, caring person as our leader that we can look up to and respect," he said. "I am in the student government this year at my school. I try to be a student that everyone can look up to. I will grow up to be a husband, a father, hopefully a police officer, and a good friend. I will choose to be a better person than what you have been teaching me to be."
TheBlaze reached out to Wheeless' mom, Kelley Wheeless, via Facebook, but did not immediately receive a response.
Read Jackson's full letter below: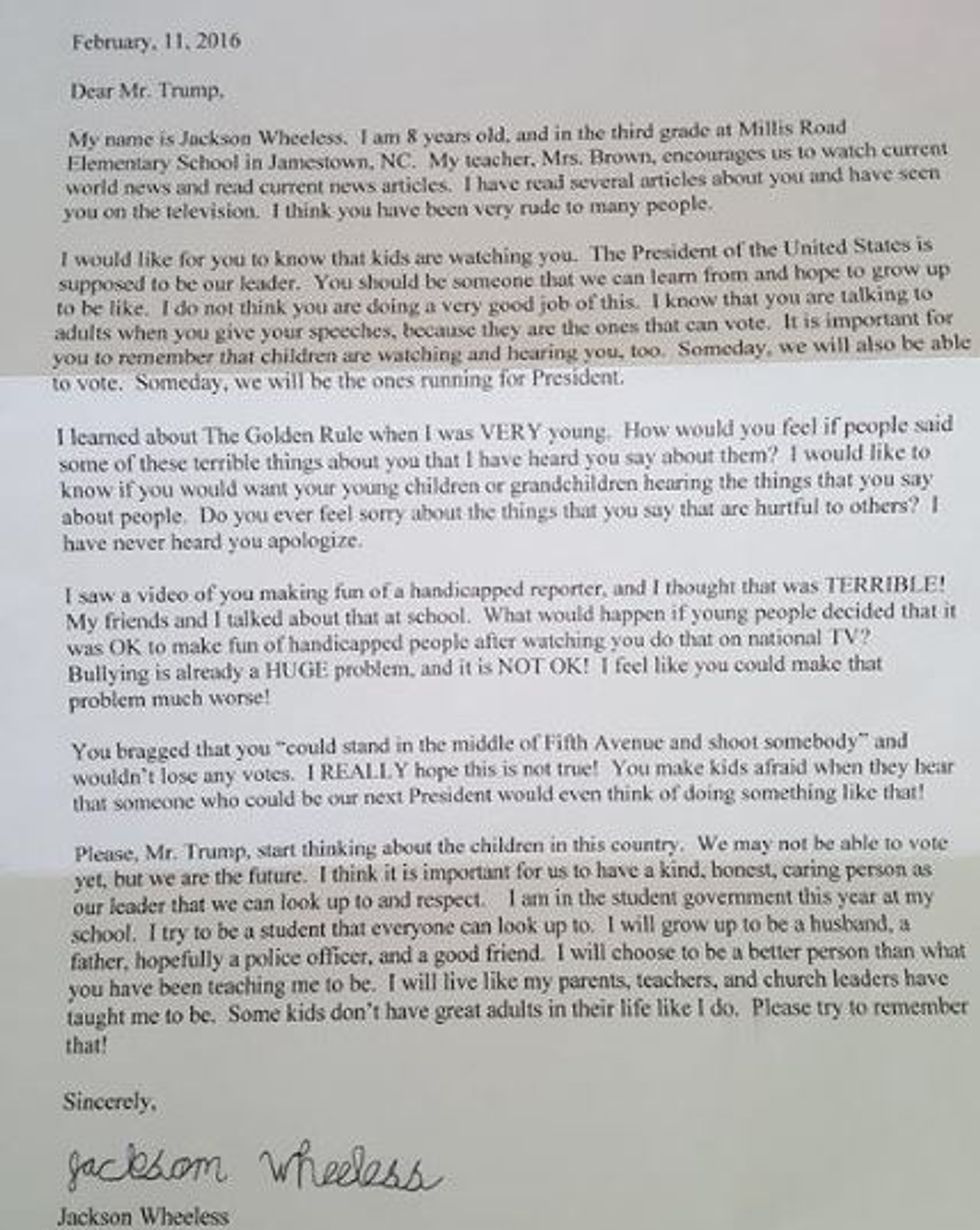 Image source: Kelley Wheeless via WCNC-TV
(H/T: WCNC-TV)
—
Follow the author of this story on Twitter and Facebook:
[facebook //www.facebook.com/plugins/like.php?href=