The 75-year-old veteran who was caught on tape shoving a black protester at a Donald Trump presidential campaign rally has reportedly apologized for his actions.
In a letter to Korean War Veterans Association President Larry Kinard, Al Bamberger contended that the video in which he is seen pushing a black college student protesting the GOP front-runner does not show the whole story. Bamberger said he, too, had been pushed to the ground during the rally last week in Louisville, Kentucky, and his "emotions got the best of" him as he allowed himself to get "caught up in the frenzy."
"I physically pushed a young woman down the aisle toward the exit, an action I sincerely regret," he wrote in the letter, which was obtained by WSCH-FM.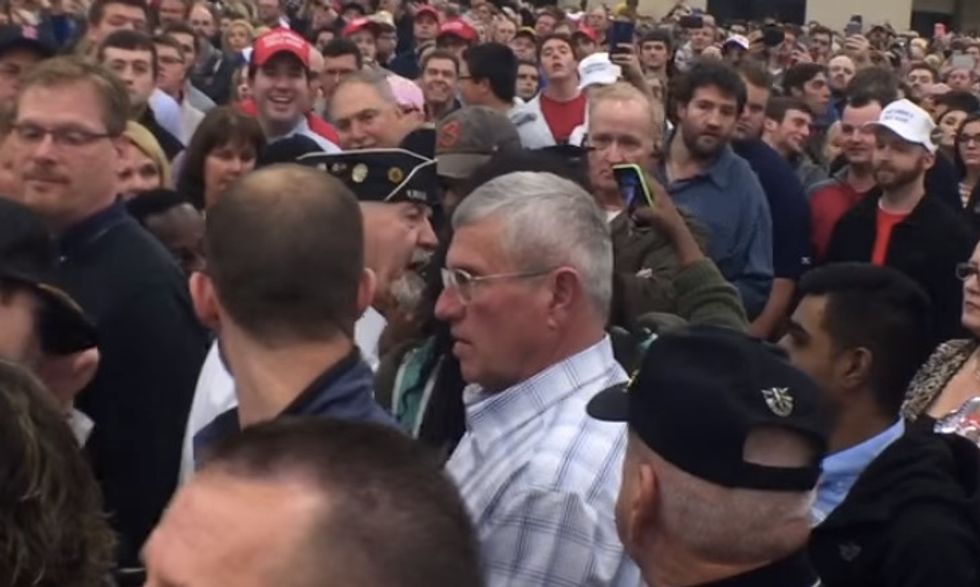 A U.S. Veteran apologized after shoving and yelling at a black protester at a Donald Trump rally in Kentucky last week. (Image source: YouTube)
The video of the incident has since gone viral — along with other videos depicting altercations between Trump rally attendees and protesters. Bamberger is seen pushing Shiya Nwanguma, a University of Louisville student, and shouting, "Get out of here, we don't want you here!"
In his letter, Bamberger wrote:
I later found out that some of the "Trump supporters" involved in the incident (standing right next to me) were members of a white supremacy group. I cannot emphasize enough that I am in no way affiliated with a hate group like that and don't condone any of their actions. Unfortunately my state of mind after being knocked down and hurt myself, and being caught between a group of white supremacists and Black Lives Matter protestors contributed to my behavior however, there is no excuse for my actions.

I need everyone to know that I am not a racist as implied by many internet postings. I am not associated with any type of racist organizations and did not push the young lady because she was black. I went to the rally to have a good time, support the veterans, and see Donald Trump.

Unlike the people that surrounded me at the event, whose main purpose was to cause chaos and create videos, I went there with no intention of participating in a confrontation and I deeply regret my involvement. I have embarrassed myself, my family, and Veterans. This was a very unfortunate incident and it is my sincere hope that I can be forgiven for my actions.
WSCH reported that Bamberger is a member of the KWVA Chapter 4 in Aurora, Indiana.
Bamberger wrote that he enjoys attending political events — in particular presidential rallies — and said he was "thrilled to have the opportunity to attend" Trump's Kentucky event, "especially since he is so supportive of veterans."
Kinard told Millitary.com that Bamberger was not at the rally as a representative of the KWVA and asserted that the organization "does not, in any way, condone his actions." He also said the KWVA would review all information regarding the altercation in order to determine if it should take any action toward the veteran.
According to Millitary.com, the KWVA's code states that members will be held responsible for their actions, cannot engage in unethical or unlawful behavior and should respect the rights of others when it comes to ethnic background, politics, race, religion and sex. Members are also expected to conduct themselves with proper dignity and decorum and shall not dishonor the KWVA.
Nwanguma did not respond to an emailed request for comment from TheBlaze Thursday afternoon.
Watch a video of the altercation below.
(H/T: WSCH-FM)
—
Follow Kaitlyn Schallhorn (@K_Schallhorn) on Twitter