"American Idol" runner-up and failed Democratic congressional candidate Clay Aiken said Thursday that he believes that Republican presidential candidate Donald Trump is neither a fascist nor a racist — but rather "a Democrat."
During an interview on the Fox Business Network, Aiken, who was also a runner-up on Trump's NBC reality show "Celebrity Apprentice," joked that his mother would vote for Trump in spite of the fact that the Manhattan billionaire fired him on national television.
"I'm not convinced that he is—necessarily should be running in the Republican primary," Aiken said.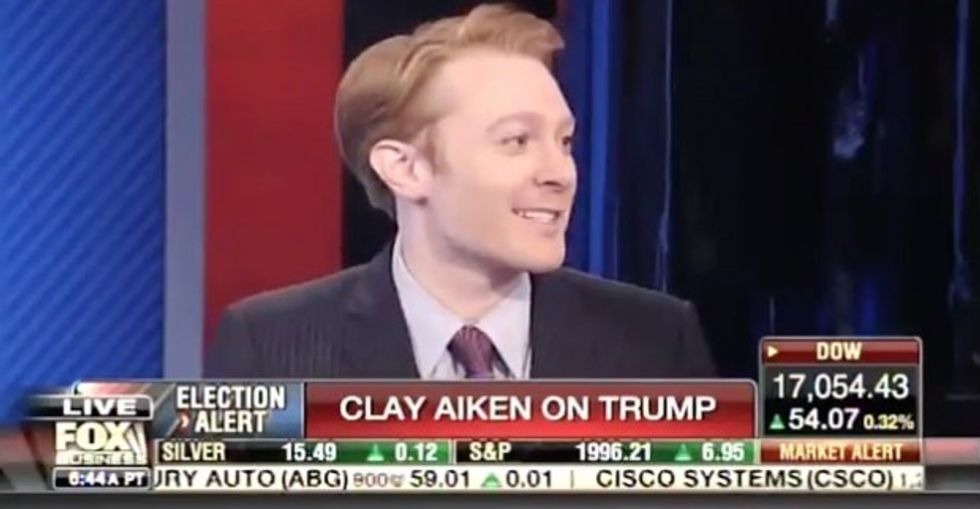 Image source: YouTube/Fox Business Network
Host Stuart Varney asked Aiken about recent characterizations of Trump as a fascist.
"I don't think he's a fascist, I don't think he's a racist — I think he's a Democrat," Aiken said.
"I think that's what's most concerning to me," Aiken continued. "I was talking to somebody the other day about how I believe he's this way, he speaks another way, and that's what worries me about him becoming president — because I don't know what he'll be when he's president, you don't know what he'll be when he's president. I'm not sure that he knows what he'll be when he's president, and that's far more frightening to me even than someone who I might disagree with completely, you know?"
Aiken added that he likes Trump personally. "I like him as a person," Aiken said. "I always said he's kind of like the uncle that gets drunk at the wedding and embarrasses you. You still love them, but you wish he'd shut up."
Aiken denied that he could be "won over" by Trump.
"I am a Democrat, and I certainly don't agree with anything he's saying right now, nor do I agree with anyone else on that side of the aisle who's running for president," Aiken said. "But I, you know, I think the concern for me more is that I don't really know where he falls."
"I'm America's No. 1 No. 2 at this point," Aiken later quipped of his placement on the two reality television shows.
(H/T Washington Free Beacon)