FORT MYERS, Fla. (TheBlaze/AP) -- Anxious Republican officials are coming to terms with the idea that their second-least favorite GOP presidential candidate — Texas Sen. Ted Cruz — may be the party's best chance to defeat front-runner Donald Trump.
Possible Cruz supporters include reluctant Senate colleagues and former presidential rivals with strong ties to major donors, all of whom have long feared Cruz's purist ideology but dread the prospect of a Trump nomination even more. The first-term senator announced Wednesday the backing of one former primary opponent, Carly Fiorina, and is seeking the nail down the support of another, Jeb Bush, Thursday.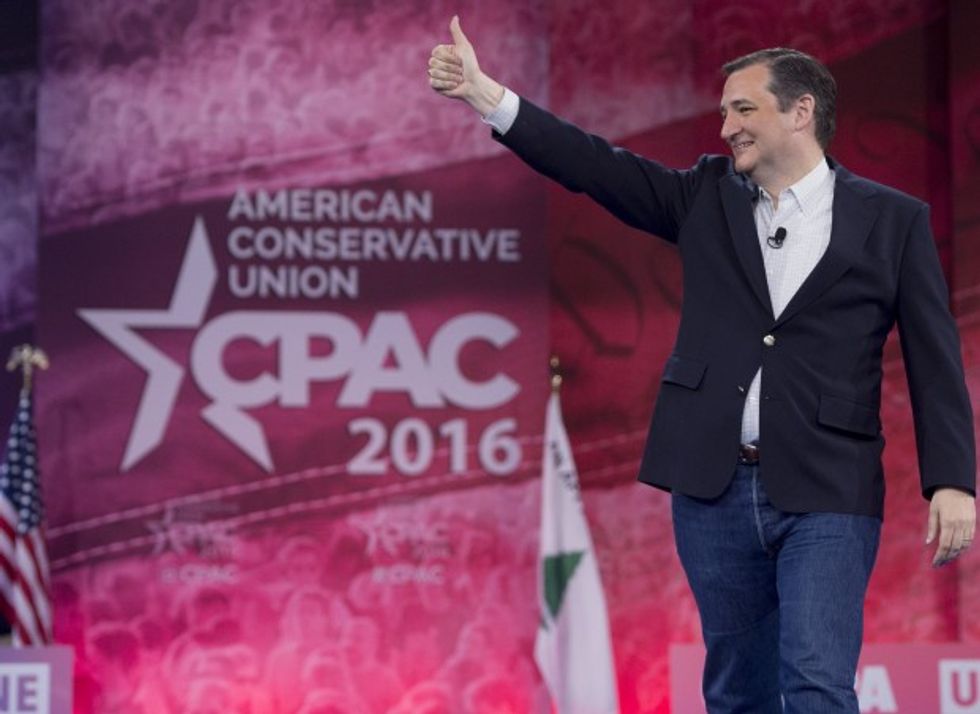 Ted Cruz speaks at CPAC 2016. (Getty Images/Saul Loeb/AFP)
"It's an outsider year, and the most logical person to take on Trump based on past performance is Ted Cruz," another former presidential opponent, South Carolina Sen. Lindsey Graham, said last week. Earlier in the year, Graham likened the choice between Cruz and Trump to "being shot or poisoned."
"He's not my preference," Graham said of Cruz. "But we are where we are. And if Trump wins Florida and Ohio, I don't know if we can stop him."
Indeed, next Tuesday's winner-take-all contests in Florida and Ohio have injected a sense of urgency into the GOP's anti-Trump movement.
The billionaire businessman is calling on mainstream Republicans to unify behind his candidacy ahead of next week's primaries, which could give him an insurmountable delegate lead.
"If I win those two, I think it's over," Trump told CNN's "Anderson Cooper 360."
"Instead of fighting it, they should embrace it," he added on Fox News Channel.
Bush planned to confer with all the candidates — excluding Trump — ahead of Thursday's GOP debate. He met privately with Florida Sen. Marco Rubio on Wednesday and planned to meet with Cruz and Ohio Gov. John Kasich on Thursday.
Bush and Trump engaged in heated confrontations throughout Bush's campaign, repeatedly referring to each other as "loser."
Rubio, the Republican establishment's overwhelming favorite, picked up where Bush left off but struggled badly in Tuesday's round of primary contests, failing to pick up a single delegate. Trump won three of the contests and Cruz won one.
Now, in the midst of a week-long march through Florida to save his candidacy, Rubio concedes that he went too far in insulting Trump.
"My kids were embarrassed by it, and if I had it to do over again, I wouldn't," Rubio said on MSNBC Wednesday night.
Rubio's weak standing has forced some of his supporters to consider Cruz.
"I could see myself as a Cruz supporter," Nevada Sen. Dean Heller, a Rubio supporter, said Wednesday. "I agree with Cruz 80 percent of the time. There are things I don't agree with him on, but if we are agreeing 80 percent of the time and he's a conservative, we are going to get along just fine."
[sharequote align="center"]"I could see myself as a Cruz supporter."[/sharequote]
Still, no Republican senator has endorsed Cruz, who called Majority Leader Mitch McConnell (R-Ky.) a liar and helped engineer the 16-day partial government shutdown in 2013. A half-dozen Senate Republicans said Wednesday that they hadn't heard from either Trump or Cruz.
Trump has one Senate endorsement, from Alabama's Jeff Sessions, while Rubio has endorsements from 14 senators.
Fiorina, though, offered Cruz an immediate dose of credibility with his party's skeptical donor class. She told a Miami crowd Wednesday that she's "horrified" by Trump.
"The truth is that Donald Trump and Hillary Clinton are two sides of the same coin," she charged, standing alongside Cruz. "It is time now to unite behind the one man who can beat Donald Trump, who can beat Hillary Clinton."