Top Iranian officials said Thursday that Iran's ballistic missile work would continue and that missile tests do not violate the international nuclear deal to which it agreed.
"Iran's missile program will not stop under any circumstances," Revolutionary Guard Brig. Gen. Amir Ali Hajizadeh said according to state television, as translated by Reuters.
The Revolutionary Guard "has never accepted the U.N. Security Council resolutions on Iran's missile work," he said, adding, "We are always ready to defend the country against any aggressor."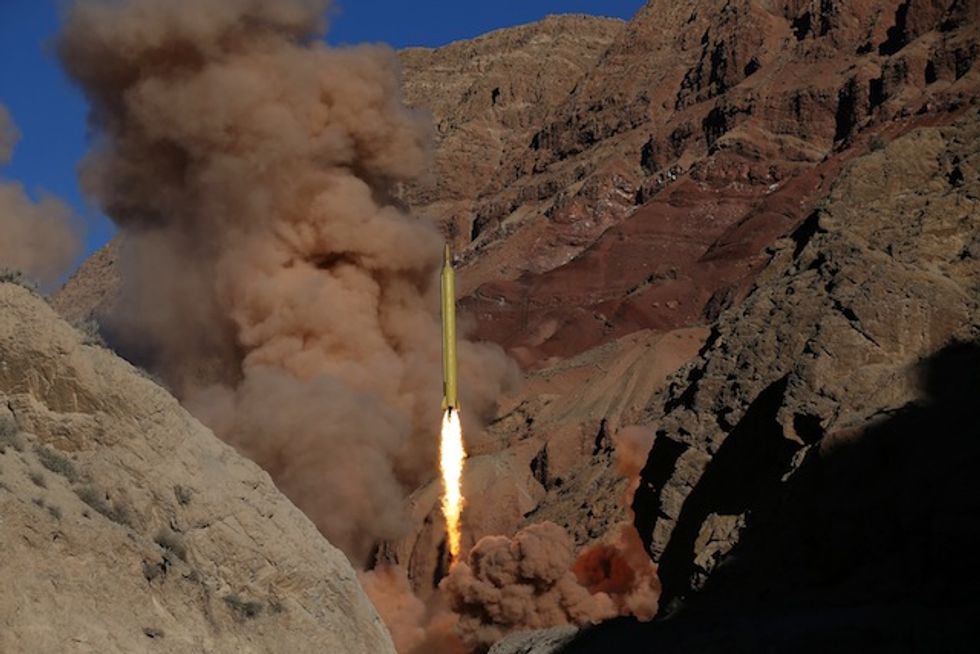 In this photo obtained from the Iranian Fars News Agency, a Qadr H long-range ballistic surface-to-surface missile is fired by Iran's powerful Revolutionary Guard in an undisclosed location in Iran Wednesday. Iran's powerful Revolutionary Guard test-fired two ballistic missiles Wednesday with the phrase "Israel must be wiped out" written on them, a show of deterrence power by the Islamic Republic as Vice President Joe Biden visited Israel, the Fars news agency reported. (AP Photo/Fars News Agency, Omid Vahabzadeh)
Iran drew criticism this week after conducting missile tests, including test firing two missiles emblazoned in Hebrew with the phrase, "Israel must be wiped out."
Reuters quoted Hajizadeh saying that Iran does not intend to start a war, "but the Zionist regime is our enemy and we don't trust American officials."
Iran's foreign ministry insisted that missile tests do not violate the nuclear deal or U.N Security Council resolutions.
Foreign ministry spokesman Hossein Jaberi Ansari was quoted by the official IRNA news agency on Thursday saying the missiles were "conventional defensive instruments and they were merely for legitimate defense," the Associated Press reported.
Like Hajizadeh, Ansari said Iran would continue its missile program, which he described as defensive in nature.
"The Islamic Republic of Iran will not compromise over its security and defensive power," Ansari said.
"It will continue; it's completely defensive and legitimate missile program while observing its international commitments and without entering into the fields of either nuclear warheads or designing missiles capable of carrying such warheads," he said.
However, Israel said that the missiles tested could carry a nuclear warhead and could hit Israel.
"The missile launches over the past few days represent a clear violation of Security Council Resolution 2231, which adopted the nuclear deal between Iran and world powers," Israel's foreign ministry said in a statement issued Wednesday night. "The decision bars Iran from firing missiles that have the capability to carry a nuclear warhead — which are precisely the missiles they fired."
The test of missiles able to carry a nuclear warhead "raises a big question about Iran's intentions to comply fully with its part of the nuclear deal," the foreign ministry said according to the Times of Israel.
"Iran's surface-to-surface missile program must be stopped," the Israeli ministry added.