A Trump campaign spokeswoman has accused Breitbart reporter Michelle Fields of making an "entirely false" accusation against Donald Trump's campaign manager Corey Lewandowski. Fields was having none of it and fired back on Twitter.
According to multiple reports — and Fields' own account of the incident — Lewandowski grabbed Fields' arm and attempted to pull her to the ground at a press conference in Florida on Tuesday after she asked Trump a question.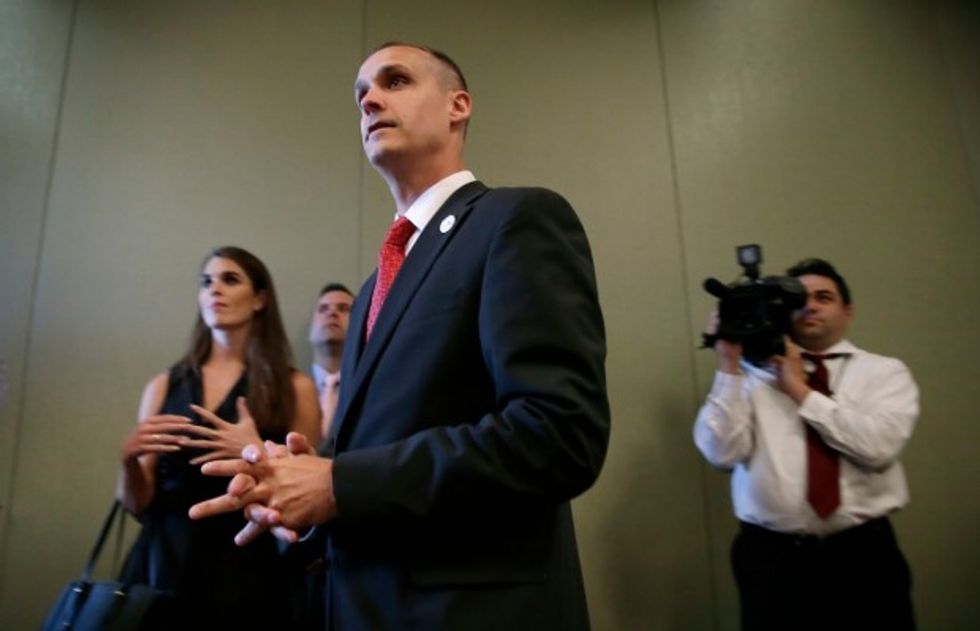 Republican presidential hopeful Donald Trump's campaign manager, Corey Lewandowski, center, looks on as the candidate speaks at a news conference in Dubuque, Iowa, Aug. 25. (AP Photo/Charlie Neibergall)
"The accusation, which has only been made in the media and never addressed directly with the campaign, is entirely false," Trump campaign spokeswoman Hope Hicks said in a statement.
"This individual has never met Corey, nor had the only reporter that supposedly identified him," Hicks said. "There are often large crowds aggressively seeking access to Mr. Trump and our staff would never do anything to harm another individual, while at the same time understanding that Mr. Trump and his personal space should never be invaded."
Hicks was referring to the Washington Post's Ben Terris, who reported what he witnessed.
Trump's campaign claims there were no witnesses. Here is a report from @bterris of the @washingtonpost. He saw it https://t.co/lU1H1Qh1TW

— Michelle Fields (@Michelle Fields) 1457636421.0
Here is @bterris' account of the incident in the @washingtonpost: https://t.co/rI5ErzZLsy

— Kate Scanlon (@Kate Scanlon) 1457645862.0
"As it happened, I had plans the following day to interview Lewandowski and three other early [Trump] campaign staffers," Terris wrote.
"Just a day earlier, before the tumultuous news conference, he had urged me to come down to interview him," Terris wrote, adding that Lewandowski passed on the interview following the press conference.
Hicks argued that Fields "claims she does not want to be part of the news, and only report it, however if that was the case, any concerns, however unfounded they may be, should have been voiced directly first and not via [Twitter], especially since no other outlet or reporter witnessed or questioned anything that transpired that evening."
"We leave to others whether this [is] part of a larger pattern of exaggerating incidents, but on multiple occasions she has become part of the news story as opposed to reporting it. Recall she also claimed to have been beaten by a New York City Police officer with a baton," Hicks said.
Fields responded to the campaign by posting pictures of her bruises on Twitter.
I guess these just magically appeared on me @CLewandowski_ @realDonaldTrump. So weird. https://t.co/oD8c4D7tw3

— Michelle Fields (@Michelle Fields) 1457636528.0
Here is what happened at the @realDonaldTrump press conference with @CLewandowski_ https://t.co/Dk2xYiBtSG

— Michelle Fields (@Michelle Fields) 1457616850.0
Lewandowski fired back by calling Fields an "attention seeker."
Michelle Fields is an attention seeker who once claimed Allen West groped her but later went silent. https://t.co/J86Ej42eYx

— Corey R. Lewandowski (@Corey R. Lewandowski) 1457640169.0
Larry Solov, Breitbart News Network president and CEO, defended Fields in a statement:
The Washington Post just published a very detailed, first-hand account from their senior reporter Ben Terris who is familiar with the campaign, the personalities involved, and was an eyewitness to the incident. We are disappointed in the campaign's response, in particular their effort to demean Michelle's previous reporting. Michelle Fields is an intrepid reporter who has covered tough and dangerous stories. We stand behind her reporting, her techniques, and call again on Corey Lewandowski to apologize.
Another Breitbart reporter, Patrick Howley, was suspended indefinitely for comments made on social media calling into question Fields' account.
Was sent this screen grab of a Breitbart reporters tweets that appear to have been deleted https://t.co/LGuYqrQwmW

— Hadas Gold (@Hadas Gold) 1457627007.0
Fields will discuss the incident during interviews on ABC's "World News Tonight" on Thursday evening and "Good Morning America" on Friday morning.
Don't miss @MichelleFields exclusive interview tonight on @ABC @WNTonight and tomorrow on @GMA

— Breitbart News (@Breitbart News) 1457632630.0