The Daily Caller senior editor Jamie Weinstein confronted Donald Trump campaign spokeswoman Katrina Pierson Friday over allegations that Trump's campaign manager assaulted a reporter earlier this week. And it didn't take long for things to get personal.
Weinstein was defending his girlfriend and Breitbart reporter Michelle Fields who claimed she was assaulted by Trump campaign manager Corey Lewandowski on Tuesday after she asked a question following a news conference in Florida.
Fields has filed a police report in Florida, TheBlaze confirmed with Jupiter police on Friday.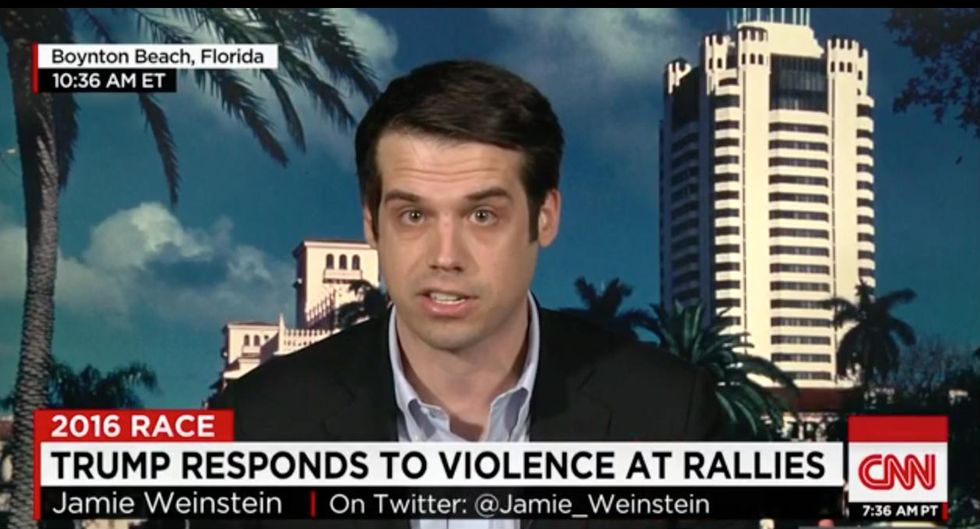 Image source: Twitter @CNN
Trump and his campaign have denied the allegations, and Lewandowski himself has called Fields "delusional."
"To believe what they are saying in denying these allegations is you have to believe in an elaborate conspiracy theory," Weinstein told CNN host Carol Costello.
"You have to believe that there was some type of coordination between the Washington Post and Breitbart, which is a generally pro-Trump publication, and this conspiracy to impugn Donald Trump and his campaign," Weinstein added. "Then you have to think they came up with audio to support this."
Following the alleged altercation, Politico published audio in which Fields is heard saying, "I can't believe he just did that. That was so hard. Was that Corey?" after another reporter stated, "He just threw you down."
"The Trump campaign should be ashamed of impugning the integrity and character of my girlfriend who was assaulted at that event," Weinstein said. "I think Katrina Pierson knows the truth of this and for her to stand by and allow these attacks to go on is shameful — utterly, totally shameful."
But Pierson drew even more ire from Weinstein after she pointed to a "record of similar statements," including from Weinstein's own publication, the Daily Caller.
Pierson was seemingly referring to an incident in 2011 when Fields, who then worked for the Daily Caller, said she was assaulted by NYPD officers at an Occupy Wall Street protest.
"That is disgusting. That is disgusting," Weinstein fired back. "You should be ashamed. You should be ashamed."
"You know her, Katrina. You know my girlfriend, and you know what you're saying is a lie," Weinstein added.
Trump spokesperson @KatrinaPierson discusses assault allegations w/ @Jamie_Weinstein, + @SL_Schaeffer.https://t.co/eu5Y0HwKIR

— Carol Costello (@CarolCNN) March 11, 2016
–
Follow the author of this story on Twitter and Facebook: