Republican presidential front-runner Donald Trump made the case during a Friday morning press conference that more of his supporters need to physically assault violent protesters.
Trump told reporters gathered at his Mar-a-Lago resort in Palm Beach, Florida, that "we've had some violent people as protesters" who have attended the campaign's rallies.
"These are people that punch, these are violent people," the billionaire businessman said.
"There was a guy who was swinging, very loud, and then started swinging at the audience," Trump recalled of one apparent protester. "And you know what? The audience swung back, and I thought it was very, very appropriate. He was swinging, he was hitting people and the audience hit back. And that's what we need a little bit more of."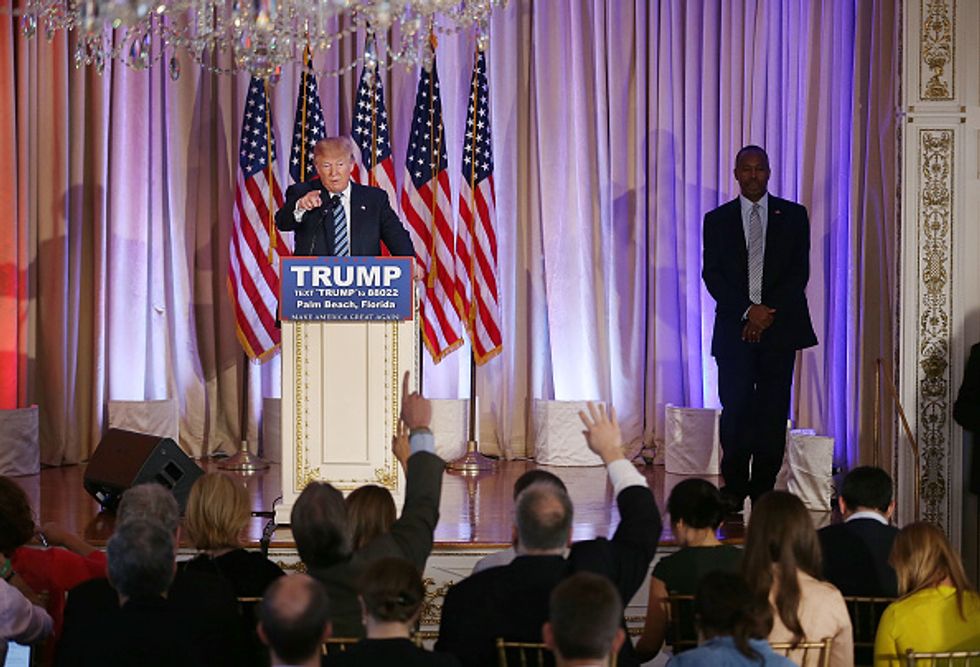 Republican presidential candidate Donald Trump speaks as former presidential candidate Ben Carson stands on stage with him in Palm Beach, Florida. (Joe Raedle/Getty Images)
Trump added that he wasn't advocating for his supporters to assault "just a protester."
"This is a guy who should not have been allowed to do what he did," the presidential candidate said, adding that the "police were very, very restrained."
Trump most likely was referring to a protester at a rally in Las Vegas last month. Trump said during the rally that the man was "throwing punches," although a security official told Politico that the candidate was "over-exaggerating" the scenario. Multiple other South Point security personnel confirmed that the protester had not thrown any punches.
"I'd like to punch him in the face, I'll tell you that," Trump said during the rally.
Trump also criticized the media for "never showing" the crowds at his rallies and said "the one good thing about these protesters" is that then the cameras can show the scope of the attendance at his events.
Trump's campaign and his supporters have been under fire recently as many of his fans have been caught on camera punching or shoving protesters at several different rallies.
John McGraw, 78, who was arrested and charged with disorderly conduct and assault after he reportedly punched one of the dissident Trump rally attendees, told reporters that the best part of the altercation was "knocking the hell out of that big mouth."
"Yes, he deserved it. The next time we see him, we might have to kill him," he said.
Trump supporter Andy Dean also defended the elderly man as he told CNN Thursday that "[Trump] can't control a 78-year-old man, and at that age, it looks like good exercise."
Trump's remarks Friday morning came at a press conference after he was endorsed by Dr. Ben Carson, the second former Republican presidential candidate to endorse the business mogul.
Watch a clip of Trump's remarks below.
—
Follow Kaitlyn Schallhorn (@K_Schallhorn) on Twitter