WASHINGTON (TheBlaze/AP) — President Barack Obama is crediting the late Nancy Reagan with spurring research into cures for diseases like Alzheimer's.
He says no one understood the importance of pursuing potentially life-saving treatments than the former first lady. She was buried Friday alongside her husband at the Ronald Reagan Presidential Library in California. President Ronald Reagan died of Alzheimer's in 2004.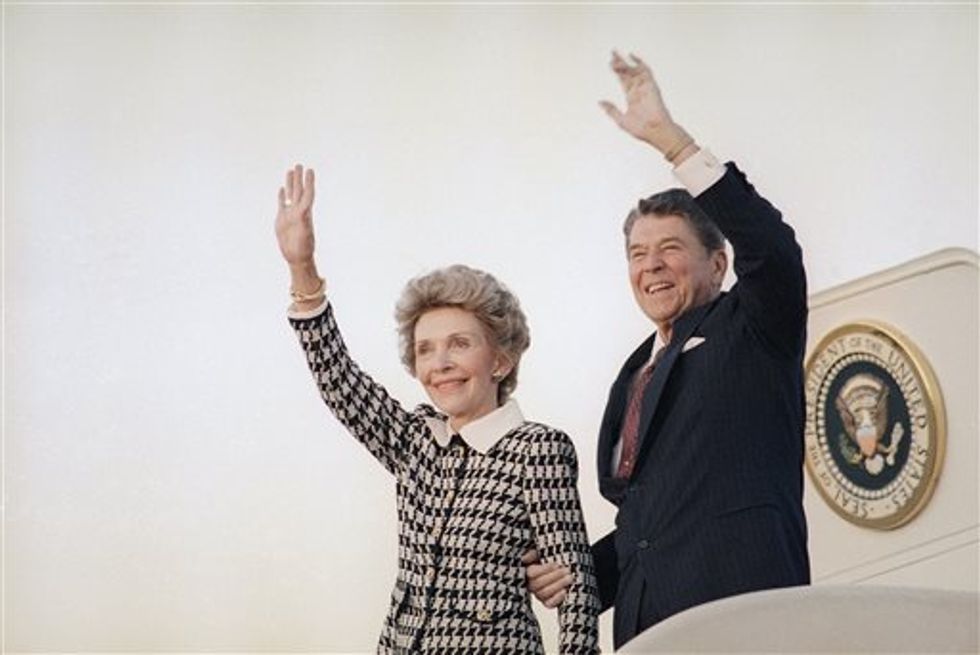 In this Sept. 8, 1986 photo, President Ronald Reagan and Mrs. Reagan wave from Air Force One at Andrews Air Force Base as they return to Washington after a vacation at their California ranch. (AP Photo/J. Scott Applewhite, File)
In his weekly Saturday radio and Internet address, Obama says Mrs. Reagan was one of the first people he contacted after he signed an order to resume federal stem cell research, a cause she advocated following her husband's diagnosis.
From the weekly presidential address:
As President, I know just how important it is to have a strong life partner, and President Reagan was as lucky as I am. Nancy Reagan redefined the role of first lady of the United States. In addition to serving as a trusted advisor to her husband, and an elegant hostess for our nation, she was a passionate advocate for issues that touched the lives of so many. She raised awareness about drug and alcohol abuse. She was a staunch supporter of America's veterans. And after her own battle with breast cancer and a mastectomy, she spoke in personal terms about the need for women to get mammograms.

The American people were deeply moved by the love Nancy felt for her husband. And we were inspired by how, in their long goodbye, Nancy became a voice on behalf of millions of families experiencing the depleting, aching reality of Alzheimer's disease. She brought her characteristic intelligence and focus to the twin causes of stem cell research and Alzheimer's research. And when I signed an order to resume federal stem cell research, I was proud that she was one of the first phone calls I made. Nobody understood better than Nancy Reagan the importance of pursuing treatments that hold the potential and the promise to improve and save lives.
Obama says administration efforts to tailor health care to the individual and to better understand the human brain are possible because of Nancy Reagan's tireless efforts.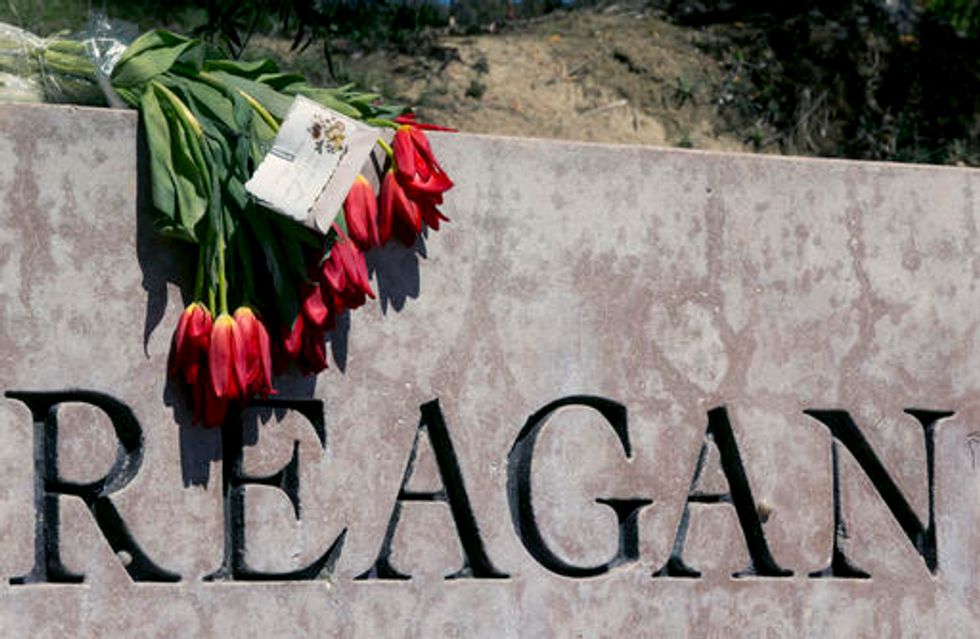 Flowers sit atop the sign at the street entrance to the Ronald Reagan Presidential Library, Tuesday, March 8, 2016, in Simi Valley, Calif. (AP Photo/Damian Dovarganes)
Democratic presidential candidate Hillary Clinton retracted a false statement she made about Nancy Reagan during an MSNBC interview Friday.
"It may be hard for your viewers to remember how difficult it was for people to talk about HIV/AIDS back in the 1980s," Clinton said during the interview. "And because of both President and Mrs. Reagan — in particular Mrs. Reagan — we started a national conversation."
Clinton claimed later that she meant to praise the former first lady for her contributions to research relating to Alzheimer's.
"While the Reagans were strong advocates for stem cell research and finding a cure for Alzheimer's disease, I misspoke about their record on HIV and AIDS. For that, I'm sorry," Clinton said in a statement posted on her Twitter account.
Mrs. Reagan died Sunday. She was 94.
Watch: