Just one day after violent protests erupted at a would-be rally for Republican presidential candidate Donald Trump, the chaos continued at a campaign rally outside of Dayton, Ohio as one protestor attempted to storm the stage.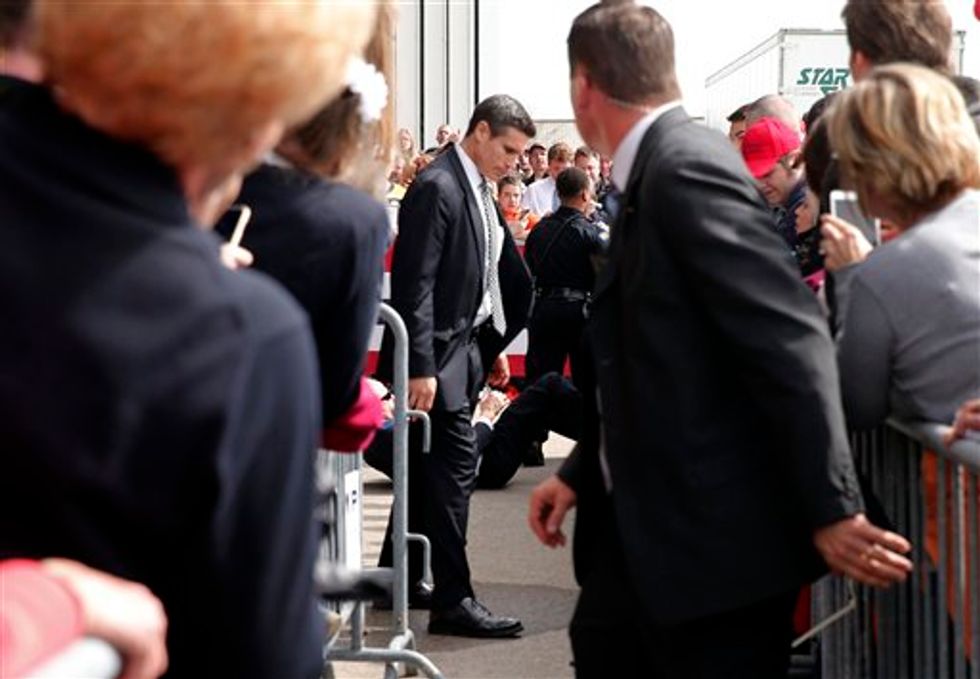 People are seen on the ground after a man tried to breach the security buffer, according to a spokeswoman for Republican presidential candidate Donald Trump, during a campaign rally with Trump at the Wright Brothers Aero Hangar, Saturday, March 12, 2016, in Vandalia, Ohio. (AP Photo/Kiichiro Sato)
Secret Service agents briefly jumped up to surround Trump Saturday morning after a man tried to join the candidate onstage. After the upset, Trump returned to the microphone.
"I was ready for him, but it's much easier if the cops do it," Trump told those in attendance.
The tables have turned: Trump is visibly terrified of disruptions at his rallies now https://t.co/Hkquh1vvZe

— brendan james (@deep_beige) March 12, 2016
Alluding to Friday night's cancelled rally in Chicago, Trump asserted that his supporters were peaceful.
"My people were nice, the people that came there were so nice," he said. "They caused no problem. They were taunted, they were harassed by these others."
"All of the sudden a planned attack just came out of nowhere," he added.
Before Saturday's Dayton rally, Trump tweeted that an organized group of "thugs" were to blame for the violent protests in Chicago.
The organized group of people, many of them thugs, who shut down our First Amendment rights in Chicago, have totally energized America!

— Donald J. Trump (@Donald J. Trump)1457783094.0
Trump said some of the protestors "represented Bernie [Sanders], our communist friend," referencing that some were carrying signs supporting the Democratic contender.
After the Dayton event, Trump tweeted a couple of additional thoughts regarding the weekend disturbances.

The last person that Hillary or Bernie want to run against is Donald Trump --- and that is fact!

— Donald J. Trump (@Donald J. Trump)1457807096.0
It is Clinton and Sanders people who disrupted my rally in Chicago - and then they say I must talk to my people. Phony politicians!

— Donald J. Trump (@Donald J. Trump)1457807805.0
Trump will hold two more rallies Saturday in Cleveland, Ohio, and Kansas City, Mo.
(H/T: Time)