Eric Thomas went from being a homeless, fatherless high school dropout who survived the streets of Detroit by fighting on a daily basis to earning his Ph.D. in educational administration from Michigan State and becoming a sought-after motivational speaker who commands between $50,000 and $100,000 when he shares his story with corporations.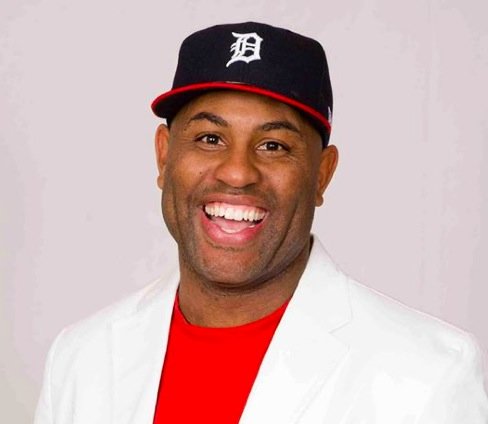 Eric Thomas (Image source: etinspires.com)
You might assume that by this stage Thomas breezes through most challenges — but then he stepped onstage in front of a not-very-fired-up group of students at Vashon High School in St. Louis last month.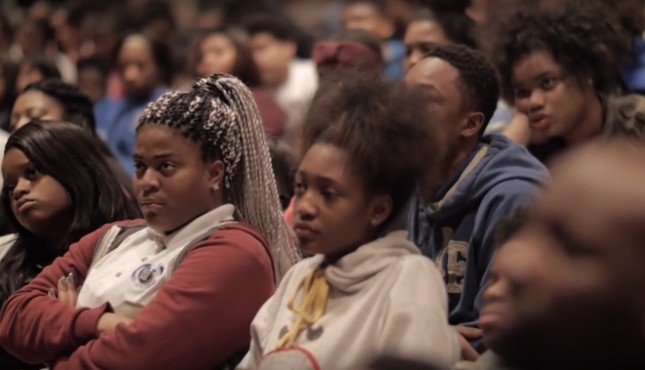 Image source: YouTube
See, 70 percent of the school district's pupils read below their grade levels, KTVI-TV reported, and Thomas was there — for free — to try to spark some change in their lives.
But when some students in the auditorium kept talking while Thomas was trying to speak, the been-to-hell-and-back guy known as the "Hip-Hop Preacher" wasn't having any of it — and the event took a dramatic turn.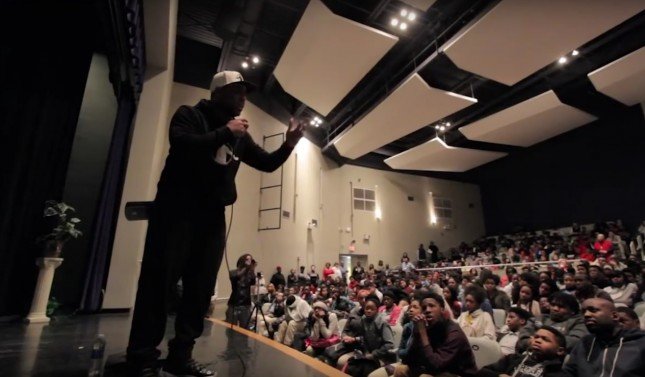 Image source: YouTube
"I'm here because I love you, but I'll be darned if I come here for free and you disrespect me," Thomas growled, staring down his audience and punctuating his words with finger jabs. "I ain't 20 years old. I ain't 19 years old. I'm a grown man. I'm here because I love you ... I'm not here to take nothing from you. I'm here to give you something."
More from Thomas:
And you're gonna have the nerve to laugh and joke when teachers trying to teach you? You got the nerve to act the fool when somebody cares about you? You're talking when I'm talking? Do you know if I go to a Jewish school, them kids are quiet. If I go to a white school, them kids quiet. If I go to a Latino school, they quiet. The only kids that disrespect me is black kids. That's it, my own are the only ones that disrespect me. I work in any other school and they're like, "There go ET, we taking notes." I come home — you talking. You capping jokes. You think something funny. Look how we're living. There ain't nothing funny. Ain't nothing funny y'all.
Thomas added that he's embarrassed when educators ask him why there are problems in urban schools because he knows students in them are barely trying.
"You didn't give your best," Thomas told the students. "They think you dumb — you ain't dumb! You can't take our people from Africa and put us in a diaspora and spread us all over the world. And we survived slavery — and we can't pass a test? ... And you're gonna tell me we can't learn how to write? Have you lost your mind? We are survivors. That's all we do is survive."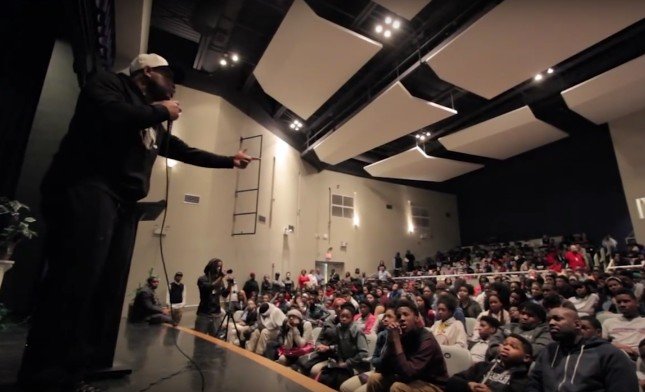 Image source: YouTube
Then Thomas challenged the students in the crowd "to go in there and get that doggone piece of paper and that pencil and do your best. ... I challenge you to go to class and act like you got some sense. Ain't nobody gotta put you on medicine. You know how to sit down and shut up. You do it when you're watching videos."
The portion of Thomas' talk when he confronts students talking out of turn comes just after the 3:30 mark in the clip "Nothing Funny":