Senate leaders are very close to rallying around Republican presidential candidate Ted Cruz in order to stop rival Donald Trump, according to one former Senate aide.
John Hart, former communications director for Oklahoma Sen. Tom Coburn (R) and editor-in-chief of news site Opportunity Lives, told Glenn Beck Wednesday that he has spoken with several former colleagues on Capitol Hill and current Senate aides who have told him Congressional leaders "are really close to rallying behind" Cruz, including Senate Majority Leader Mitch McConnell (R-Ky.).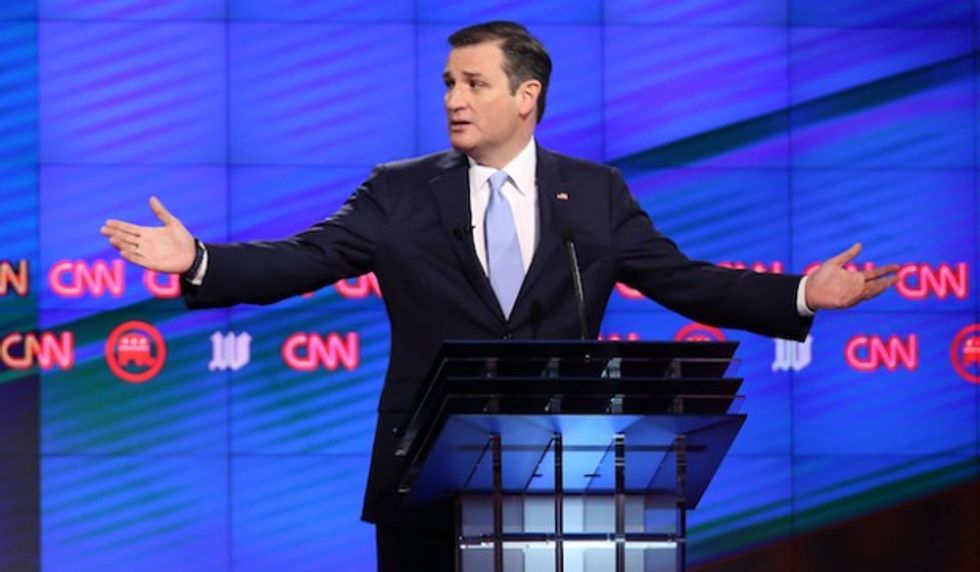 Photo credit: Joe Raedle/Getty Images
"I think McConnell and a lot of the leadership in the Senate, and I've talked to a lot of former colleagues, Senate aides, folks are really close to rallying behind Ted Cruz," Hart said on The Glenn Beck Program.
This comes the day after reports that several senior Senate Republicans have called on Cruz to apologize to McConnell for his bold criticism of the Kentucky senator before the leadership considers coalescing around his campaign.
According to Hart, Cruz has no reason to apologize to his fellow senators.
"I think if you're in the Senate and you feel like you've been wronged, you need to go privately and have a conversation man-to-man," Hart said. "[I]f he should apologize to anyone, it's the voters, for giving them a false expectation of change over the [government] shutdown."
"He doesn't need to be apologizing to senators," he continued, "I mean, these are adults, they're in a position of privilege and that really takes the focus off of the issues that we need to be talking about."
As for what Cruz needs to do moving forward, Hart says it's all about proving things will get done in his administration because "the perception for Cruz's critics is that he is against all compromise, which is impossible in our system of government."
Hart told Beck that Cruz needs to begin modeling his policies after former President Ronald Reagan's.
"President Reagan, he cut really smart deals, he cut deals with Tip O'Neal and he was blasted for over-spending and running the debt up, but for that, Reagan got an end to the Cold War, he got increased defense spending and the longest peacetime expansion of our economy in the modern era with his tax cuts," Hart said.
"That's a really wise, and promising and humble way to communicate," he added. "That's going to bring people into his camp."
Complimentary Clip from TheBlaze TV The full episode of The Glenn Beck Program, along with many other live-streaming shows and thousands of hours of on-demand content, is available on just about any digital device. Click here to watch every Glenn Beck episode from the past 30 days for just $1!
—
Follow the author of this story on Twitter: