Republican presidential candidate Donald Trump's campaign manager, Corey Lewandowski, might be one of Trump's delegates to the Republican National Convention, the New York Times reported.
The Trump campaign provided a list of 22 names — 11 delegates and 11 alternates — to the New Hampshire secretary of state, and Lewandowski's name was among them. Lewandowski's signature was also on the letter.
According to the Times, "It isn't unheard-of for campaign officials to become delegates, although Mr. Lewandowski might also have his hands full in his capacity as campaign manager, given the potential for a 'stop Trump' effort at the party convention starting July 18 in Cleveland."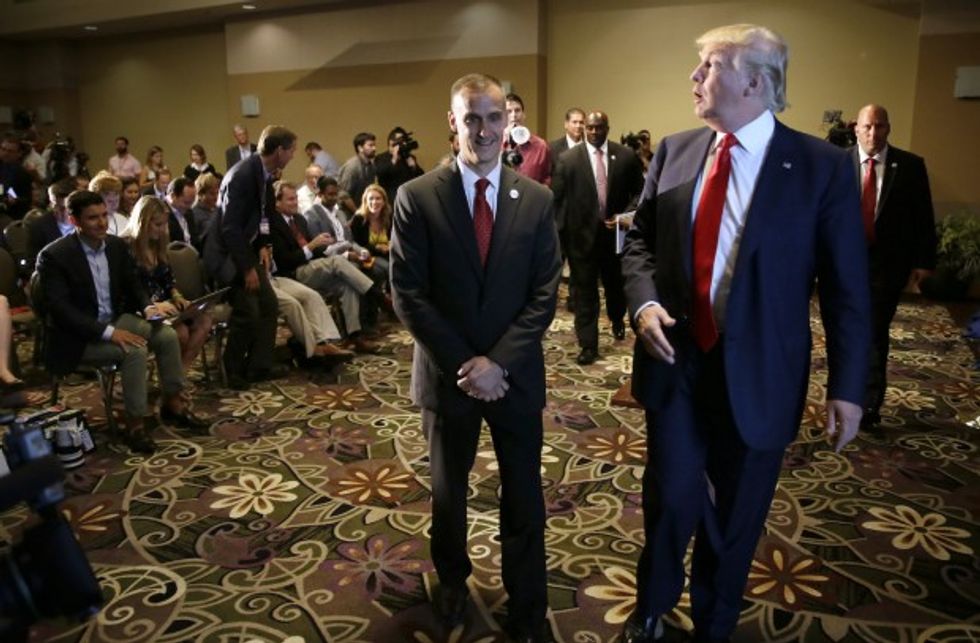 Republican presidential candidate Donald Trump walks with his campaign manager Corey Lewandowski, left, after speaking at a news conference in Dubuque, Iowa. (AP Photo/Charlie Neibergall)
Lewandowski was recently at the center of a controversy following an accusation that he roughed up Breitbart reporter Michelle Fields at a press conference.
According to multiple media reports and Fields' own account of the incident, Lewandowski grabbed Fields' arm and attempted to pull her to the ground at a press conference in Florida last week after she asked Trump a question. The Trump campaign accused Fields of making an "entirely false" accusation against Lewandowski, and she tweeted a picture of her bruises as proof.
I guess these just magically appeared on me @CLewandowski_ @realDonaldTrump. So weird. https://t.co/oD8c4D7tw3

— Michelle Fields (@Michelle Fields) 1457636528.0
Video has also emerged appearing to show Lewandowski reaching for Fields.
Different angle of Michelle Fields, Ben Terris and Corey Lewandowski. https://t.co/bw3uYfHbKY

— Jeremy Art (@Jeremy Art) 1457714818.0
The resulting aftermath of the incident led Fields to file a police report about the assault and resign from Breitbart, along with several other staffers.