Both the White House and opponents of Merrick Garland's nomination to the Supreme Court seem to agree on at least one thing: Age is just a number.
President Barack Obama's short list of nominees to the high court reportedly included jurists in their 40s, who could leave a lasting legacy on the court — yet Obama tapped the 63-year-old Garland, chief judge of the D.C. Circuit Court of Appeals.
While the election-year nomination might be contentious on other fronts, age doesn't seem to be an issue with either side. A reporter mentioned that the average lifespan of a white male is mid-70s.
"As is true of everyone considered for an appointment like this, Chief Judge Garland underwent a physical," White House press secretary Josh Earnest said. "He's someone who is in good health and certainly could serve for an extended period of time on the Supreme Court."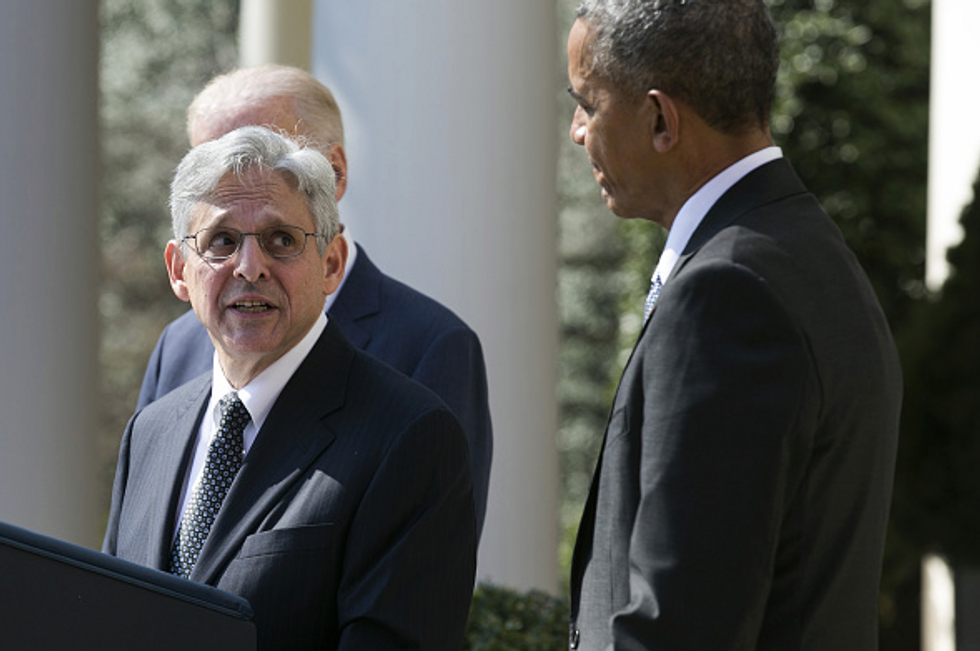 President Barack Obama looks on during remarks by Merrick Garland, chief judge of the U.S. Court of Appeals for the D.C. Circuit, following the announcement of his nomination for the Supreme Court in the Rose Garden of the White House Wednesday. (Joshua Roberts/Bloomberg via Getty Images)
Opponents of the nomination didn't read into it either.
"That he's 63 is beside the fact," said Ed Whelan, president of the Ethics and Public Policy Center, during a conference call of conservative legal experts on the nomination. "Most Supreme Court justices time their exit to get a likeminded replacement. My guess is the White House decided to roll the dice with who they thought had the best chance of winning a confirmation."
Carrie Severino, chief counsel for the Judicial Crisis Network, also said a liberal judge could leave a lasting legacy on the court under any circumstance with a 5-4 majority.
"At 63, he could still be on the court for decades," Severino told TheBlaze. "He would not be on President Obama's short list if he wasn't a 100 percent reliable vote," who would team with the liberal bloc of Elena Kagan, Ruth Bader Ginsburg, Stephen Breyer and Sonia Sotomayor, "even for a short time."
Earnest said he isn't aware that age played any role in the president's decision making. But he added it's certainly not unprecedented, citing Ginburg and former Justice Lewis Powell, who was 64.
"Justice Ginsburg, when she was nominated to the Supreme Court by President Clinton was 60 years old. When Justice Powell was nominated to the Supreme Court, he was even older than I think Judge Garland is today," Earnest said.
Earnest added, "He has more federal judicial experience than any other Supreme Court nominee in American history."