Happy St. Patrick's Day, America.
According to the National Retail Federation, here's how Americans plan to celebrate.
According to NRF's data, 82.1 percent of Americans plan to wear green today.
About 29 percent are planning on celebrating in a bar or restaurant, and just over 20 percent plan to attend a private party.
The National Retail Federation indicates that Americans will spend $4.4 billion on the holiday in 2016.
According to NRF's survey, 56.5 percent of those who celebrate the holiday will purchase food and beverages, 28 percent will buy clothing or accessories, 23.3 percent will buy Irish decorations and 17.2 percent will purchase candy.
Americans are expected to spend an average of $35.37 per person, a slight decrease from last year's $36.52.
"Retailers expect to see a nice boost in sales as consumers head to stores looking for apparel, decorations, food and beverages to help make their St. Patrick's Day celebrations special," NRF President and CEO Matthew Shay said in a statement. "With the winter holidays behind us and spring flowers starting to bloom, St. Patrick's Day provides a perfect opportunity for Americans to get together to celebrate with friends and family."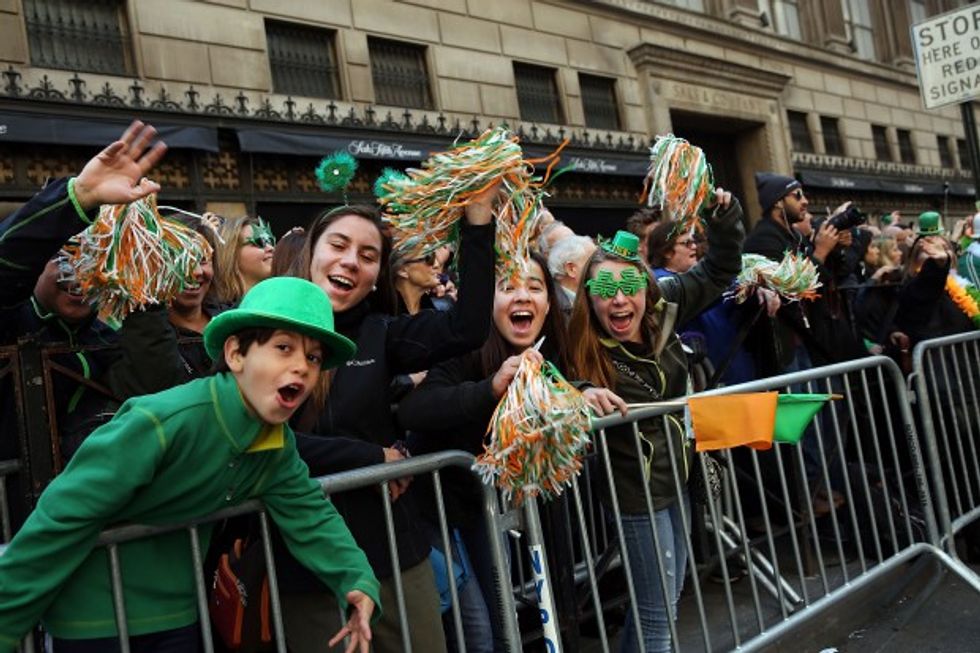 People cheer during the annual St. Patrick's Day parade Thursday in New York City. (Spencer Platt/Getty Images)
According to data provided by the Census Bureau, a significant number of Americans report Irish ancestry.